This past Saturday was the official day of Chinese New Year.  Though we are living in London, which has one of the top Chinatowns in the world, we didn't get there to celebrate.  It was a madhouse of crowds!  But I remember the days of celebrating it when I was teaching preschool at a multi cultural school in L.A. We ate Chinese food, did arts and crafts inspired by the rich culture and even had a dragon parade.  Since I was born in the year of the dragon I loved that tradition. 
Instead, on Sunday we went to Chiswick House and Gardens to attend the Magical Lantern Festival.  It is only on until February 26th (it is open Thursday through Sunday evenings) but if you can make it there I would highly recommend it.  It was so beautiful, albeit very wet and cold.  But hey, we will never ever forget it.  Each installation from the "Explore the Silk Road" theme had accompanying music, though it was a bit hard to hear with the heavy rain and crying babies in strollers (buggies) being pushed through the mud.  Here are a few pics just to entice you.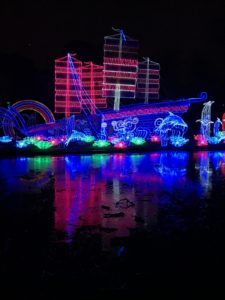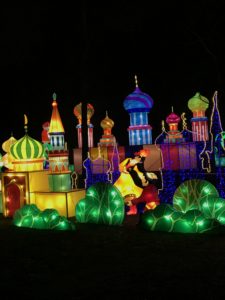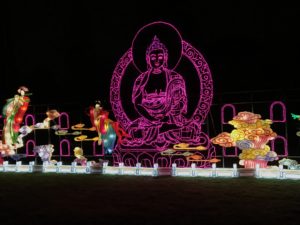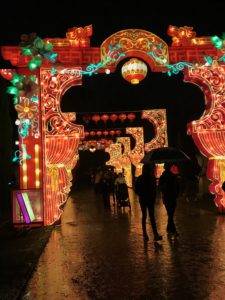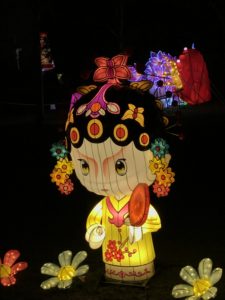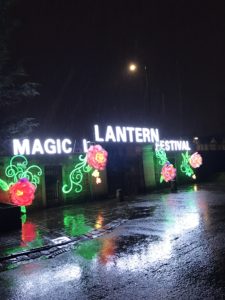 As you can see the wetness didn't dampen our fun but the next few pics you'll see me with the trusty umbrella (in the shadows), as I was trying to stay dry while I was simultaneously posting pics for my Snapchat (username:  blissbakery)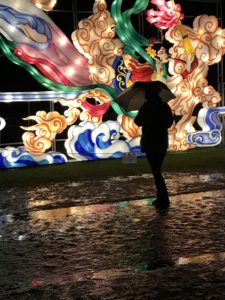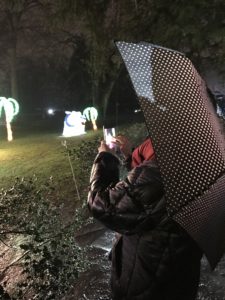 As a foodie you're probably going to ask if we ate dim sum or dumplings afterwards to ring in the year of the Rooster right?  Well we actually got home, peeled off our wet clothes and had hot tea and some healthy flapjacks.  But today I got the urge to make a fun tasty treat that is Chinese inspired. Super easy and very versatile!  Banana Coconut Spring Rolls!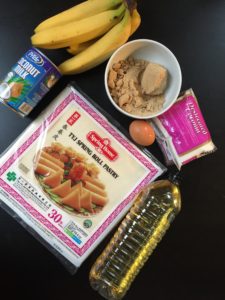 Ingredients:
Spring Roll Pastry Sheets (also called Spring Roll Wraps in the Asian section of store)
6 -8  Bananas (depending on how many you want to make)
1 egg white
250 ml (slighly more than 1 cup) coconut milk
165 g (3/4 cup)  brown sugar
2 Tbps coconut, toasted briefly in the oven
Oil to fry the spring rolls
Instructions:
Make the coconut caramel sauce by heating the coconut milk in a saucepan on low heat for approx 5 mins until it starts to bubble. Add the brown sugar and stir until it is dissolved. Let it cook a few mins until it thickens up a bit.
Working quickly, and making sure that you keep a wet paper towel (kitchen paper) on top of the stack spring roll pastry sheets so they don't dry out, take one sheet at a time and lay it out in front of you with a corner pointed at you, so it is in a diamond shape.
Peel a banana and place it on the sheet leaving about an inch or more of pastry on the corner directly in front of you.  If you have large bananas you can half them.  Roll up the left over inch of pastry in front of you around the banana and tuck it under. Then fold in both of the sides and continue to roll it all the way to the end until there is only a bit more pastry left.  Then brush some egg white on the end and secure the pastry gently by pressing with your fingers.  Then place the spring roll on a parchment lined tray until you have all of your banana spring rolls finished.
Heat some oil in a deep frying pan.  Cook several spring rolls at a time (you don't want to over crowd) using tongs to turn and cook evenly until they are golden.  A few minutes each side.  Then remove from pan and place on a paper towel (kitchen paper) lined tray so that the oil will partial drain off.
Once all the spring rolls are cooked and drained, place on a serving platter and sprinkle with the toasted coconut and some icing sugar (powdered/confectioners sugar).  Put the coconut caramel sauce in a small bowl in the middle of the platter and serve.  Alternately you could plate them individually and drizzle the sauce on top.  Best served while they are still warm.
If you don't like coconut you could use melted chocolate as a dipping sauce. Another option is to fill the spring rolls with cooked apples and a sprinkle of cinnamon. The sky is the limit!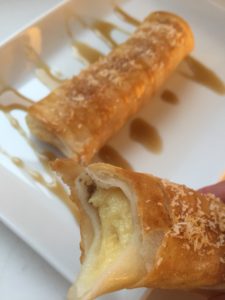 So tell me, did anyone do anything fun to celebrate Chinese New Year?  And check this website out if you don't know your birth Chinese zodiac symbol.  I'd love to know what yours is!
Gong Hey Fat Choy and LOVE,
YDP
P.S. a special mention goes to my "year of the Tiger" Hubby for taking me to the Lovely Lanterns. Good times! Even if our boots were soaked!