How can it be Wednesday already?  I know they say when we get older the time passes quicker but this is light speed since last Woman Crush Wednesday.  However, the good news is that it is my favorite day of the week! And with it being the second WCW of the new year, I'm thinking we'd better keep it on the straight and narrow.  Everyone I know is eating clean, detoxing and recovering from the holiday binge fest!  So our fabulous female chef this week is coming to the rescue! Hooray for Aussie Sarah Wilson.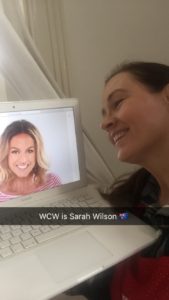 The bestselling cookery book writer of I Quit Sugar (and its follow up books) has some amazing recipes.  And since each Wednesday I do a Snapchat tutorial (username blissbakery) of a dish I have never tried before I am very excited to make one of Sarah's Savory Porridges.  When I think of porridge I think of warm and sweet. But her variations are warm and filling, almost like a dinner.  Often when we eat breakfast we need something as substantial as dinner to get us through the day. So let's see what Sarah's new phenomenon, a spin on the old traditional bowl of oats has in store for our taste buds!
Bacon and Egg Porridge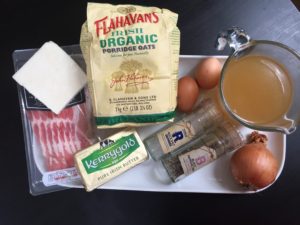 Ingredients:
2 teaspoons coconut oil, olive oil, butter or ghee
1 small onion, chopped
1 cup (95 g) whole rolled oats, Cooked Quinoa or Cooked Buckwheat
¾ cup (177 ml) Homemade Chicken Stock or any stock
½ cup Bacon Bits , or 4 rashers bacon, chopped and fried
2 tablespoons grated cheddar
2 soft-boiled eggs, halved
sea salt and freshly ground black pepper
fennel fronds, to serve (optional)
Directions:
1. Heat the oil, butter or ghee in a saucepan over a medium heat and sauté the onion until translucent (about 3 minutes).
2. Add your chosen 'grain', stock, and if using oats also add 1¼ cups (296 ml) of water.
3. Stir and cook for 6-8 minutes until the liquid has been absorbed.
4. Take the porridge off the heat. Stir through half of the bacon and all of the cheese.
5. Divide the porridge between two bowls, top with the egg halves and remaining bacon, and season to taste with salt and pepper. Garnish with fennel fronds if you like.
**Make it activated overnight porridge:
Soak ¾ cup of whole rolled oats (or ½ cup of raw quinoa or buckwheat groats) in 1½ cups of stock overnight. Add this to the sautéed onions to heat through, along with a little stock or water to stop the 'grains' from catching, then continue with the rest of the recipe.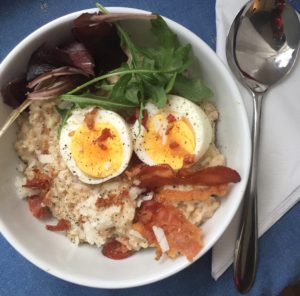 I have to be totally honest with you, though I always am.  I was completely surprised by how much I loved this dish. It is comfort in a bowl.  I figured I love,porridge, bacon and eggs, but all together in one recipe made me wonder.  But it really tasted delicious.  And indeed it kept me filled up all day.  On top of that, I really wasn't as hungry as usual for dinner.  Since I didn't have fennel fronds as Sarah suggests, I just popped a few mixed leaves in the bowl. I always love a bit of "salad by the side"!
I suppose I shouldn't be surprised at how much I enjoyed this dish. Sarah Wilson's recipes are thought out not only for nutritional value but also taste. Certainly for someone who has completely eliminated sugar, one of the biggest palate pleasers, it's important to find alternative ways to make food delicious.   When she went on her no sugar journey at the beginning of 2011 after suffering with an auto immune disorder, Sarah said that the most challenging meal was breakfast. Because most breakfast foods are based on sugary concepts such as cereal, granola and pancakes.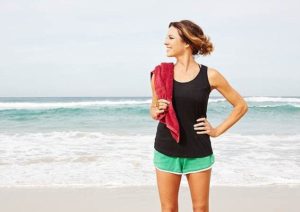 Which is why this savory porridge concept is so ingenious!  There are other versions in Sarah's book, but this one looked up my alley.  And I am glad I gave it a go.  But mostly I am grateful to have chosen such a wonderful Woman Crush Wednesday. Sarah you are a fabulous inspiration! Thanks for being so sweet!
Aussie LOVE,
YDP