After a break last Wednesday I'm back ready to rock and roll in the kitchen with another fabulous female chef!  I did share a recap post of some of the previous Woman Crush Wednesday recipients which you can see by clicking here. But I am excited today as it is not only February, the sweet month of LOVE, but also because today's honoree is the ultimate pastry chef Mindy Segal!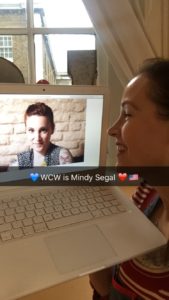 Mindy is from my birth home Chicago, Illinois.  Though I haven't been to her restaurant Hot Chocolate, it is defo on my bucket list. Mindy is a James Beard award winner for best pastry chef.  She is such a hard worker and so inspiring.  Having spent time in many top kitchens such as Charlie Trotters and Spago, she opened her own place back in 2005.  These days you see more female chefs and restauranteurs.  But Mindy was a trail blazer and forged her own foodie path of fortune.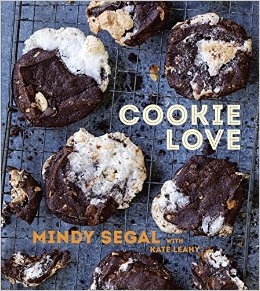 Her first cookbook Cookie Love was published last year and it is phenomenal.  We have a new culinary bible to go to for our sweet tooth needs.  Today I thought her recipe for Brownie Krinkles would be a good start. As with every WCW,  I will do a live cooking tutorial on Snapchat (username blissbakery) and it's a recipe I have never made before.  But I am already excited for tasting time!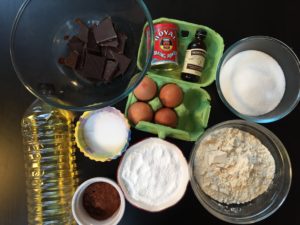 Ingredients
4 ounces (116 g) unsweetened chocolate, chopped
4 extra-large eggs, at room temperature
1 teaspoon pure vanilla extract
1 ¾ cups (284 g) unbleached all-purpose (plain) flour
¼ cup (25 g) Dutch-processed cocoa powder
1 ½ teaspoons baking powder
1 teaspoon kosher salt
1 teaspoon sea salt flakes
½ cup (118 ml) canola or sunflower oil
1 ¾ cups (372 g) cane sugar
FOR COATING
1 cup (125 g) powdered confectioners' sugar (icing sugar) , sifted
Instructions:
In a heatproof bowl set over (but not touching) barely simmering water in a pot, melt the chocolate, stirring occasionally with a rubber spatula. Keep warm.
Crack the eggs into a bowl and add the vanilla.
In a bowl, whisk together the flour, cocoa, baking powder, and salts.
In the bowl of a stand mixer fitted with the paddle attachment, mix the oil and sugar on low speed for 1 minute. Add the melted chocolate and mix to combine, approximately 30 seconds.
Scrape the sides and bottom of the bowl with a rubber spatula. On medium speed, add the eggs and vanilla, one egg at a time, mixing briefly to incorporate before adding the next, approximately 5 seconds for each egg. Scrape the sides and bottom of the bowl with a rubber spatula to bring the batter together. Mix on medium speed for 20 to 30 seconds to make nearly homogeneous.
Add the dry ingredients all at once and mix until the dough comes together but still looks shaggy, approximately 30 seconds. Do not overmix. Remove the bowl from the stand mixer. With a plastic bench scraper, bring the dough completely together by hand.
Cover the bowl with plastic wrap and refrigerate until the dough is firm, at least 30 minutes or overnight.
Heat the oven to 350°F/180c and line a couple of half sheet (13-by-18-inch) pans with parchment paper.
To make the coating:
Put the confectioners' sugar in a bowl, ensuring there is plenty of room in the bowl to roll the dough in the sugar. Using a ¾-ounce (1 ½ tablespoon) ice cream scoop, portion the dough into 12 mounds and roll into balls. Coat the balls completely and generously with the confectioners' sugar. (You will not use all of the sugar.) The dough should resemble snowballs.
Evenly space the balls on a prepared sheet pan. Add a generous pinch or two more confectioners' sugar to the tops. Bake for 8 minutes. Rotate the pan and bake for another 3 to 4 minutes. The cookies will form crinkles and will be set in the middle. Let the cookies cool on the pan for 1 to 2 minutes. Using a metal spatula, transfer the cookies to a wire rack to cool completely. Repeat with the remaining dough.
The cookies can be stored in an airtight container at room temperature for up to 3 days. Dough can be refrigerated for up to 1 week.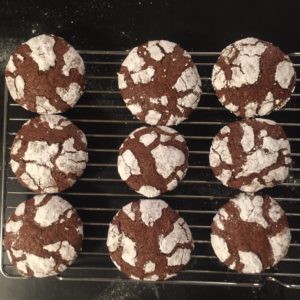 Okay, ladies and gentlemen, boys and girls!!! Attention shoppers!  If you do anything the month of February, please make these little bites of heaven! They're so awesome!  Chewy in the middle and slightly crunchy around the edges. And the dusting of sugar makes me feel like they I'm eating clouds of joy in each morsel. They aren't too sweet and are actually pretty straight forward to make, nothing outlandishly complicated.  Which considering the fact that Mindy is a so accomplished in her field one might think it would be daunting to take on her recipes. Not so!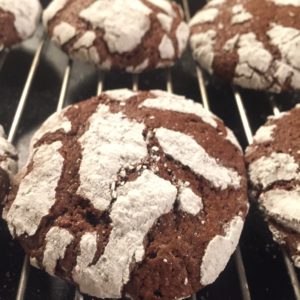 Mindy is a role model in many ways.  She admits to having dyslexia which makes reading and writing recipes difficult. But she finds solace in cooking and won't be stopped by challenges like that or anxiety which she has suffered with in the past.  She is a mould breaker in the gastronomic world as not many pastry chefs have opened food businesses that are sweet and savory.  Currently she is  creating a line of cannabis infused sweet treats for people with chronic illnesses.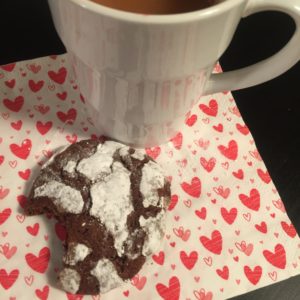 Thank you Mindy for reaching high, teaching all of us foodies that dedication and passion are roads to success.
Cookie LOVE,
YDP