After a break last week from Woman Crush Wednesday due to travel, I am back and ready to smash it!  And today's awesome chef is culinary queen Cat Cora!  This American lady with Greek roots is one of the most famous chefs in the world! She was the first female winner of Iron Chef and with numerous cookbooks, televisions shows and food businesses she deserves the LOVE today and everyday!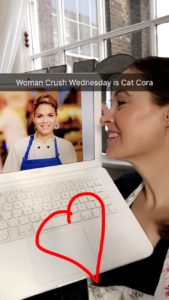 As I do each week, I will recreate one of Cat's recipes live on my Snapchat channel (username is blissbakery). And of course it is a recipe I have never tried before so you can see how easy it can be to pick up the ingredients and let our chef lead us along the path to the delicious tasting.  Being as Cat was born in Mississippi, she knows her stuff when it comes to Southern Style cooking. The most iconic food from that region has to be fried chicken. But if you are trying to "be good" then its considered a naughty treat only to be eaten for a splurge.  But not this version!
Crispy Baked "Fried" Chicken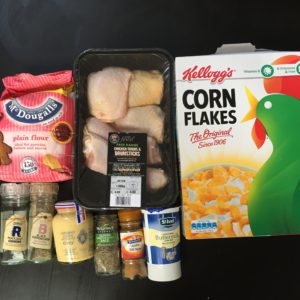 Ingredients:
8 chicken pieces (preferably 2 breasts, 2 thighs, 2 legs and 2 wings)
1/2 cup (80 g) all-purpose (plain) flour
Kosher salt and freshly ground pepper
4 cups (133 g) cornflakes
2/3 cup (165 g) buttermilk
2 tablespoons Dijon mustard
1/4 teaspoon cayenne pepper
1 1/2 teaspoons paprika
3/4 teaspoon ground sage
Instructions:
Preheat the oven to 425 F / 220c degrees. Place a rack in a roasting pan or on a baking sheet.
Rinse the chicken in cold water; pat dry. In a wide bowl or on a plate, season the flour with salt and 1/4 teaspoon pepper. Dredge each chicken piece through the flour so it's fully coated, tap against the bowl to shake off excess flour and set aside. Discard the flour.
Here comes the part kids like best: Crush the cornflakes by placing them in a big resealable plastic bag, carefully pressing the bag to push out the air. Seal up the bag (with as little air inside as possible) and run over the flakes with a rolling pin. Open the bag and pour the crushed flakes into a wide bowl or onto a plate.
In a large bowl (big enough to dredge the chicken pieces), mix the buttermilk, mustard, cayenne pepper, paprika and sage. Give each floured chicken piece a good buttermilk bath and then roll in the cornflake crumbs.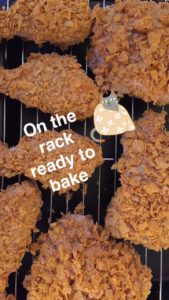 Arrange the chicken pieces on the rack and place in the hot oven. Cook for 15 to 20 minutes, lower the heat to 375 F/190 c degrees and cook for another 25 to 30 minutes, until cooked through and crispy. The juices should run clear when the meat is pierced with a knife.
Now this is going to be your new "go to" chicken dish for your family. It is guilt free, simple and even interactive. As Cat's instructions say, the kids can get in on the fun when it comes to crushing up the corn flakes! Likely the chicken would taste delicious cold too in case you wanted to send it to school in the lunch boxes or for a Sunday picnic in the park.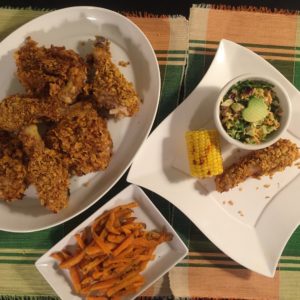 Cat Cora is a mother of four boys. She is so accomplished in her career. Having trained at the prestigious Culinary Institute of American in Hyde Park, New York. But it isn't just her professional accomplishments that make her special. I am so impressed with her ability to continue to her philanthropy work for those suffering from hunger.
Thanks Cat for being a pillar in the foodie world. So many chefs, not just female chefs, look up to you and your innovative kitchen creations.  And here's hoping you have a speedy recovery from your knee surgery!
Cat LOVE,
YDP