It is no secret our family has a love affair with donuts!  I mean who doesn't?  We scour the globe getting them everywhere we can to compare and contrast. I've taken my Snapchat friends on several Foodie Fieldtrip Friday outings to donut shops.  I gave Snapchat headquarters custom donuts that spelled out Snapchat! I even dressed as a donut for Halloween this year! While the majority in our family prefer the "cake" variety, there are others in the "yeast" donut camp. There are whole debates in food journalism on this subject!  In fact, people even argue on how to spell donuts (or doughnuts)! Whatever type you favor, or how you choose to spell them, you will love making these bite sized treats in your own home. 
While here in America visiting my family my granddaughter had her 6th birthday. She can't have dairy so this recipe easiliy adapted to accommodate her.  She took them to school to share with her classmates and they were a big hit. My daughter got the recipe from the Wilton packaging in which that the mini donut baking tin came.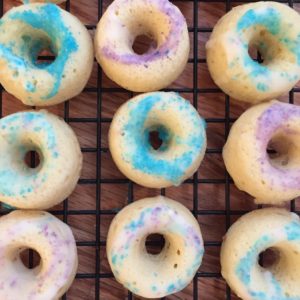 Ingredients:
1 1/4 cups (125 g) cake flour, sifted
1/2 cup (100 g) granulated sugar
1 1/4 tsp baking powder
1/8 tsp ground nutmeg
3/4 tsp salt
*1/2 cup (120 ml) buttermilk
1 egg, lightly beaten
*1 1/2 Tbsp butter, melted
Instructions:
Preheat oven to 425f/218c.  Spray the mini donut pan with vegetable pan spray.
In a large mixing bowl, sift together flour, sugar, baking powder, nutmeg and salt.  Add buttermilk, egg, melted butter and stir until just combined. Fill each donut cup approx 1/3 full (I used a make shift piping bag for this:  Put the batter in a plastic ziplock bag and close securely.  Then with scissors, snip off one of the corners on the opposite side of the ziploc). Once you've piped in the batter and they are all filled, tap the pan on the counter to remove any air bubbles and even out batter in cups.
Bake 4-6 minutes or until the top of the donuts spring back when touched. Cool in pan 4-5 minutes. Remove to a cooling rack. Finish donuts with a sprinkle of cinnamon+sugar mix or with a water icing glaze and sprinkles. To make a water icing glaze just mix some icing sugar (called confectioner's powdered sugar in the US) with a few drops of water to get the consistency you want. You could also add a few drops of food coloring if you'd like. Drizzle on the baked donuts and top with sprinkles.
Makes approx 48 mini donuts
*To make these dairy free, use coconut oil or margarine in place of the butter and make your own dairy free buttermilk with 1 cup of almond milk and 1 Tbsp of fresh lemon juice. Let sit for a few minutes while it activates.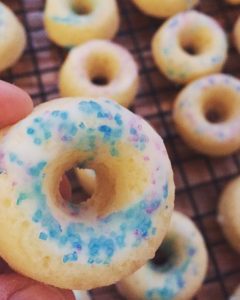 It's not very convenient for me to do Snapchat cooking tutorials while at my daughter's.  So my granddaughter and I baked these and I showed a final product pic on my Snapchat and Instagram.   I had so many people asking for the recipe I just had to post this on the blog.  It is super easy as you can see, and the only thing you'll need to make sure you have is the donut baking tin. Also, cake flour is easy to find at the grocery stores here in America but not so much in the rest of the world. But you can make it on your own and here is a link to give you the details.
Lastly, I would recommend eating these as soon as they are baked. They are so small and even in an air tight container they weren't as moist 24 hours later. So eat them fresh or call me so I can come help. Cuz as you can see, I donut have any problems consuming them!
Donut LOVE,
YDP