I recently had the pleasure of attending the famous Upcycled Chair Workshop at Kyle Lane in Clonmel, Ireland.  From the moment I first met owner Joanne Condon it was like I was hugging a long lost friend. We met each other through Snapchat last year, so it was wonderful to finally meet in person. Spending my Sunday afternoon with Joanne and seven other eager participants was one of the most memorable experiences I will not soon forget!
Luckily, since I captured the day on my Snapchat story, I'll be able to relive some of the best moments. And of course I was able to take away the chair I created on the day!  The best keepsake ever!
Joanne studied art in university and went on to become an art teacher. But her passion, fused with talent, led to the opening of Kyle Lane. While furnishing her own home, she was able to upcycle pieces and bring color and whimsy into the farm house she and her husband built.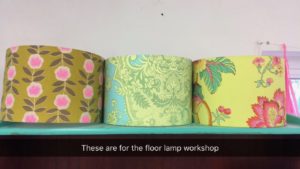 Now with six years as a business owner of her fabulous upscale furniture boutique, creating bespoke pieces for her clients, and her popular workshops, she will soon be adding published author to her list of accomplishments. Furniture Crush is in the production process now and I can hardly wait to hold the book in my hands and savor the final results!
Kyle Lane is the home to not only the chair workshop I attended but there's also the hairpin bench, floor lamp, and upscale master techniques classes. In this new location for less than a year, Joanne has been able to create a dual purpose venue:  A bright colorful space for her furniture showroom in front and the large workshop in the back. I could have spent more than just one day there. It is very warm and inviting and each detail, whether wall decor or  ladies' room toilet roll dispenser, had me mesmerized!
Upon arriving for the day at 10:30 am, each participant was able to don an apron and choose the chair in which they wanted to upscale for the workshop. After picking our spot at one of the four long tables (fitted out with our supplies pack and informational guide) we were also allowed to choose the fabric for the upholstered seat.
Joanne began her talk by showing us around the studio pointing out safety tips, necessities like coffee/tea/treats area and her famous candy table. Then she gave us step by step instruction of our day's activities.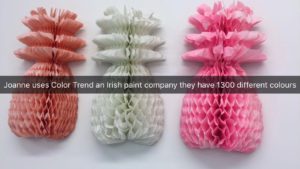 We each met with her individually to pick our paint color. Because of time constraints, she had already prepped the chairs. But Joanne explained in detail what we would need to strip, sand and undercoat our chairs to prepare them if doing it at home.  We had to dive in to painting straight away to make sure each coat was dry before we painted another layer.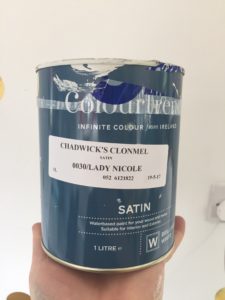 There was never a lull in the day, each moment was well spent asking questions, gleeing insight into Joanne's art background and her helpful advice with restoring all types of furniture.
We had a midday break with fresh sandwiches that Joanne provided for us from the deli next door. Then after our second coat of paint dried, we worked with her individually to upholster the seats for our chairs. With finishing touches complete the day was over by 4:30 and I couldn't believe how quickly it passed. Each of the chairs turned out so unique to every person. The shape, color and upholstery were not only different but also meaningful.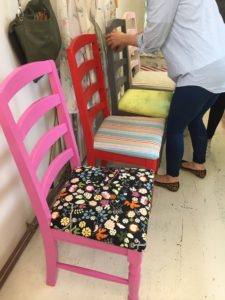 And mine, well, I totally heart it!  That pink paisley fabric tickles my eyeballs! I knew when I spotted the chairs in the morning that this was the one for me. Because I had intended to incorporate a heart someway, somehow, and the back of the chair was the perfect spot.  Of course having room for a LOVE quote on the other side was a total bonus !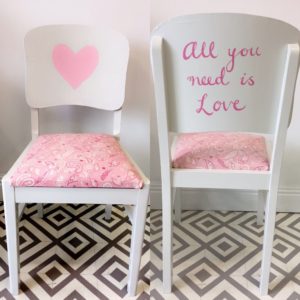 It is a great day out with sisters, girlfriends or even for a hen party or corporate team building activity.  The chair workshop cost is well worth the 130 euro with everything that is included. The biggest asset itself being the opportunity to learn from the best furniture artist out there, Joanne Condon!  She is the kindest, friendliest person ever and so humble given her immense knowledge, talent and achievements thus far.  But her star is only starting to soar!  I have a feeling Furniture Crush is going make others (besides myself) have a major crush on this Irish lass!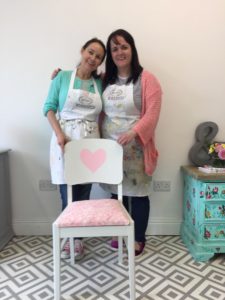 LOVE crush,
YDP
P.S. Just as I was leaving, Joanne noticed that my outfit colors totally matched her shop color scheme:  Pink converse shoes and a mint colored cardigan. See, I was meant to be there!