As I have mentioned on here before, I am amused when I hear people complain about Mondays.  I think they are great. Fresh start to the week and all.  But it does help set things straight when you take some tasty homebaked treats to work to share with your coworkers. It brings a bit of sunshine into a grey day when folks are still wishing they were in their pjs. This treat, however, isn't an ordinary one. It is a lemony loaf with a touch of lavender. You know that yummy smelling stuff in your bubblebath? Well, this is edible lavender.  So you can eat this treat and feel like you're still chilling in the weekend spa!
Just to say this isn't my own recipe, it is from Paul Hollywood of the Great British Bake Off fame.  In fact, I didn't even find this recipe on my own.  Miriam from Bake My Style turned me on to it.  It is super easy, very moist and has a nice punch of tart lemon.  However, I did tone down the amount of lavender the recipe asks for, just so I didn't get too relaxed. Yes, lavender has calming properties. And for a Monday I needed a bit of pep in my step. Also, lavender can have a strong floral flavor, which you either love or hate. So if you're not sure, error on the side of caution and see what you think. But this is definitely a keeper of a recipe. And next time I'll make it on a Friday and use the full throttle of lavender Paul suggests! Just to help me chillax into the FriYAY mode!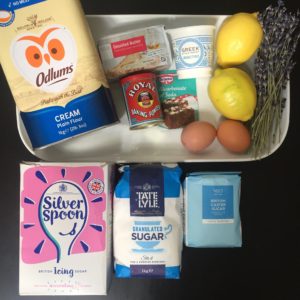 Ingredients:
For the cake:
250 g (9 oz) plain flour (called all purpose flour in the USA)
1/2 tsp baking powder
1/2 tsp baking soda (also called bicarbonate of soda)
125 g (4 1/2 oz) caster sugar (called fine sugar in the USA)
1 1/2 Tbsp edible lavender
2 unwaxed lemons, finely grated zest only
2 large free range eggs
200 g (7 oz) plain full fat yoghurt
100 g (3 1/2 oz) unsalted butter, melted and cooled a bit
For the lemon drizzle:
Juice of 2 lemons, strained
2 Tbps icing sugar (called powdered confectioner's sugar in USA)
For the topping:
1 Tbsp granulated sugar
2 tsp edible lavender
Instructions:
Preheat the oven to 180c/350 F/ Gas 4. Line a loaf tin (1 kg size or 2 lb 4 oz in USA) with baking parchment paper
To make the cake: In a bowl combine the flour, baking powder, baking soda, sugar, lavender and lemon zest. Set aside.
In a glass pyrex jug, beat the eggs with the yogurt and melted butter. Pour this into the dry ingredients and stir using a rubber spatula until just combined.
Pour into the prepared tin and bake for 40 mins until a wooden skewer or toothpick inserted into the center of the cake comes out clean.
Remove the cake from the oven and prick it deeply all over with the wooden skewer or toothpick.
Mix the ingredients for the drizzle together and pour over the hot cake. Sprinkle the granulated sugar on the cake and next sprinkle the lavender. Leave to cool completely in the tin before slicing.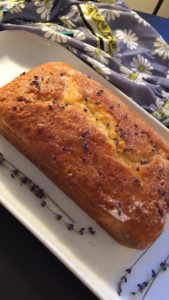 I've always loved lemon drizzle loaf cake, but this is now my new fav.  I am a massive fan of lavender and my dream is to one day be in Provence, France when the lavender is in bloom.  So until then, I can eat this and feel transported!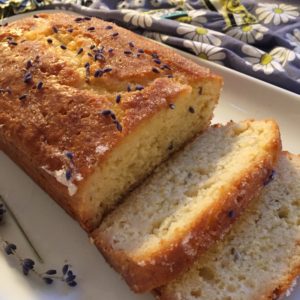 If you grow your own lavender just use the fresh buds, or else buy dried edible lavender from a baking supplier if you can't find it at the supermarket. It may seem like an unusual ingredient to add to food, but I think you're going to be surprised at how lovely it is.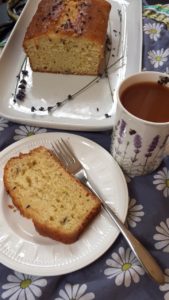 Sunshine LOVE,
YDP
PS. Here is a little close up of the lavender, I only wish my blog had smell-o-gram!