Welcome back to Woman Crush Wednesday. It's great having you here with me each week as I shower another gorgeous gourmet gal with some LOVE!  It is a day to not only learn about all the fabulous females out there in the culinary world making their mark, but we also get a delicious recipe each week. Since this is the 67th WCW, that is a pretty hefty gastronomic arsenal! 
I am so excited to share with you today's honoree.  Pamela Salzman is a fabulous chef and cookery teacher in Manhattan Beach, California.  She has her first cook book out now and I couldn't be prouder. Though I haven't seen her for ages, I've known Pamela for many years. And I had the pleasure of eating dinner at her home.  Not only is her food delicious but she is a wonderful hostess. As a wife and mother to three, she is definitely busy, but always makes time to serve her family healthy food.
 It has been very warm here in London and I am craving a cool treat. Pamela's recipe for Strawberry Banana  Frozen Yogurt Bark looks so unique, yet simple and quick.  So after a long day I am looking forward to making this live on Snapchat (username blissbakery) and sharing the recipe and photos on here as well.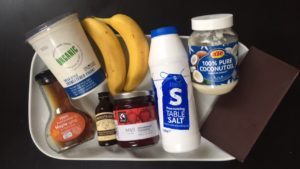 Ingredients:
1 ½ cups (365 g) unsweetened whole milk Greek yogurt
3 Tablespoons pure Grade A maple syrup
¾ teaspoon pure vanilla extract
pinch sea salt (optional)
¼ cup (75 g) strawberry preserves, preferably no sugar added
1-2 ripe bananas, diced or other soft fruit like figs or cherries
optional:
½ cup (4 oz or 116 g) good quality chocolate chips, dark or semisweet (I used a bar of chocolate instead of chips, but just chopped it up a bit)
½ Tablespoon unrefined virgin coconut oil
Instructions:
Line a rimmed baking sheet with parchment paper.
Combine yogurt, syrup, vanilla, and salt in a medium mixing bowl and stir until well combined. Stir in strawberry reserves and diced banana.
Pour mixture onto prepared baking sheet and spread it into a ½"-thick rectangle or oval. Freeze until firm, about 2 hours.  Optional (you can do this before you freeze the yogurt or after is is frozen):  melt the chocolate and coconut oil in a heat-proof bowl set over a pot of simmering water.  Drizzle the melted chocolate over the yogurt with a spoon.  After the chocolate has hardened (this should happen immediately), break into pieces and store in a covered container in the freezer.  The bark should stay good in the freezer for up to 2 weeks.
This is the perfect summer treat for young and old alike.   And Pamela says it is pretty adaptable too.  She recommends alternate versions such as swirling peanut butter in, or adding a sprinkle of granola.  But it really is delicious and satisfying as is. Often I think that "healthy treats" aren't as good.  Maybe it is subconscious as my brain wants the sugary calorie laden ice cream.  But this is even more of a treat.  My taste buds are happy and no belly ache afterwards like I'd get from a double scoop ice cream cone!
I hope that all of you reading this would take the time to check out Pamela's fab website and her Instagram account. You can tell her I sent you!   She will instantly make you feel welcome.  She provides weekly menu plans and shares great cooking tips. Pamela is very warm and down to earth, the sort of person you'd want helping you in the kitchen.   I hope the success keeps rolling in her way, no one is more deserving!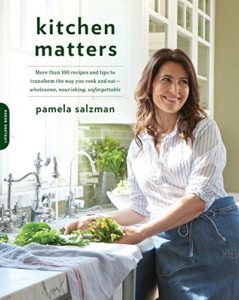 LOVE matters,
YDP