For all those dreading Halloween because of the deliciously naughty temptations, I have a quick fix.  However, you may like it so much that this recipe could be one for the long haul.  It contains pumpkin, one of my all time favorite flavors!  But this recipe is gluten free, dairy free and sugar free!  It seems all my other pumpkin dessert recipes on here are naughty indeed! Thankfully this has redeemed me from myself!
It is a riff off a recipe I have made before, though not on the blog. It is from one of my Woman Crush Wednesday honorees Indy Power She makes a Tahini Cookie that is super yummy and good for you. So I adapted it to create these. They are so speedy to make, no stand mixers necessary. Besides the ingredients, you just need a couple of bowls, a spoon, whisk and baking tray lined with parchment paper and boom! Baked up in a dozen minutes and you're good to go!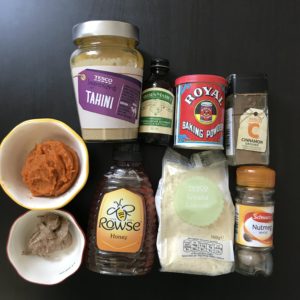 Ingredients:
1/4 cup (64 g) Tahini
1/3 cup (80 ml) Honey
1 Tbsp Peanut Butter
2 Tbsps Pumpkin Puree (from a can or made fresh from roasting a pumpkin)
1/2 tsp Vanilla extract
1 cup (120 g) Ground Almonds
½ tsp Baking Powder
½ tsp Cinnamon
Freshly grated nutmeg
Pinch of salt
Instructions:
Preheat oven to 180c/350F
In a large bowl mix the wet ingredients together (tahini, honey, peanut butter, pumpkin puree and vanilla).  In another smaller bowl whisk the dry ingredients together (ground almonds, baking powder, cinnamon, nutmeg, salt). Then add the dry ingredients to the wet ingredients and combine well.
With a spoon drop the dough into small balls on a parchment lined baking tray,  Press down the balls to flatten then bake for 12 minutes. Let cool on the tray. If you want to jazz it up, before baking you can place a pecan half in the center of the dough and press down. Or form the dough into a ball and roll the dough into some pecan praline crumbs.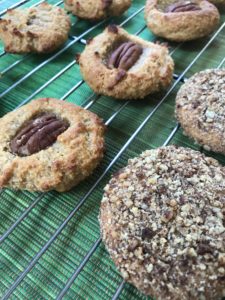 There you have it friends. Don't feel left out when everyone else tucks into their trick or treat bags. You'll just have to boil the kettle for your tea and enjoy your cuppa with one of these.  And no sugar hangover on November 1st!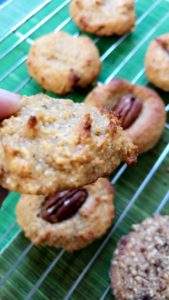 Healthy Halloween LOVE,
YDP
P.S. Just for fun here is an 80's throw back for you, of me dressed as Dorothy from the Wizard of Oz. Yea, I love Halloween!