I have a recipe to share with you today.  It is an easy Brussels Sprout side dish that is so good it will leave you beggin' for more!  But before I get your lips smacking, I have a story to share with you. In fact I've wanted to share it for ages but couldn't decide on a title. One idea was Panhandling (another name for begging).  Another was "Are you excited to see me or is that a rifle in the back seat?"  But that one sounded too far fetched. But this is a story about begging people for money and the scary situation that led to the rifle incident.
My mom had a friend named Moose.  I actually don't know her real name, but that was her nickname.  My mom liked to give people nicknames as I have shared on here before.  Moose was a young, large framed lady with long brown hair.  She lived with us for a while and used to like to take me to the store, but not to buy things.  We would stand in front to beg people for money.  I guess having a scrawny little girl next to her persuaded people to cough up more dough.  But one day she decided we would "hitchhike" as a new tactic to get money from drivers instead of shoppers.  With our thumbs out we went up Euclid Street and then down Euclid Street several times. We didn't have a place to go, just looking for a few bucks out of each driver.  On the last ride, our driver was a middle aged man with a flannel shirt.  I only saw the back of his head so don't know what he looked like.  Moose sat in front and I rolled around in the backseat by myself (this was the era before seat belt laws).
The first thing I noticed was the big rifle on the floor of the backseat of the car.  My legs dangled down but weren't long enough to touch the floor. Thankfully!  I may have been small and young, but I was old enough to know of the dangers of guns.  I was pretty freaked out but stayed quiet.  Moose chatted away and seemed to be getting along with the urban cowboy. She got some money off of him, mission accomplished, and told him he could drop us off.  But he said, "not until you give me your phone number."   So she started to give him our number but messed up on the last two digits.  I blurted out, " Oh that's not the right number ours is 537-6971!"  She turned around and gave me a dirty look.  I couldn't help it!  I have always liked to be truthful.  She told him that I was just a kid and didn't know what I was talking about.  Anyway when we got out of the car she wasn't happy with me at all.  But I think she really got a fright when I told her about the rifle.
Thank God I have never had to beg for money as an adult.  When I see beggers I know not all of them are homeless, not all are addicts and not all are bad people.  For some, like Moose, it is a way to make a living.  And sadly, children can get caught up in it.  I feel lucky that drive with rifle man didn't end badly.  I think now about the myriad of ways we could have been harmed.  Thankfully he never called our house.  But it was the most scary situation I was ever in that involved trying to get money from people.  We got to have a Taco Bell lunch that day.  Since I often didn't have lunch, it was a pretty good day.
This Thanksgiving was a pretty good day for another reason.  I made a side dish that Hubby said was the best ever!  I hope you like it too!  Brussels Sprouts get a bad rap, but I think they are a delicious, nutritious vegetable.  I have shared recipes on here before for a Shaved Brussels Sprout Salad and a  Brussels Sprout Kale Salad.  But this is my Beggin' Brussels Sprout side dish sure to brighten up any table!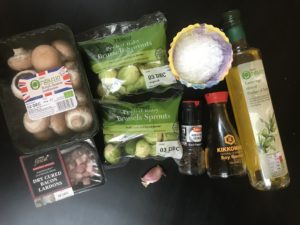 Ingredients:
360 g (12.6 oz) Brussels sprouts
250 g (8.6 oz) Mushrooms sliced
90 g (3.2 oz or 2/3 cup) Bacon lardons
1 clove of garlic
Drizzle of Olive oil (or butter)
2 Tbsp Soy Sauce (or more if desired)
Salt
Pepper
Instructions:
Using a food processor with the slice attachment (or a mandolin or the slice side of a box grater) slice all Brussel sprouts and set aside. With a knife, slice the mushrooms. and set aside. Cook the bacon lardons in a large frying pan until they are browned. Remove from the pan using a slotted spoon. Pour out half of the fat (saving it) , leaving the other half to cook the mushrooms . Alternatively you can dispose of the bacon fat and use only olive oil. Saute the mushrooms in two batches using the other half of the bacon oil for the second batch. It is important to do it this way so the mushrooms are not over crowded. Make sure to season the mushrooms with salt and pepper while you are cooking them. Once the mushrooms are cooked, set them aside on another plate. If the frying pan is dry, then add a bit of olive oil and let it heat up. Add the grated garlic and top with the sliced Brussels sprouts.  Cook the sprouts for about 5 minutes stirring to make sure the garlic is mixed through and the sprouts are evenly cooked. When they are soft,  then add back in the mushrooms and bacon lardons. Sprinkle the soy sauce on top and give it a good stir. Taste for seasoning and add more if necessary.
This is such a warm earthy dish! It pairs well with roasted chicken as we enjoyed, but also duck, pork or even beef.  If you prefer you can omit the bacon if you are a vegetarian. And the other two side dishes we had were the Cauliflower Salad and the Roasted Butternut Squash Salad!  And as you can see from the photo below, Stella was beggin' for a bite!
Beggin' for LOVE,
YDP