Well it is hard to believe that it is November 1st already!  I hope you all had a nice Halloween!  For anyone with left over pumpkins today's recipe by the most incredible Woman Crush Wednesday will sort you out!  Australian Kate Young, now a London resident, has just launched her first cookbook and I am delighted to share with you all just how much I love and admire this fab female chef!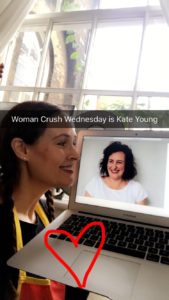 Kate is known for creating recipes inspired by literature, hence the name of her blog The Little Library Cafe.  She also has the most amazing Instagram feed which is called @bakingfiction that is so pretty and whimsical I could get lost in it!  But the biggest news about Kate is that her first cookery book has just been published and she is on tour with it now! The Little Library Cookbook is filled with 100 recipes all inspired from some of Kate's favorite books!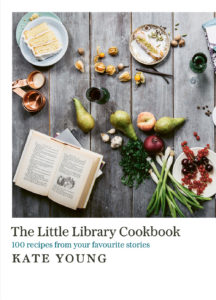 Today's recipe from Kate's arsenal, which I will recreate live on Snapchat (username blissbakery), is one I had no hesitation choosing. While I have made scones many times I have never made pumpkin scones. And as I have shared on here umpteen times, I am obsessed with pumpkin.  So I am excited to get cracking on these!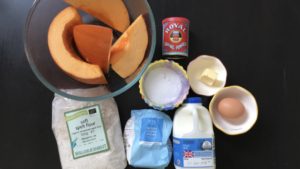 Ingredients
A piece of a pumpkin – around half a kilogram (1 lb 1.6 oz)
20g (2 Tbsp) butter
75g (2.9 oz) sugar  (100g if you like it sweeter)
1 egg
350g (12.3 oz) spelt flour
4tsp baking powder
30ml milk
Instructions
1. Peel and chop the pumpkin into roughly even sized pieces. Put the pieces in the saucepan, cover with water and bring to the boil. Cook for around ten minutes, or until a skewer can be easily poked through a piece of pumpkin.
2. Drain the pumpkin and allow it to cool. Mash it with the potato masher, then place it into the sieve and squash it around, to drain any excess water. Don't squash it too much – you don't want it bone dry.
3. Preheat the oven to 220c/425F. Beat the butter and sugar together in the mixing bowl until combined. Add the salt and beat in the egg. Fold in 280g of the cooked pumpkin and then sieve the flour and baking powder into the mixture, and fold it through gently. It's really important not to overmix, so as soon as the flour has been incorporated, stop. If the mixture is still sticky, add a little more flour (bit by bit). Stop as soon as you can comfortably pat the mixture without it sticking to your floured hand.
4. Tip the mixture onto a floured bench and push into a 2cm high mound as delicately as possible – you don't want to work the dough any more than you have to. Flour the biscuit cutter and press down into the dough, without twisting or turning the cutter. If the scone comes out, place it on the baking tray. If not, leave it until you've cut out all the scones then peel the extra dough away, before transferring the scones to the tray. Reshape any leftover dough and cut it out as before.
5. Brush the top of the scones with milk (don't brush down the sides or they won't rise) and transfer to the oven for 15 minutes. Serve hot.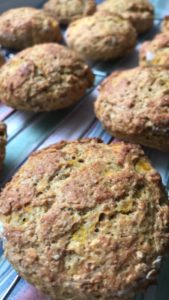 I so love these pumpkin scones!  I actually ate two in less than two seconds.  I made up some honey butter with a bit of pumpkin pie spice mixed through and when I spread that on these warm scones I thought I was in heaven. These scones do take a bit more time than ordinary scones. But the effort is worth it to have such flavorful scones.  I also love the added taste and texture of the spelt flour.  I usually use plain flour for my scones.  But this has a wholesome nutty taste that I really enjoyed.
Kate is so creative and inventive I tried to make my photo a bit more fancy than usual.  My 74th WCW honoree is not only a food blogger, writer and cookery book author, but she also hosts supper clubs!  As well, on her blog events page, there is a link to a Workshop she is hosting here in London on December 16th where you can spend the day with her making food and Winter crafting treats!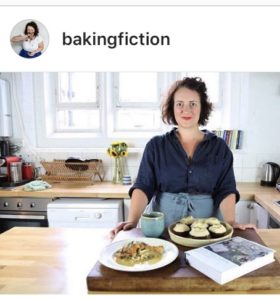 Wow Kate you are some woman! A totally gorgeous gourmet gal constantly on the go!  I wish you continued success and can't wait to make more of your amazing recipes!
Literary LOVE,
YDP