Since I am sicker than a dog today, I am going to have to miss my fav Woman Crush Wednesday series.  Which makes me sad as a bird with no wings!  But since I can't breathe or swallow (two things I kind of need to be able to do for a cooking tutorial) I figured I'd better take a pass this week.  Stella (who is my dog and who IS healthy) is delighted!  Since she hates Wednesdays and all the loud music and bad singing, she is happy as a clam right now! Geez, I just realized I'm using lots of animal similes.  Anyway, I decided to bring you and me some good cheer….in the form of a new recipe and a round up of some homemade foodie gifts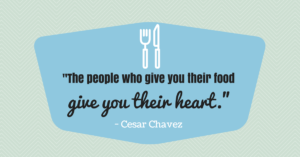 I've always been a fan of homemade foodie gifts.  Even before I got into the culinary world as a profession I would make and bake and take treats to everyone!  Neighbors, friends, teachers, family, you name it, they received my edible love!  However, it might not be something that folks who are a bit daunted in the kitchen would think of doing. Well, I have a list of super easy and delish recipes for decadent delights or healthy treats that anyone can make.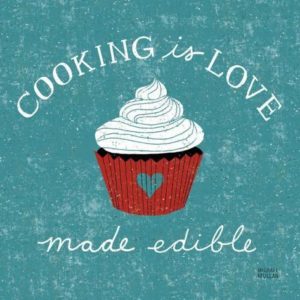 But before I get to that I just want to share an interesting link with you.  I found this on my  friend Caterina Salvatori's Facebook page.  It is an article by George Monbiot that was published in the Guardian back in 2012.  It is about pathological consumption.  It is quite a sobering read (click here for the link) and I don't want to rain of your festive holiday parade.  But in a nutshell he sums up his essay saying the best gifts are homemade. Why?  They are more cost effective, more meaningful, and will literally save the planet!
So with that in mind here are some recipes from my blog for festive fare to make and share with others this Christmas season.  There are loads of others that would be appropriate to make as gifts, but these are my top 12 favs.  And at the end I will also include one more super easy treat that you could make with your eyes closed!
Spicy Nut and Raisin Mix a super yummy snack that anyone would enjoy! 2. Outrageous Granola the best granola I have ever tasted! 
3. Edible Christmas Balls or if you're like my hubby you can call them Christmas Pud Truffles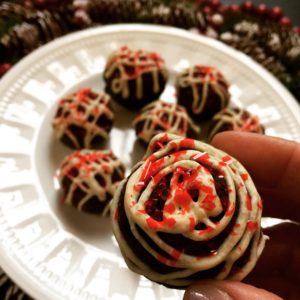 4. Cranberry White Chocolate Balls These are delish and if you're not a fan of Christmas Pudding, these balls might be more up your alley. Just decorate with wintery looking toppings (as these I made for Valentine's Day)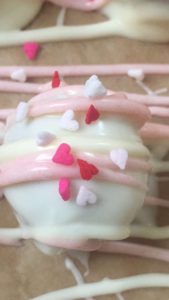 5. Lemon Bars These are my famous, award winning, lip smacking, people line up for, treats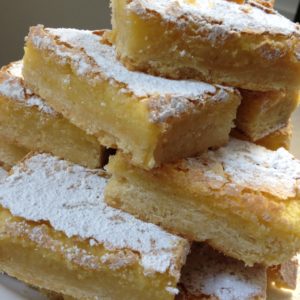 6. Lemon-Aid This is a liquid gift sure to please any receiver. Think Arnold Palmer (lemonade iced tea mix) that is perfect to give during the holidays for the designated drivers or for those who want to splash in some heavy spirits to this tasty drink!

7. Snowballs My Hubby's new fav cookie
8. Healthy Gingerbread People super easy to make and totally guilt free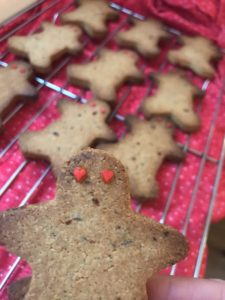 9. Healthy Peanut Butter and Jelly Thumbprint Cookies super delish, like a healthy PBJ in a cookie
10. Christmas Rocky Road Totally decadent but very festive
11. Cranberry and Orange Cookies great flavors and a pretty treat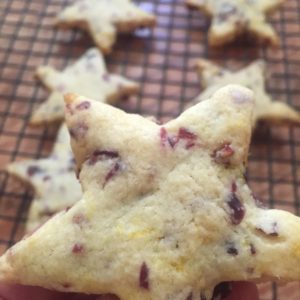 12. Chocolate Peppermint Candy Cane Cookies Or as I like to call them "Baby It's Cold Outside" cookies. These are like Christmas in a cookie! LOVE these!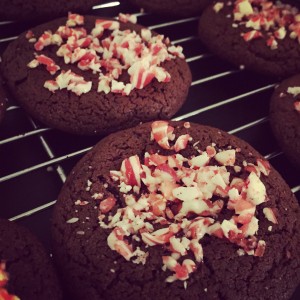 And now for the new recipe….drum roll…Chocolate, nut and dried fruit discs These are the ones I was saying are so easy to make you could do it blind folded!  I make them all the time for a wee treat at home. My recipe makes 6-8 discs depending on how large you want. So if you're making loads to package up as gifts just increase the recipe (below)
Ingredients:
100 g bar of dark chocolate (at least 70 %) broken into pieces
Handful of mixed nuts, seeds and dried fruit of your choice
Sprinkle of Sea Salt flakes if you desire
Instructions:
Melt the chocolate slowly in a large heat safe bowl placed on top of a saucepan of simmering water. Make sure the water isn't touching the bottom of the bow.  Or else you can melt in the microwave.
Once melted,  spoon onto a parchment lined tray  into disc shapes. Sprinkle with the nuts, seeds and dried fruit. Let set to firm up.
Now all you need are some cute treat bags and a little string to wrap them up and voila!  A perfect package of homemade love!  I would love to know if you have any special goodies you make and give away this time of year!
Homemade LOVE,
YDP