Hello from Havana!  Sorry to have to miss an opportunity for another Woman Crush Wednesday cooking tutorial.  However, Hubby is a juror at a film festival here in Cuba.  Specifically the Festival International Del Nuevo Cine Latino Americano.  We were lucky to have been in Venice, Italy for the film festival there this summer, which you can read about here.  And this one is shaping up to be pretty amazing too.  I will share a blog post as soon as possible. Until then, I have a little treat for you! 
Not long ago, I purchased a silicone waffle mold.  Since I didn't want to commit to getting another electronic kitchen gadget, I thought I would give this a try.  I am quite pleased with it and have been making batches of waffles that I can then pop in the freezer.  I think my family in the U.S. must think I am crazy when all I want to eat when I am back in the States are store bought frozen waffles.  But since the only ones I can find over here in Ireland and U.K. are potato waffles (which aren't what I have in mind for a Sunday brunch with my maple syrup) I thought I would make my own. I've tried two recipes with great success. You might enjoy these if you have a waffle iron, or if you too can get your hands on my new fav kitchen toy!
The first recipe is a variation of a Jamie Oliver pancake recipe. I made my waffle batter sugar free, dairy free and wheat free. I know I've used Buckwheat flour here, but it's actually not wheat!  The sweetness for these waffles comes from the ripe banana and organic blueberries. To serve, I top the waffles off with coconut yoghurt, blueberries, a sprinkle of cinnamon, a drizzle of honey and some nuts and wow is this a delish brunch!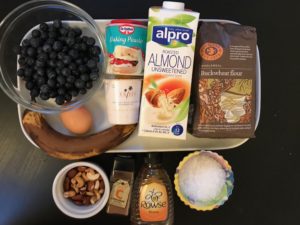 Ingredients:
11 ounces (about 1½ cups or 320 g) blueberries
1 large, ripe banana (peeled and sliced)
¾ cup (170 ml) almond milk
1 large egg
1¾ cups (250 g) buckwheat flour (or flour of your choice)
2 teaspoons baking powder
¼ teaspoon kosher salt
Several Tbsps coconut yogurt
Ground cinnamon
Chopped nuts of your choice pecans, walnuts, almonds,  hazelnuts etc
Drizzle of honey
Instructions:
Sift the flour, baking powder and salt together in a large bowl and set aside. Whizz up in a blender half of the blueberries, the egg, the banana and the milk.  Transfer the wet ingredients to the large bowl and fold in together until the dry ingredients are mixed in. Pour into your heated waffle iron or the silicone waffle mold (which is already on a baking rack) and place into a preheated oven (200c/400F). These will bake for 15-20 mins, but you can poke a toothpick into one of the waffles to  check if they are cooked all the way through. This is enough batter to make 8 waffles. Top the waffles with the yogurt, drizzle of honey, the chopped nuts and the remaining blueberries and a sprinkle of cinnamon.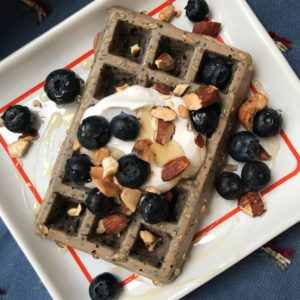 Okay, now I am hungry just inserting the photos into the blog post!  Darn I should have brought some to Havana with me!  Guess I'll have to wait until I get home.  And don't get put off by the nearly purple hue of the waffles. When the blueberries are whizzed up with the other wet ingredients the color can be pronounced. But that makes me love these even more! Especially as they are totally guilt free!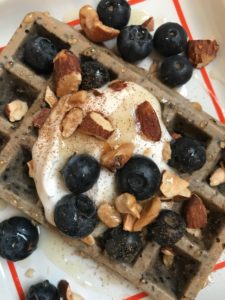 The second recipe contains one of my all time fav ingredients…PUMPKIN!  Yes you're right, I've bragged about my pumpkin obsession on here before!  If you can't find a can/tin of pure pumpkin puree and don't have a fresh pumpkin to roast and puree, you can substitute butternut squash.
Ingredients:
1 cup (150 g) all purpose plain flour (or you can use spelt flour as I do)
2 tsp baking powder
3/4 tsp ground cinnamon
1/8 tsp salt
1/8 tsp ground cloves
1/4 cup (50 g) packed dark brown sugar
1 cup (237 ml)  low fat milk
1/2 cup (115 g) pumpkin puree (or butternut squash puree)
1 Tbsp vegetable oil
1 large egg, lightly beaten
Instructions:
Combine the dry ingredients (flour, baking powder, cinnamon salt, cloves, brown sugar) in a large bowl. Then in a separate bowl combine the wet ingredients (milk, pumpkin puree, veg oil, egg).  Add the blended wet ingredients to the large bowl of dry ingredients and and gently mix until just combined. Pour onto the hot waffle iron or the silicone waffle mold and bake in a preheated oven (200c/400F) for 15-20 minutes until completely cooked all the way through. Top with maple syrup and serve with some crispy streaky bacon and that is heaven!
These will make the house smell so good and are equally tasty!  So there you have it! A couple of yummy waffle recipes to try this weekend for a delicious brunch!   If I don't see you before hand I'll be back next Wednesday for another edition of Woman Crush Wednesday!
Winning Waffle LOVE,
YDP