It is great to be back from Havana in time for my fav Woman Crush Wednesday!  Since it is the week before Christmas I thought it might be fun to have a festive episode today. You know an edible something that you might make for a last minute Christmas goodie!  And today's honoree is just the one to help!  The amazing Lily Jones of the famous Lily Vanilli Bakery here in London is getting the WCW love today!  And wait until you see this fantastic recipe of hers!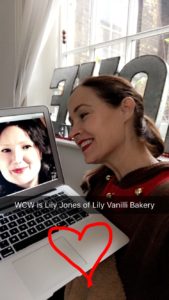 As I do each week, I not only share a love story on here, but I do a live cooking tutorial on my Snapchat account (username blissbakery).  And I always choose a recipe I have not made before.  It helps to highlight to those watching how comforting it is to let our WCW recipient guide us with her recipe.  Lily's Honeycomb recipe looks simple to follow, yet I know that candy making isn't as easy as it looks.  But my mouth is already salivating thinking about tasting this sweet and crunchy treat!  So let's get to it!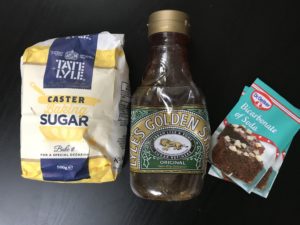 Ingredients:
150 g (5.2 oz)  caster sugar
75 g (2.6 oz)  golden syrup
2 level tsp bicarbonate of soda
One lined baking tray or cake tin (at least 4 cm deep)
Instructions:
Place the sugar and golden syrup in a pan with a sugar thermometer attached. Set over a low heat and stir slowly until the temperature reaches 150c/302 F.  This might take four to five minutes, so be patient. Keep a close eye on the thermometer as it might suddenly start to rise much faster.
Remove from the heat, add the bicarbonate of soda and stir very quickly and evenly.   It will bubble up as the bicarbonate of soda releases carbon dioxide rapidly. This is what makes the amazing honeycomb effect.  Make sure you stir well or you may be left with a bitter, soapy taste.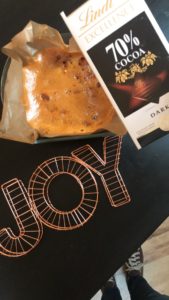 Pour the mixture into your prepared baking tray and leave to cool completely.  Break the cooled slab of honeycomb into pieces to serve.  You can also dip the pieces into melted chocolate.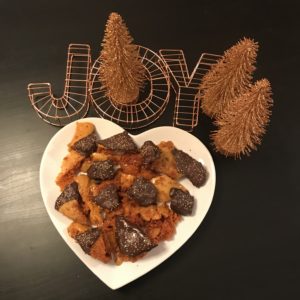 Wow!  I so love this recipe!  It is simple and makes throwing together a sweet treat loads of fun!   I thought it was a science experiment when the bicarbonate of soda started to bubble releasing the carbon dioxide.  Not only did I dip some pieces in melted chocolate but I also sprinkled some gold dust on them! Just to be fancy!  Boy are they tasty, I could eat them all!  But I won't!  Hubby has to have some, he will love them too.  I also want to make some homemade vanilla ice-cream and stir some honeycomb crumbs through it, yummy!
I just adore Lily!  She is a self taught baker and a totally gifted genius with her creations, yet still humble and gentle.  Her cakes are out of this world!  It is no wonder she is sought after by major celebs and brands.  Her bakery in East London is busy all week with bespoke orders, but on Sunday she opens to the public who are also shopping the Columbia Flower Market nearby. But what is really blooming is her career!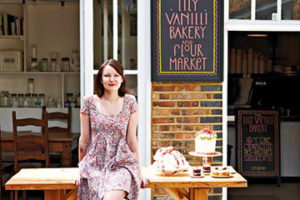 With two successful cookbooks and loads of media exposure she embodies the entrepreneurial spirit.  Born in London but reared in the Middle East, she returned for her University Studies in philosophy.  Eventually becoming a graphic artist she had to come up with other creative ways to make ends meet during the economic downturn in 2009 and that is when Lily Vanilli Bakery was born.  Her artistic flair is evident in all her masterpieces.  She once chose these three words to describe her aesthetic:  Seasonal, decadent, modern.  Not one to use fondant flowers or artificial colors, all of her decorations are like herself, REAL!   Her cakes are not only delicious but look divine.  She uses loads of edible flowers that she even grows herself!
I recently took Snapchat on a Foodie Fieldtrip Friday to one of her new endeavors, a kiosk in the popular Spitalfields Market in East London.  It was very eye popping and of course I had to get some treats.  I indulged in my first mince pie of the season (sooooo delish) and got a gorgeous lemon meringue tart for Hubby.  At the time Lily Vanilli were promoting the upcoming  Bake for Syria fundraiser Lily was helping to organize.
Lily is not only a successful baker with a big clientele, nor just an Instagram icon with her lush food photos, but she also has a massive heart.  Besides her philanthropic endeavors she is a mentor and also one of the creators of the YBF (Young British Foodies) honoring young talent in the culinary world here in the U.K.  I for one am blown away by this (the 79th) Woman Crush Wednesday chef!  I am looking forward to what is in store for her in 2018!
Thanks Lily for all your inspiration! You rock!
Honey Lovin!
YDP
P.S. I had a helper today! My doggie Stella isn't usually a fan of my bad singing and dancing during the Woman Crush Wednesday cooking tutorials. But since it was a festive theme she got dressed up with me! Bless her 12 1/2 year old self! However, Lily, if you're a fan of dogs I bet Stella would ask you to adopt her to get away from the noise.