I hope my title didn't scare anyone off? As I am in the middle of Smoothie Scentral Week (click to catch up on day 1 and day 2) I concocted the most delicious and nutritious green smoothie. Good for women (yes), men and children!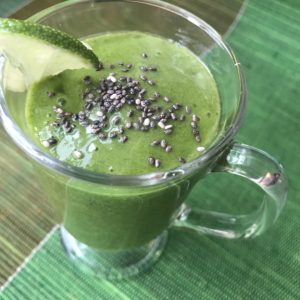 I call it PMS Smoothie as the main ingredients are PAPAYA, MANGO and SPINACH.  But there are a few more healthy bits and pieces in this dairy free, sugar free, gluten free and nut free smoothie. The addition of pure egg white powder and chia seeds means it is packed with protein. Which is good to help regulate the natural sugars from the fruit, so no blood sugar spike. And while the spinach makes it look vibrant green, it isn't all about the looks. Spinach is one of the best sources of iron, which is so important for our blood!  Besides, when you drink spinach versus eating it, you don't have to worry about it getting stuck in your teeth!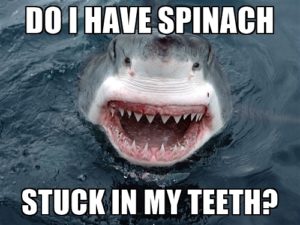 The cool thing about this recipe is that you only need one piece of equipment, a blender, and the only work to be done is chopping the fruit and the washing up! As well, it is adaptable in that you can substitute other items (which I will highlight in the ingredients).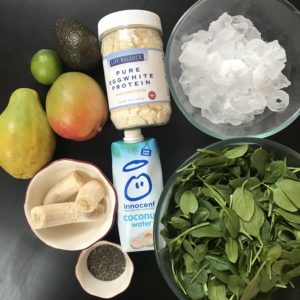 Ingredients
1/2 ripe Papaya,  seeds removed and discarded.  Only use the flesh scooped out of the skin  (or substitute pineapple if you prefer)
1 whole ripe Mango, peeled, stoned and cut into chunks
76 g (2 giant handfuls)  fresh baby Spinach leaves (make sure to rinse even if you are using organic)
1 ripe frozen banana, cut into chunks
1/2 ripe avocado
1/2 fresh lime, juiced (and some slices to garnish the glasses)
1 cup Coconut Water (or you can substitute with orange juice or milk of choice)
1 handful of ice
1 heaping Tablespoon of Pure Egg White Powder (optional)
2 teaspoons of chia seeds (optional, to sprinkle on top)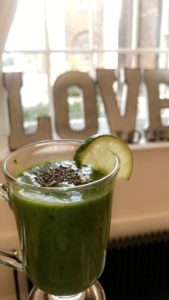 Can I just say how much I LOVE this PMS Smoothie! It is tasty, satisfying and kept me going all afternoon avoiding the dreaded slump!  You know the one, when you want a big coffee and chocolate bar?  I suppose I should touch on actual PMS (sorry for any dudes reading this).  Yes it is a "thing" and there are ways to help ease it. One of them is incorporating some natural remedies. Natural, whole foods can actually work as a healer. Rather than go on and on, if you have time to read a bit, I am going to pop a link into each of the ingredients in this smoothie (see below). You will be amazed at how many vitamins and nutrients you can get from one glass of this smoothie!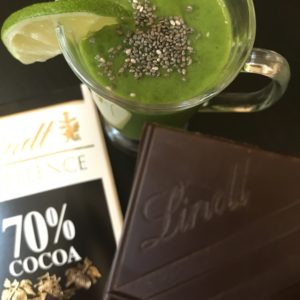 Then of course there is always the go to chocolate for the real PMS-ers out there. It always does wonders doesn't it? And it does pair nicely with the PMS Smoothie I might add!
Smoothie LOVE,
YDP
Please remember that I am not a nutritionist, but I am a trained chef and lover of good food!  I am not sponsored by any of these webpages I just wanted to give you some quick links for health benefits of: Papaya, Mango, Spinach, Avocado, Banana, Lime, Coconut Water, Pure Egg White Powder, Chia Seeds, and even Chocolate