Welcome to the first Woman Crush Wednesday of the New Year!  This is also the 80th fabulous female foodie recipient on this series.  Since this is the week I am doing Smoothie Scentral, I needed to honor the queen of smoothies, the fantabulous Rhiana from L'Herbe Muse! 
I first met Rhiana when we both participated in the Cookreel Snapchat Cooking Competition in the summer of 2016.  I instantly fell in love with her plant based food and mostly her cool chick, loving life essence!  We've stayed in touch through social media and I've really enjoyed her recipes.  She takes decadent foods, like donuts and Mac n Cheese, and gives them a Vegan Makeover.  On top of that her food photos on her Instagram feed will make you want to lick the mobile screen they are so stunning!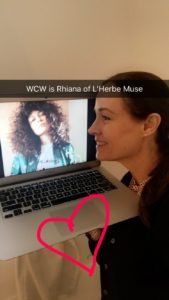 Rhiana lives in Venice, California and has a plethora of produce at her fingertips.  Sunny weather and lots of farmers markets give her the opportunity to create healthy and wholesome foods free from animal products.  She not only shares her recipes via Instagram but has also published an e cookbook and has another on its way.  But that's not the only thing she has on the way, she is also about to give birth to a baby!  You might be able to see her baby bump in this photo with some gorgeous vegan cupcakes topped with a vegan donut! Yum!
While Rhiana has many smoothies recipes from which to choose, I decided to go with her famous Strawberry Smoothie. She happens to have a cool strawberry tattoo on her wrist and I just couldn't help but love that kind of foodie passion!  As well, it is a non dairy recipe and though I am not a vegan, I don't eat much dairy.  So I think I am going to love this by the looks of it.   I am going to get going on this recipe, and good news is the only equipment I need is a blender! If you are on Snapchat come watch me make this live (my username is blissbakery).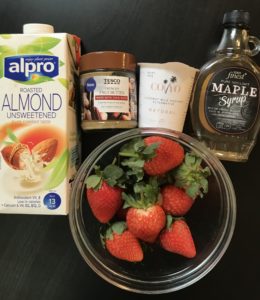 Ingredients:
1 cup of strawberries (fresh or frozen)
1/2 cup almond milk
1/2 cup CoYo (or other non dairy yogurt)
2 heaping TBSPS almond butter
1 TBSP maple syrup
Instructions:
Whizz everything up until smooooooth!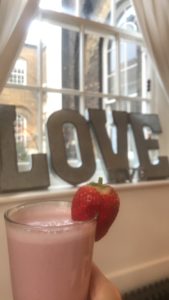 So simple but so delicious! I loved this Strawberry Smoothie!  And it wasn't too sweet either. I personally don't use smoothies as total meal replacement.  If I have this for breakfast for instance,  I'd likely also have one of my vegan oat flapjacks (which I refer to as portable porridge).  Smoothies are meant to enhance our health and add to the vitamins we get from eating other nutritious foods.  Which is why I love all of Rhiana's smoothie recipes.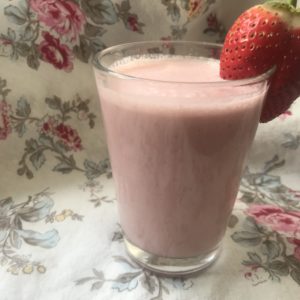 What I love most about Rhiana though is how much she cares about the world, the environment and humanity.  She is beautiful inside and out!  If you need some New Years inspiration then you will defo find some with Rhiana, I know I sure have!
LOVE and light and pink smoothies,
YDP