Today is the 81st episode of Woman Crush Wednesday and you might recognize the honoree. Londoner Sally Butcher is not only well known for her fabulous cookery books, but also her amazing shop in Peckham called Persepolis and the darling cafe that adjoins it. In fact, if you watch my Foodie Fieldtrip Friday segment on my Snapchat (username blissbakery) you won't be surprised that I have chosen Sally as my WCW. Just two weeks ago I visited and feasted on some of her amazing Persian food.  And I purchased a key ingredient for today's awesome cooking tutorial.
I admit I am not the biggest fan of lentils.  However, Hubby loves them, and when I found this recipe of Sally's I had to give it a go. The main ingredient is barberries and it is a typical addition to Persian cooking. While Sally isn't Persian, her husband/ business partner Jamshid is from Iran. And their shop Persepolis is jammed with all sorts of items such as the healthy barberries and my fav pomegranate molasses.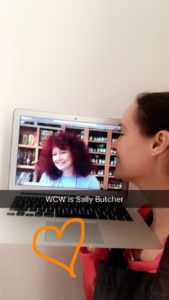 Sally and her husband opened up the shop Persepolis seventeen years ago. From food items to housewares and handicrafts it is a magical treasure chest of delights. But of course my fav items were Sally's cookery books. When I visited I perused each one as I devoured my food in the cafe. I kept thinking I could hardly wait to make some of her dishes for a WCW tutorial. And now here we are.  So I had better get cracking!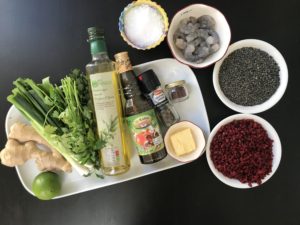 INGREDIENTS
250g/8.8 oz Puy lentils
100g/3.5 oz barberries  (or substitute cranberries or redcurrants)
Big knob of butter and dash of oil
Around 16 really meaty king prawns, shelled and deveined
⅓tsp ground saffron steeped in a splosh of boiling water
4tbsp olive oil
1cm fresh ginger, minced
3tbsp pomegranate molasses
Juice and grated zest of 1 lime
Salt and coarsely ground black pepper
4 spring onions, chopped
½ bunch each of fresh mint and parsley, de-stalked and chopped
METHOD
Step 1: Pick through the lentils (even big brands can still contain small stones) and place them in a pan of cold water. Bring to the boil and cook for around 30min, or until they are just cooked. Drain and leave to cool.
Step 2: Next, check through the barberries, which can also contain half the countryside, and soak them in cold water for around 20min. This will enable any residual sediment/barbs to sink to the bottom of the bowl. After this time, carefully scoop the berries out of the water, squeezing the moisture out.
Step 3: Melt the butter in a frying pan along with a splodge of oil (to stop the butter burning) and lower in the prawns. Sauté for around 3min before adding the barberries (unless you are using pre-cooked prawns, in which case you can cook the berries and prawns at the same time), then cook for 2min more, stirring constantly. Next, add the saffron water, mix well and take off the heat.
Whisk the 4tbsp oil, ginger, pomegranate, lime juice and zest, and seasoning together in a bowl. Finally, mix it all together. Stir the prawns and barberries through the lentils, drizzle with the dressing, then finally stir in the onions and herbs. Serve while it is all still warm.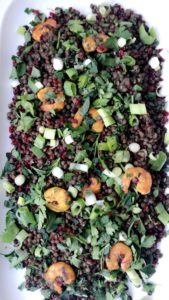 This dish is totally delicious and a total surprise in every bite. The barberries give a great flavor to the usually bland lentils. And the prawns are so gorgeous with the saffron! I adore the dressing and to be honest I'd love to have this on hand in the fridge for all sorts of salads. The pomegranate molasses is a perfect balance to the limes and ginger and olive oil! Wow I think I know what dish will be on heavy rotation in this house! I can hardly wait for Hubby to get home to give it a taste.  I made my rice pilaf to serve with it and the combo was very filling indeed!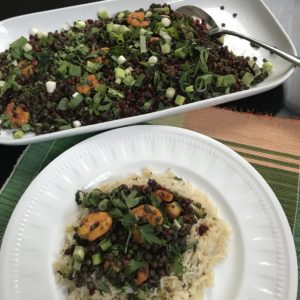 When I took the Foodie Fieldtrip Friday to Persepolis I saw both Sally and her husband at their shop/cafe. They were friendly but were obviously very busy.  Their place felt so cozy and it was packed with shoppers and diners. I ordered the mezze platter for one which was delicious, filling and affordable! And I had to try a selection of sweet treats for desserts and wasn't disappointed.
The whole place is decorated with authentic Persian rugs and memorabilia. And even the "loo" has it's own quirky personality with notes from patrons pasted all over! To be honest, I would love to go back and spend more time there. The menu is so extensive and I left with a full belly but a craving for more, if the makes sense. Until then, I will make my way through more of Sally's recipes from all of her fabulous cookery books.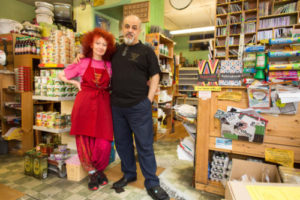 Thanks Sally for all your inspiration. You do so much for the culinary world and have such a sweet and calm way about you.
LOVE Sheereen-am,
YDP
Here is the direct link to the barberries they sell at Persepolis online (and they ship) in case you cannot get them at your local shop