It is my honor to publish this LOVE story for the first installment of the Guest Blogger Month series for 2018.   I don't know the exact date I "met" the gorgeous Caterina Salvatori in the virtual world.  But we became friends on Snapchat through a mutual friend, who was one of last year's awesome guest bloggers, Alex.  One thing I do know for sure is the day Caterina and I met in person!  It was on December 8th, 2017.  Hubby and I were on our way to Havana and had a layover in Toronto.  Caterina packed up her gorgeous twins and met us at the airport for coffee, chats and most of all some LOVE!  So sit back and enjoy Caterina's LOVE story.  Make sure you have some tissue, and let this lovely lady touch your heart the way she does mine!
The Circle of Love
This journey begins on February 14, 2003, Valentine's Day. The Day "Hallmark" celebrates love. I was never a fan of Valentine's Day because I felt like it was a fabricated day that thrived on consumerism. But this Valentine's Day was different. I received a call from my Father and was told that he was diagnosed with cancer. I'll never forget that day, or the year that followed.
I remember exactly what happened that day as if it stood still in time. I was getting ready to go to work at the Four Seasons. I was sitting at my dining room table at my apartment on Queen Street in the hippest part of Toronto. My phone rang and I answered. My Dad's voice was different. He said, "My Caterina, I have something to tell you." And just like that I knew it wasn't good. He continued, "There is no easy way to tell you this, I have non-Hodgkin's lymphoma." Quickly I said, "What exactly does that mean?" And he said, "I have cancer." A deep heavy feeling enveloped my body and I could not even make a sound with my own voice. Tears began to fall one after another off my cheek onto the glass table where I was sitting. The next words out of my Father's mouth were, "I love you, please don't cry, I'm going to beat this." I felt like I never wanted that call to end. I didn't want to say good-bye. Eventually my Dad said he was tired and wanted to rest.
After we hung up, I called my work and told them I had a family emergency and could they manage without me on one of the busiest days of the year. At first they gave me a bit of a hard time, until I finally told them exactly why. I said, "My Father was just diagnosed with cancer and I need to go and be with him." It was the first time I said those words out loud and I barely got them out past my lips. It was interesting how different my Manager was when he knew the truth. He told me to take as much time as I needed and to let them know when I would be returning back.
I hopped on the next bus to Niagara Falls, and for the two hour journey my head was reminiscing of life with my Dad and how we had come full circle.
My Father was my hero and my rock, the two of us had a very special bond. I loved spending time with him. He had infectious energy. When he smiled, he lit up a room. He was one of those people you never forget. He loved his kids and taught us all the important things in life like; respect, kindness, love, empathy, manners, responsibility, how to cook, how to plant, and how to make things. As a young child my favourite way to spend a Saturday was joining him at his work and sorting out his papers in his office. After he would take me for Italian Ice and coffee. Yes, my Dad let me have coffee regularly and I loved it.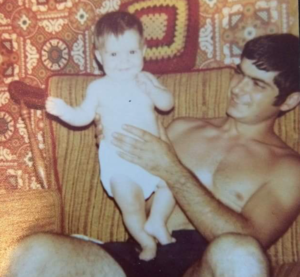 Around age eight, things got challenging between us. I began questioning our faith. For the next nine years my Dad and I would battle over being Jehovah's Witnesses. I did not want to follow the religion and he basically did not give me a choice which caused years of distress, upset and hurt for both of us. I broke my Father's heart by refusing to get baptized. In my teens, it became unbearable as my Father treated me as if I was a Jehovah's Witness, so I was not allowed to participate in extra-curricular activities, have "worldly" friends (friends who are not Jehovah's Witnesses), and I had to attend meeting three times a week, plus go out on service with my family. I hated it. I hated it so much I ran away at the age of 14. I went to live with my friend and reported my situation to my school and the guidance counsellor. I spent a few months living away from my family before returning as my Father and I came to an agreement, I did not have to go out on service and I only had to attend meetings on Sundays.
When I returned to my home, I was met by the Elders of the Congregation and I had to "confess" my sins and be counselled. It was an intimidating situation and I remember standing my ground and telling them I will not be a hypocrite and say what they want to hear just to make everyone happy. I did not want to be a Jehovah's Witness and there was nothing they could say to change my mind. I started to feel like I was being attacked and the next thing I knew my Father was defending me and asked the Elders to leave. I remember them taking my Father aside and words being exchanged. The Elders left and my Dad came and gave me a hug and said sorry. He was sorry they treated me the way he did and no matter what I was his daughter and that love would always come first. I found out years later, my Father had all of his "privileges" removed within the Congregation for defending me. He never said a word to me about that.
After this incident, things somewhat improved but it was a challenge for everyone. My Father was stubborn so he continued to try and persuade me to follow the religion. It became exhausting and unbearable and so in turn I became extremely rebellious. Two weeks after my 19 birthday I packed up my things and told my parents I was moving to Toronto to attend College. My Dad was devastated. He told me that he wouldn't give me one penny towards school or living expenses if I did this. I told him it wasn't about money, it was about living a life that I didn't have to feel ashamed of because his faith wasn't mine.
I was right, that move away gave us the space necessary to heal and repair our relationship. After I finished College, I moved to Switzerland to work and ski, my Dad wasn't impressed. Once the winter season finished on a whim my boyfriend at the time and I decided to head to the Middle East. We would fly from Zurich to Istanbul and three months later fly out of Cairo Egypt and back to Switzerland. We would make our way from Turkey to Syria, through Jordan to Israel and finally to Egypt. I was just twenty-two years and when I called my Father to tell him about my upcoming adventure, he couldn't even speak and passed the phone to my Mother.
During my travels, I called my parents from time to time so they knew I was safe. My Father would never get on the phone. My Mom said the same things to me every time and ended the call with " We love you, please be safe and thank you for calling." At the time I didn't understand why my Father could not speak to me.
Once I returned to Switzerland I called my family to let them know I had returned safe and told them I was coming back to Canada. When I arrived in Toronto they met me at the airport and the minute my Father looked at me he started to cry. I had lost a lot of weight as I had suffered some serious food poisoning during my travels but never told my parents as I didn't want them to worry about me. My Father spent the next few weeks nursing me back to health, not once did he give me hard time about getting sick while I travelled.
One night, when I was sitting with my Mom and Dad watching a movie I said I wanted to apologize for my rebellious behaviour. That staying out all night and causing them all sorts or worry wasn't kind or loving of me. I also told them, I knew that they had always wanted the best for me and that I understood they weren't trying to ruin my life when I was growing up. I remember a huge sense of relief by owning my behaviour. I also told them I knew they tried their very best with me and you only have one chance to raise your children so of course you are going to make mistakes. I think kids expect their parents to be perfect. I also thanked them for accepting my choice even though it was painful for them. That conversation was a positive healthy turning point in our relationship.
A few months later I was back on a plane to Switzerland for another winter season followed by four months travelling Europe. This time when I told my Father my plans he was ecstatic. I wanted to go and spend time with my Dad's family in Italy, many whom I never met. He called his family and made arrangements for my whole time in Italy. I spent 4 weeks in Milan with his youngest sister and then travelled south to Ruvo Del Monte where he was born and raised until he left for Canada. My Father's family was very poor, and when I saw where my Father was born, in a barn with dirt floors, 8 other children and two goats, it was a deeply humbling experience. It was unreal to spend this time with my Father's family and learn about the culture and rich history of Italy. This trip helped me understand my Father better. This trip made me proud to be Italian and for the first time I understood why my Father moved to Canada, to give a better life full of opportunity to his family.
After I left Italy, and continued my travels throughout Europe, my Dad was excited when I called. He wanted to hear about where I went, what I saw, what I ate, where was the next stop. He wanted to know every single detail. It was so different from my last adventure, now I realize it was because he was so scared about my safety in the Middle East, as a Mother myself now, I understand this.
When the bus pulled into the Niagara Falls bus terminal my reminiscing came to an end. I grabbed a taxi and made my way to my parents place. My parents were quite surprised when I showed up on their doorstep. My Dad said, "What are you doing here, you need to work!" And I said, "No Daddy I need to be with you."
I stayed for a few days with my Dad and during the year I spent my days off in Niagara Falls spending time with my Dad and helping my Mom. We talked, we laughed and we cooked. That pretty much sums up the memories I have of my Dad my whole life. The one thing I knew for certain without a shadow of a doubt was just how much my Dad loved me. I was his favourite and everyone knew it, I was his "soul child".
At the beginning of December 2003, I received a call that my Father took a turn for the worse. As I arrived at the hospital I was told he was on the palliative care floor. Naively at the time I didn't realize what that meant. I remember going to my Father's room and crawling in bed with him. I spent the next week in the hospital with him day in and day out. I refused to leave his side. During that week in the hospital we talked about so many things. He told me he was proud of me and that I had it all right and he had it all wrong. When I asked him what that meant, he said, "You went to all the places you wanted to see, you didn't get tied down to a job or start a family young, you went and did the things you wanted to. You experienced the world and here I am going to die with so many unfulfilled dreams. I always wanted to go to Hawaii and I am never going to see it because I got too busy with work, I always kept putting things I wanted to do off." He held my hand and told me not to make the same mistake, and smiled and said, "You are already smarter than me."
One morning, I was watching my Dad sleep and the tears began to run down my face, as I thought of life without him. My Dad opened his eyes and asked why I was crying. I told him I didn't want him to die, that I wasn't ready to let go. He said to me, " I have had a good life, with three wonderful children, I have my faith and I am not afraid to die. It is time, we all have our time, this is mine. Always remember I am so proud of you and I am always with you. We have the same eyes and we share the same smile. Every time you smile, I am smiling with you." I am comforted by those words every single day.
On December 13, 2003, my Father died, it was the best thing for him and the worst thing for those left behind. I am so beyond grateful for that time I spent with my Father in the hospital before he died because we exchanged so many words, thoughts and love there was literally nothing left unsaid. The day my Dad died my heart was so full of love as I reflected on this incredible man I was so fortunate to call my Father and so full of sadness because physically he was gone.
The next year was an incredibly sad one. When someone significant in your life passes away it creates a hole in your heart. Honestly, it never goes away you just learn how to live again despite the void and loss you have. It takes time and that is the hardest part, there is no way to speed it up.
Fast forward to February 14, 2007, I gave birth three weeks early to my own son Phoenix on the same day my Father was diagnosed with cancer 4 years earlier.
This is the Circle of Love.
I received the greatest gift of Love on the day that use to represent a day of indifference, sadness and fear. Each year since 2007 on February 14, I celebrate my son Phoenix, my greatest gift of Love, my "soul child". Every day since Phoenix was born I have had an abundance of love in my life. My relationship with Phoenix is very similar to my relationship with my Father and because of my relationship with Phoenix I better understand and appreciate the love my Father had for me during our time together. Just like my Father wanted a better life for his family, my experience growing up makes me a better Mother for my children and for that I am forever grateful.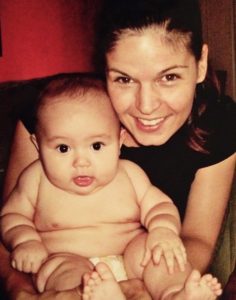 Per Sempre Con Amore Papa <3
(Forever with Love)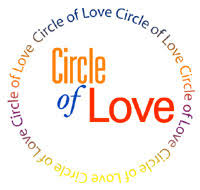 Thank you Caterina for sharing that most beautiful, heartfelt and touching LOVE story.  I am sure it will resonate with many of those reading it.  It sure does with me!  Your kindness and generosity of spirit is so powerful and I can imagine your dad is somewhere over the rainbow,  looking down from heaven with pride for his Caterina!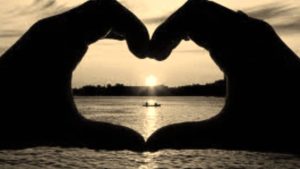 Circle of LOVE,
YDP
P.S. Here is the photo of the day Caterina and I met. I'm sure you can tell how happy we are by our faces!  Though he was in school at that hour, I hope next time I will get to meet Phoenix too.  You can follow Caterina on Snapchat (@cannacat) for more of her beautifulness!