TGIF and welcome back to the Guest Blogger Month of LOVE series on Yankee Doodle Paddy. One of the cool things about love is that we can all learn from each other. Case in point, today's Post #9 is from the lovely Vanessa who is only 12 years old. Last year there were two guest posts from young people (
Alannah
15 years old and
Hannah Rose
8 years old) as well. In society, people think it is the adults who teach the younger people. But I often find I learn more from young people. They are wise and loving and giving. Today, Vanessa is giving us a treat with a poem she wrote with LOVE for someone very special to her.
I wrote this poem for my Pa because he is a great person inside and out.  He also takes much pride in being a veteran and everyone should be able to appreciate that too.  Everything he does for people he loves is always from his heart!  I loved writing this poem for him and showing others what he really did for his country.  His country means a lot to him and that's why he served and gave his time for his country, and it's great to be able to share that.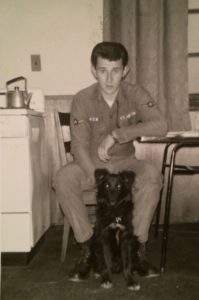 A Brave Man
                            My pa was a veteran
                   In the United States Air Force.
                       There were lengthy nights,
                        But he stayed on course.
                        He was an airmen at first
                        And an aircraft mechanic.
                           But little did he know,
               He was going to cross the Atlantic.
                          First he soared to Japan
                         With many aircrafts to fix,
                          But swooped in like a bat
                          And ate with chopsticks.
                            Next was Las Vegas
                       Where the trainings were hard.
                And never interrupted for a second,
                            To write a postcard.
                       Then he with great courage
                       Walked into the Vietnam War.
                      Where his friends were taken
                     Which made his heart very sore.
                          As the years passed by,
                        Time grasped on his heart,
                 And he learned freedom is not free
                      And that made him more smart.
                               Then time went on
                                And later in his life
                   He realized what he wanted most,
                          Was to be with his wife.
I am Vanessa Fleck, I'm 13 and I'm in the seventh grade. I live in Cape Cod Massachusetts and in my free time I like to spend time with family and dance.  In school my favorite subjects are math and science.  However, I like writing in English a lot.  My favorite place other than home is Maine where I visit my grandparents, and we have so much fun together.  Last of all I always love to travel and see different things around the world!
Wow what a fantastic homage to her Pa!  Such a talented young lady, a way with words and lots of love in her heart. It's not surprising though. Her aunt is the amazing Kimberly Fleck who I am proud to say is
Guest Blogger #5
 and you can see her pictured here with Vanessa and Pa (Kimberly's dad).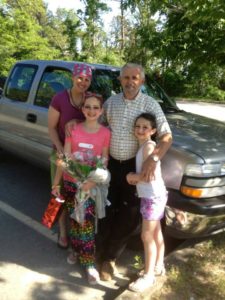 If you are reading this and thinking of sharing a LOVE story, please reach out to me by leaving a comment below or emailing me at: imayankeedoodlepaddy@gmail.com  I still have space for you during this Guest Blogger Month!  Whether you are young or old or in between, let your heart strings be tugged.  And then share with all of us!  Cuz LOVE not only  makes the world go around, but it makes the ride more enjoyable!
A big thank you to you Vanessa for trusting me with this precious LOVE story! You are so wonderful and your family must be proud of you. And I too had a special relationship with my grandpa who was in the military.  So I thoroughly loved this story and brought back some great memories!  Keep on writing and most of all keep on loving!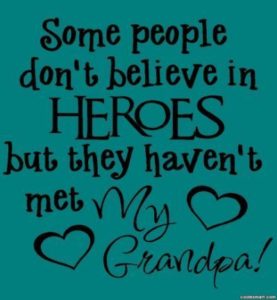 Brave LOVE,
YDP