Welcome back to, you know it, my fav day of the week! Whoop whoop! Woman Crush Wednesday, where each week I choose a female chef and re-create one of her recipes live on Snapchat (username blissbakery). Not on Snapchat?  No biggie. I will be sharing the recipe, photos, and information about my Woman Crush Wednesday recipient on this here blog. I call it a LOVE story.  Because first of all I love LOVE!  Secondly, because don't think this #timesup is just about Hollywood gender disparity. Working in the culinary world I have seen it in this industry for far too long. That is why I created this special day back in September 2015 to honor and share the love for awesome female chefs kicking butt in the foodie world. And my 85th WCW is the phenomenal Suzanne Goin.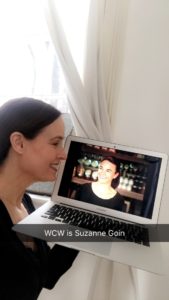 Suzanne is a born and raised LA woman.  A married mom of three kids she is a well respected chef and restauranteur with three successful restaurants:  Lucques, A.O.C. and Tavern.  I have been lucky enough to dine at all three and while each one is totally different and unique, they all have Suzanne's touch of class!  Living in LA for so many years before I moved across the pond, I saw Suzanne's star rising.  I am not surprised she has won the coveted James Beard award.  With two cookery books under her belt and so many business opportunities this lady is now in another stratosphere all together.  But today I want to meet her in the culinary realm and try one of her recipes.  Her Walnut and Cranberry Clafoutis, a very French dessert, sounds YUM!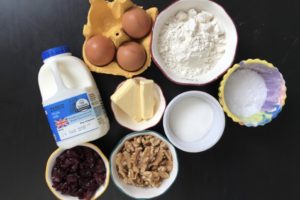 Ingredients
1 cup (227 ml) plus 2 tablespoons whole milk
2 tablespoons plus 1 teaspoon unsalted butter
3 extra-large eggs
½ cup plus 2 teaspoons (81 g) granulated sugar
¾ cup all-purpose flour (120 g), sifted
½ teaspoon kosher salt
¾ cup (95 g) walnuts
½ cup (80 g) dried cranberries
Instructions
Heat the milk and 2 tablespoons butter in a small saucepan over medium heat until warm but not hot.
In a large bowl, whisk the eggs together. Whisk in 1/2 cup sugar, the flour, and the salt. Add the warm milk, whisking well to incorporate completely. Let the batter rest 1 hour at room temperature.
Preheat the oven to 375°F/185c
Spread the walnuts on a baking sheet, and toast about 10 minutes, until they're golden brown and smell nutty. When the nuts have cooled, chop them coarsely.
Butter a 10-inch round or oval baking dish with the 1 teaspoon butter. (You could also make six individual clafoutis if you like.) Sprinkle the remaining 2 teaspoons sugar in the dish, and tip it to coat the bottom and sides. Pour the batter into the dish. Scatter the walnuts and cranberries on top (most of them will sink). Bake about 45 minutes, until the clafoutis puffs up and is golden brown.
Serve the clafoutis directly from the baking dish while warm. You can top with whipped cream.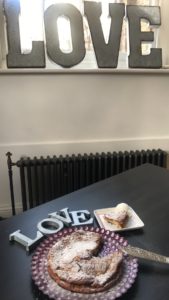 My favorite part of WCW is of course the tasting!  So shall I get to it?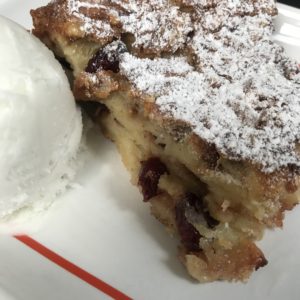 Well what a wonderful surprise!  LOVE this so much, not only for its taste and ease, but for its adaptability.  A traditional Clafoutis is made with cherries, but fresh in season cherries would be hard to find in early March in London.  But using dried cranberries and walnuts give this comforting dessert an awesome texture.  I know it is NOT traditional to sprinkle icing/powdered sugar on top.  But I thought it would not only look pretty, but give it a bit more sweetness.  Because it really isn't too sweet on its own, which is a good thing!   But I have a massive sweet tooth!   I also served it with vanilla ice-cream instead of the standard whipped cream.
Of course it is best served warm. But I am going to have another slice for breakfast with my coffee. And I honesty think a bit of this squishy custardy not too sweet room temp clafoutis will be divine!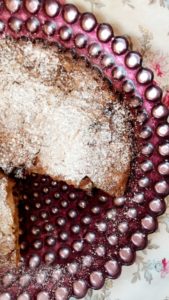 It is such a joy to spend the day basking in the love for someone so talented, hardworking and generous.  Which is why Suzanne is such an amazing Woman Crush Wednesday.  As busy as she is, she stays humble and also gives credit to her mentors (one of whom is Alice Waters, also one of my WCW), and her team.  Two important folks on that team are her husband David Lentz (and co founder of The Hungry Cat)  and Caroline Styne her business partner.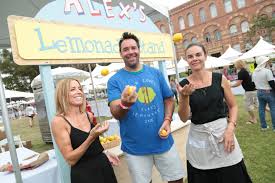 This amazing trio have instituted the LA Love's Alex's Lemonade yearly event to help raise funds for childhood cancer research. They have gathered all their foodie friends for a family fun festival day each September on the campus of U.C.L.A.  What great role models for their children and what pure inspiration for all of us.  They are examples of using their lives to create something worthwhile and meaningful.
Thanks Suzanne Goin for all you do!  I can't wait to come back to LA for a visit and once again dine at one of your restaurants.  It is always a memorable meal!  Because your heart and soul is in every bite!  Speaking of which, I am going to savor every last bite of this delicious clafoutis and will think of you each time I make it in the future.
Goin with LOVE,
YDP