Today's Woman Crush Wednesday needs no introduction to anyone who is privy to the foodie scene in London. Angela Harnett is a giant in the culinary world here in the Big Smoke. She worked her way up through the most prestigious kitchens and under heavyweights such as Gordon Ramsey and Marcus Wareing. But it would appear her greatest culinary inspiration came from closer to home.
Her grandmother was from Italy and she imparted the passion for Italian food, deliciously simple ingredients and most importantly the addition of LOVE into all the meals. While Angela was born in Kent, England her own mother was born in Wales and her father Ireland. So she also knows about the comfort foods found at her reach in this part of the world. Which is why her signature dishes are so interesting and sought after as they combine all of her experiences and sensibilities. I hope to one day eat at her famous Michelin star restaurant Murano.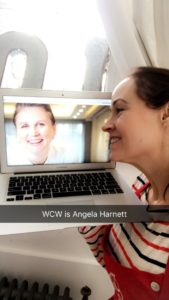 While yesterday was the Spring Equinox the weather still feels very cold and wintery.  Therefore a soup sounds like just the thing! And this Courgette and Mint soup recipe of Angela's looks amazing!  Here goes…..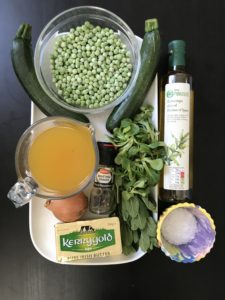 Ingredients:
4 tbsp olive oil
Generous knob of butter
1 small onion, chopped
2 small courgettes, thinly sliced
Pinch of salt
300g (10.5 oz) frozen peas
500ml (18 oz) vegetable stock
Handful of mint, torn
Handful of watercress, torn
Instructions:
Put half the oil and all the butter into a pan on a medium heat. Saute the onion until soft. Then add the courgettes, season with salt and cook for about five minutes.
Stir in the peas then add the stock.  Bring to the boil, then turn down and simmer for a few minutes. Check the seasoning, blend the mixture in a food processor or with a handheld blender, thinning it with water if necessary.
Garnish with the mint, watercress and a little olive oil.
Serve with toasted sourdough toast spread with some goat's cheese.
If you want the soup cold, after it's been cooked, pour it into a bowl over some ice to chill quickly, then refrigerate. Chill your bowls before serving the soup.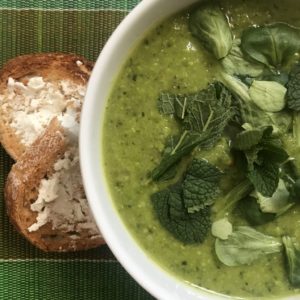 Wow this soup is so delicious! And so quick and easy to make. Hubby loved it and ate two bowls. I am really looking forward to the warmer weather and trying this again only as a chilled soup. It is so healthy and filling too. The fact that it is a vegetarian recipe is a plus for me as I have many friends who are vegetarian and are always looking for new recipes.
Besides being a world class chef, Angela is a cookbook author.  For someone who clearly has sophisticated cooking chops, it is wonderful that her food is accessible to lay people. Most people might be intimidated to try a recipe from a Michelin starred chef, but Angela is warm and inviting and her instructions very approachable. No wonder she is adored here in the U.K. She was even awarded the MBE from the Royal Family for her contribution to the hospitality industry.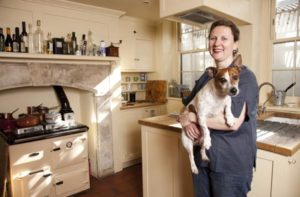 I know being honored as my 86th Woman Crush Wednesday doesn't come with the same pomp and circumstance, but I have been wanting to shower Angela with love for quite some time. She really is such an inspiration for me and many others in the culinary world. While I re-created her recipe live on my Snapchat channel (username blissbakery), it took some courage.  I am sure Angela could understand as she too is a dog owner. But my dear sweet furbaby Stella wasn't here to be my straight man and side kick. With her crossing to the Rainbow Bridge last Tuesday, I took a pass on last week's WCW episode. But this week, with the help of some encouraging friends and the surprise this morning when Stella's ashes returned to us a week earlier than planned, I knew I had to bust out the bad singing and dancing for the amazing Angela.
So thank YOU Angela for being so awesome and from one doggie momma to another, sending you big hugs!
Soupy LOVE,
YDP