Another Hump Day, another episode of Woman Crush Wednesday. The 87th to be exact.  But today is quite special as the amazing Myrtle Allen is getting honored! Yes the wonderful grandmother of Ireland's food tourism, the owner of Ballymaloe House and a recipient of a Michelin star!  Myrtle Allen is now 94 years young and while living in County Cork Ireland as a farmer's wife and rearing six children, she became responsible for putting fine dining and country living together in one sentence.  I had the pleasure of getting to know her while I was a student of the Ballymaloe Cookery School (owned by her daughter in law and WCW honoree Darina Allen).  And today I will be re-creating her fun recipe called "Balloons" from one of her cookery books!  So up, up and away for the tutorial…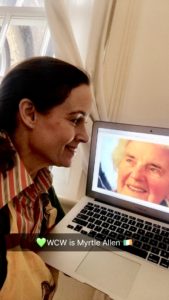 My love affair with donuts is well documented on my Snapchat (username blissbakery) and my Instagram accounts. And I have made baked donuts many times even sharing the recipe here. But today will be my first time making deep-fried donuts. This recipe for 'Balloons' is basically a simple donut recipe.  Since each week I make a recipe from the WCW female chef which I have never made before, today was a tough one. Why? Because I have made so many  of Myrtle Allen's recipes!  But this is one I am so excited to try for the first time and will be doing so live on Snapchat.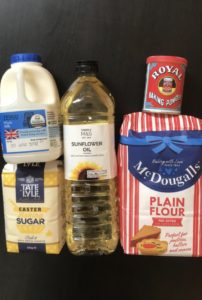 Ingredients:
140 g (5 oz) plain flour
1 TBSP Caster Sugar (in USA called Fine Sugar) plus extra for coating the doughnuts
1 tsp baking powder
About 110 ml milk (4 fl. oz)
Oil for deep-frying the doughnuts
Instructions:
Sift the flour, 1 TBSP of the caster sugar and the baking powder in to a bowl and slowly whisk in enough of the milk to make a very soft dough that can be dropped from a spoon.
Heat 2-3 inches of oil to a temp of 190c/370F in a deep saucepan.
Spoon out the rounded tablespoons of the dough, lower them near the oil's surface and push them off into the hot oil so that they drop in fairly round balls. It is not necessary that the shapes be perfectly exact, it is more interesting if they are not.
Fry the doughnuts in batches, turning carefully with a slotted spoon to make sure they are cooked evenly. After 4 minutes, when they are golden and puffed, remove with a slotted spoon and drain on paper towels.
While still hot, roll the doughnut balloons in the extra caster sugar and serve warm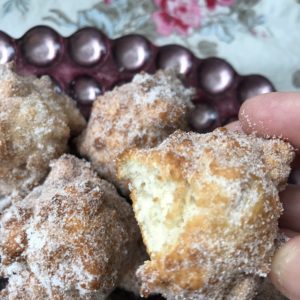 Not only was that the quickest Snapchat tutorial I have ever done, I think it went over like gang busters with those watching.  Baking can be daunting even for the best of cooks. Some don't want to pull out the stand mixer and with the baking times and clean up it can be a big chore for mommies of young kids.  But this recipe is super easy and done in a flash.  And I think it can be adjusted too for those who might want to add cinnamon to the caster sugar at the end.  When the warm donuts are rolled in a cinnamon/sugar combo it can have a churro taste to it.  I LOVED these as is and really enjoyed them with my cuppa!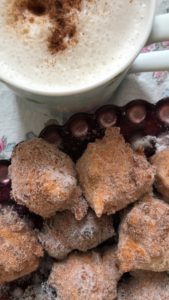 The first time I met Myrtle Allen was in 2002 when Hubby took me to Ballymaloe House for a holiday. I fell in love with her and everything Ballymaloe. So much so that I put down a deposit for the cookery school. It took me five years before I got back to attend the 12 week course, but it was worth the wait. I would see Myrtle around the school or up at the House. She was always so kind and welcoming, and really made me feel at home.  Myrtle would greet me by name and ask how I was getting on in the course. When I would see her over the years since graduation it amazed me that she didn't forget me, especially with the sheer volume of people she has encountered in her lifetime. But it showed me just how much she really cares and she is truly one of the most decent human beings I have ever met.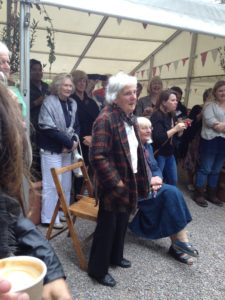 Mrs. Allen is passionate about good food and wonderful hospitality and has exemplified that by consistently providing both at the Ballymaloe House.  Which is why it is no surprise that time after time food and travel publications and international awards are bestowed upon her.  In fact, Lonely Planet recently dubbed her the "matriarch of Ireland's best known culinary dynasty."  She indeed loves her family and is very proud of their achievements. Myrtle Allen is blessed with  22 grandchildren and 33 great grandchildren, many whom have gone on to start their own successful food businesses.  So it seems that the genes are strong!
I realize that of all Myrtle Allen's recipes to make, these Balloons seem so simple. But here is the thing, real chefs know that simplicity is a sign of confidence. The Ballymaloe ethos has always been to serve seasonal food made with the best and freshest ingredients and let the flavors do the talking. And since this recipe comes from Myrtle's own mother and evokes lovely childhood memories I felt it was befitting to re-create them. Apparently Myrtle would make them for her own grandchildren as they too always loved this recipe.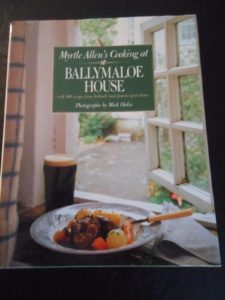 A wonderful documentary "A Life In Food"  was made of Myrtle Allen and I would encourage you to watch if you can.  There is so much more I could share on here, but the film really gives you the sense of her beautiful deep soul.   She one of the founding members of Euro-Toques and Slow Food. It is her deep and profound appreciation for mother nature who bestows this food upon us and encourages us to nurture, prepare it and serve it with the utmost respect. This is why I love the inspirational Myrtle Allen and why I believe she is and always will be admired the world over for her contribution to Ireland's foodie legacy.  She is the ultimate gastronomic goddess.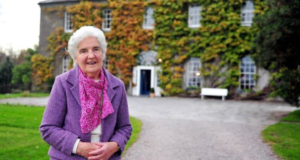 Gushing LOVE,
YDP