The 90th episode of Woman Crush Wednesday is here and it's gonna be an awesome one!  I am honoring Australia's leading foodie, the amazing Donna Hay. I will be re-creating one of her recipes live on my Snapchat channel (username blissbakery) and will share photos and gush all over this gorgeous gourmet gal!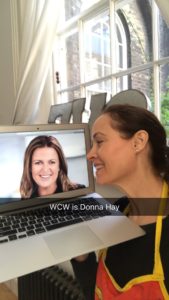 Donna Hay is a household name in Australia but she is known all over the world too as the author of 26 best selling cookery books and a successful magazine called Donna Hay which just celebrated 15 years. She is the most amazing food writer and stylist and I am a bit nervous about how I am going to style the Coconut Caramel and Banana Cobbler recipe of hers. As I have shared on here before (the ABC of YDP) I am not a food stylist or photographer. I just use my phone to take photos of the WCW recipes I make. But the one thing going for me today is that this recipe sounds so good I think once I get to the tasting I'll be in a glorious food coma. So my nerves about the perfect photo will have gone out the window! So let me get going on this fab looking dessert. I'm so excited because it has lots of coconut which I adore!
Ingredients:
400ML can/tin Coconut Milk, plus extra to serve (OPTIONAL)
½ CUP (70G) Coconut Sugar
2 tsp Vanilla extract
¼ CUP (60ML) Water
1 CUP (130G) White Spelt Flour
3 tsp Baking Powder
½ CUP (40G) Shredded (desiccated) Coconut
¼ CUP (45G) Cacao Nibs
¼ CUP (55G) Raw Caster (SUPERFINE) Sugar
50G  Unsalted Butter, cold and chopped into cubes
¾ CUP (180ML) Buttermilk
3 Bananas, Halved Lengthways
Instructions:
Preheat oven to 180°C (350°F). Place the coconut milk, coconut sugar, vanilla and water in a 28cm ovenproof frying pan over high heat and cook, stirring, for 5–6 minutes or until the sugar is dissolved and the mixture has just come to the boil. Place 2 tablespoons of the caramel in a small bowl and set aside.
Place the flour, baking powder, coconut, cacao nibs, caster sugar and butter in a medium bowl and rub the mixture together with your fingers to combine. Add the buttermilk and mix until just combined. Spoon the topping over the caramel and top with the bananas. Place the pan on a baking tray and cook for 30 minutes or until bubbling and golden. Drizzle with the reserved caramel and extra coconut milk, if using, and serve immediately.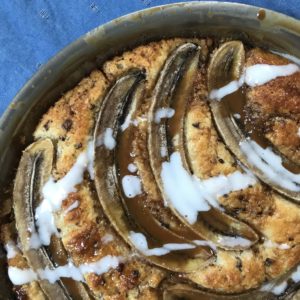 Okay, it only took one bite to decided this is my new fav dessert! It has all the elements I love like coconut and bananas. But it also has a the awesome surprise of the cacao nibs. They add a crunchy texture to this dessert and a nutty/chocolate-y flavor.  This is super easy to make, a crowd pleaser and a year round dessert. Seasonality is ideal in cooking and baking, but bananas are available year round so you can't go wrong with this Coconut Caramel and Banana Cobbler!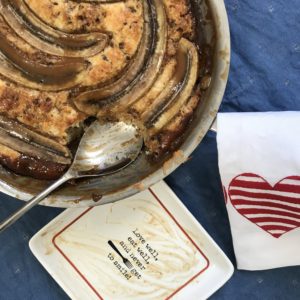 I shouldn't be surprised that this recipe is a winner. Donna Hay and Donna Hay Magazine Instagrams are packed with pretty photos of all the food you'd ever want to make and eat! What I love is that Donna creates recipes for  all needs, families (she's is a mom to two boys herself) or couples, fancy entertaining or simple and quick, healthy or moreish. It really is a one stop shop of deliciousness and all based on using the best ingredients possible.
Donna is on Australian television with her own shows and also on Master Chef as a judge. She is a true role model for women in food, in business, in publishing and as a family person. Her commitment to excellence is apparent in all she touches. And while she has had her fair share of struggles, she always keeps going, which offers inspiration to others who deal with challenges. She is beautiful inside and out and I am so proud to have her my Woman Crush Wednesday chef!
LOVE down under,
YDP