Groundbreaking, inclusive, romantic, unique, personal, different, and untraditional were many words I heard while watching the television coverage of the Royal Wedding. But the word I heard most often was modern. May 19, 2018 is a day many will remember for years to come. As Prince Harry and Meghan Markle shared their love publicly at the Windsor Castle wedding, it is estimated that billions of people watched along with them. And while I wiped away many a tear, I also cheered as indeed it was beautiful, touching and MODERN!
Having spent the last couple of weeks in the lead up to the big day, I started my own Royal Wedding Countdown with adventures all over London and its surrounding areas.  I documented it on my Snapchat account (username blissbakery) as a way to build excitement and in particular to feel more of a connection with the couple, now known as the Duke and Duchess of Sussex.
Why spend so much time on trains, boats, cars or on foot to visit spots special to Prince Harry and Meghan? Well for one, LOVE is my purpose in life, and why not celebrate their love as well! As an American citizen blessed to currently live in London, I thought it would be a fun way to share with my friends around the globe. Watching something like this on television with journalistic conglomerates trying to sell "news", often scandals and dramas are unearthed to gain followers. I'm not selling anything, I simply wanted to highlight the good points of this gorgeous couple!
Finally, having been here in London during the Royal Wedding of Prince Charles and Princess Diana (Prince Harry's parents) back in July of 1981, I felt a unique kinship. Princess Diana and I were both young brides who had our children around the same time and indeed got divorced near one another. We were both preschool teachers at one stage and also share a passion for helping others. So this was a way to honor her legacy too. Even though Prince Harry was only twelve when she passed away, there is no doubt in my mind she left an indelible impression on her son and many others including me.
So I will share with you some of my Snapchat photos and website links from the spots I visited along this lead up for the wedding of a lifetime!
 Violet Bakery Humble home of Claire Ptak the amazing pastry chef who broke tradition with  this Lemon and Elderflower Sponge Royal Wedding Cake. She is also one of my Woman Crush Wednesday chefs.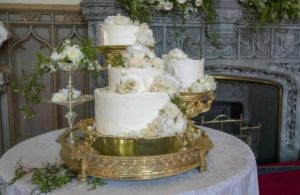 Windsor Castle home to the Royal Family for over 900 years. The highlight of my day there was attending an hour long confirmation service in St George's Chapel where the wedding took place.
A day in remembrance of Prince Harry's mother, Princess Diana:  The Diana Cafe, the Diana Memorial Fountain in Hyde Park, Kensington Palace and the Sunken Gardens where the Royal Couple announced their engagement in November.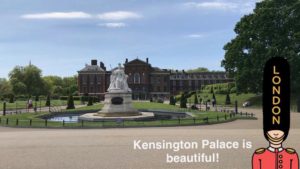 A trip to Soho to see where the romance started
A colorful and fragrant stop at the high street boutique of Phillipa Craddock the floral designer was a treat for the senses.  She brings a dreamy and ethereal look to all her the flower installations. She even used local blooms for the day in the bouquet that had sentimental significance.  Apparently after the wedding the flowers were donated to a local hospice and the bouquet was left to rest in Westminster Abbey on the grave of the unknown warrior.
Westminster Abbey is one of London's most historically important landmarks. It is also a personal place for Prince Harry as it is where his grandmother Queen Elizabeth II was married and had her coronation. As well, his brother Prince Willam and Kate Middleton had their wedding at Westminster Abbey in 2011 and his dear mother Princess Diana had her funeral in 1997.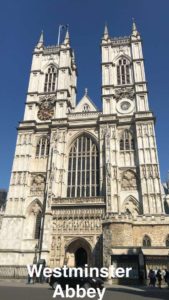 St. Mary's Hospital where Prince Harry was born on September 15, 1984
A trip to Notting Hill to see Miss Minors Nursery School & Wetherby Primary School where Prince Harry's early education was nurtured.
Clarence House is the home of Prince Harry's father and step mother, Prince Charles and Camilla. It is a stone's throw from Buckingham Palace.

Buckingham Palace needs no introduction or description. I have taken Snapchat to see this amazing palace designed by John Nash (who also designed Clarence House) on many occasions. It is just so majestic! And since it is the the seat of the British Monarch, I felt it was pretty important to go back again in the lead up to the Royal Wedding.
Sands End Gastro Pub, part of a group of London watering holes formerly owned by Royal Family friend Mark Dyer. It is here Meghan and Prince Harry enjoyed a meal during their courtship. Mark served as an usher at the wedding and his son Jasper (Prince Harry's godson) served as a page boy.
And of course the big day of the wedding with a viewing party!
The wedding itself was so emotional I was crying before it began! There was so much anticipation to see who designed the wedding dress.  And it didn't disappoint. Meghan looked simply elegant in a Givenchy House wedding dress designed by Brit Claire Waight Keller. She wore a diamond tiara loaned to her by the Queen. One of the best moments of the day was when Prince Harry said to Meghan as she arrived at the front of the altar, "You look amazing"
Of course the fact that she was escorted half way up by Prince Charles was touching. Not always seen as warm by the public, he showed tenderness supporting Meghan when her father was too unwell to attend.  He even lead Meghan's mother Doria out of the chapel after the service ended. His stock has gone up in my estimation!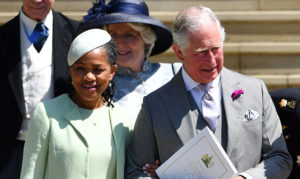 The music throughout the service was phenomenal, and in particular the gospel rendition of "Stand By Me" seemed to embody the essence of what the married couple aim to achieve in their future. Certainly the Bishop Michael Curry (from my hometown of Chicago) gave a rousing sermon, on my favorite topic, LOVE! "Love is Power" he said and while my British fellow party goers were nervous that he spoke too long and made the Queen a bit uncomfortable, he sure got the juices flowing with an unforgettable message!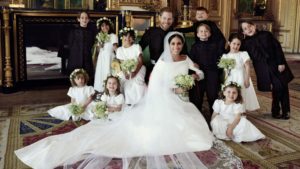 The guests were a who's who of celebrity! The Clooneys, the Beckhams, the Elton Johns, and of course Oprah. But my fav guests were the darling children in the wedding party. They were so cute and well behaved. The most poignant was the one guest present yet unseen by the naked eye, Princess Diana the late mother of Prince Harry. There was an empty seat next to best man and big brother Prince William. I am sure Princess Diana was there and so proud of her son and delighted with her new daughter in law. Princess Diana even without a "meatsuit" gave the day the humanity as she did on her own wedding day. Her warmth and humanness is what everyone remembers about her time as a royal family member and it lives on! The people's princess forever!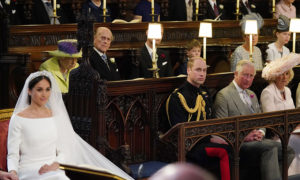 While Princess Diana brought humanity, it would appear that it was called a modern royal wedding for a reason. Meghan Markle brought modernity to the royal family that was timely and needed. The Royal family's traditional ways got shaken up with this wedding. Meghan is not only a commoner from America three years older than Prince Harry, she is also a divorced actress. All of those traits have been seen in royal weddings of the past. However, this is the first time a royal has married someone of mixed race. Meghan's father is caucasian but her mother is African American. As I have biracial granddaughters, I am so happy that finally we are seeing racial boundaries start to dissolve within royalty just as it is in real life!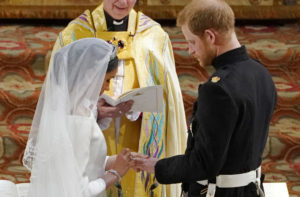 As well, Prince Harry will wear a wedding ring, which isn't common for royal men. And the biggest aspect of a modern and balanced marriage is the fact that the word "obey" was omitted from the wedding vows. Meghan is and always has been an activist for women's rights and equality. So it would seem that ethos will continue. Something Prince Harry, himself a passionate philanthropist, would embrace in his partner.
Speaking of embrace, this royal couple love PDA (that's public display of affection). Not something the royal family is known for showing.  It is nice to know that physical touch (one of the love languages) will be a welcome modern trait Meghan and Prince Harry will model for all.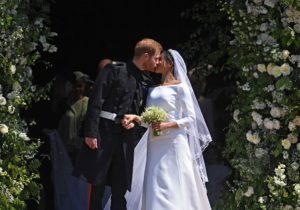 Meghan's husband is sixth in line for the throne and it's highly unlikely she would need to be concerned that Prince Harry would ever be king.  Nevertheless there were procedures and protocol that had to be adhered to such as getting the Queen's permission to marry. There were many other traditions that were upheld such as a the kiss for the public following the wedding. While most take place on the balcony above Buckingham Palace, the royal couple had their moment in the sun just outside St. George's Chapel under the gorgeous flower arch. The crowds went wild! Then they boarded an open horse drawn carriage for a ride around the quaint town of Windsor and up the long Walk back to the castle for their reception in St. George's Hall.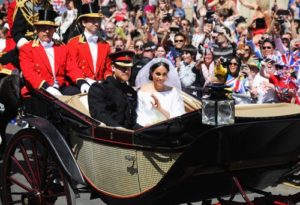 I overheard one television commentator say that "Meghan was embarking on the role of a lifetime". I would like to think that this isn't a role but part of a life journey of love. I suppose if Meghan was a doctor the commentator wouldn't have made a snide remark like that.  And I am not just saying that because I was an actress as well.  However,  I do think many people watching the Royal Wedding on television are detached from the fact that these are two human beings in love. They came from different backgrounds and have gone through good and bad experiences to get to this place in life. And all I can do is wish them an eternal marriage of love and happiness and joy and respect. I would encourage them to use the 5 Love languages and at all costs refrain from any contempt in their marriage. If it is their desire to have one, I wish them a healthy family and a long fruitful life.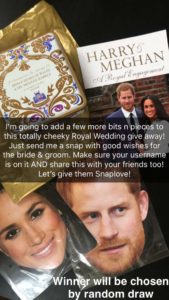 I asked those who had been watching along on my Snapchat journey to share good wishes for the bride and groom to be in to win a give away prize. They were all so kind and thoughtful and just goes to show how much good will there is in the world. As there was only one prize package, only one winner was chosen. But it went to a lovely person who happened to be going through a rough week. So it goes to show how in spite of challenges in life good things can still come. No life, even a royal one, is easy. But with love we can make it through! Actually, love AND donuts, cuz donuts always make things sweeter!  Which by the way I bought the Meghan Sparkle and the When Harry Met Meghan donuts in honor of the newlyweds!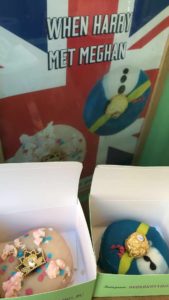 Royal LOVE,
YDP
P.S. In case you didn't get a chance to see the Royal Wedding on television (or if you're like me and you want to see it again) here is a link!