I'm not sure about you, but we are having lovely warm weather here in London. Which means I am craving some light and healthy salads!  And today's Woman Crush Wednesday honoree chef Lynda Booth is going to save the day. Especially since it is a quick and easy recipe for her Grated Carrot and Beetroot Salad.  Because if you're like me, some weekdays are hectic! With work and errands it leaves little time to get a meal on the table. So paired with a nice piece of fish, I am counting on this salad to be a 100 yard dash dinner winner!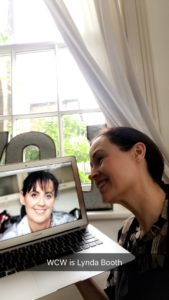 WCW chef #93 Lynda hails from my soul home Ireland.  She is the owner and operator of the famous Dublin Cookery School.  So I know I am in good hands with this recipe of hers.  I can already tell I am going to love the pomegranate molasses and yoghurt dressing as pomegranate molasses is my favorite ingredient these days. It is the perfect balance of sweet and tart!  I am so hungry just thinking about it, hence I won't waste any time and will get started right away. I will be doing a live cooking tutorial on my Snapchat account (blissbakery) if you'd like to check it out before it expires in 24 hours.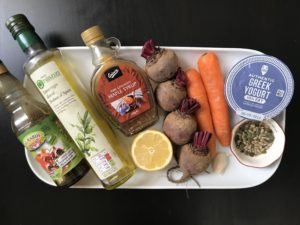 Ingredients:
20 g pumpkin seeds
20 g sunflower seeds
2 medium beetroot (about 300 g)
2 large carrots
for the dressing:
175g Greek yoghurt
3 Tbsp olive oil
a sliver of garlic, crushed
2 Tbsp pomegranate molasses
1 tsp maple syrup
juice of half of a lemon
Instructions:
Preheat the oven to 350 F/180c/160 c Fan oven, Gas 4
Place the pumpkin seeds and sunflower seeds on a tray and toast for about 5-8 minutes. Leave to cool.
Boil the beetroots with their skins for about 15 minutes. They should remain very crunchy. Remove the beetroot and allow to cool. When cool enough to handle, peel, grate coarsely and place in a bowl. Peel and grate the carrots in a similar fashion. Mix with the beetroot and pour over sufficient dressing to coat. Place in a serving dish and scatter over the pumpkin and sunflower seeds. Pour some more of the dressing if required.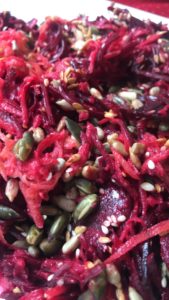 How gorgeous is this salad? It is so colorful and flavorful. Hubby isn't a salad person at all, and he gobbled it up! And the dressing is so delicious I could drink it like a smoothie. It made more than enough and I have some extra saved to use tomorrow. I just love all the textures in this salad and it is the perfect substitute for the traditional mayonnaise-y cole slaw so popular in summer time. It would be brilliant with burgers but tonight I paired it with some pesto salmon.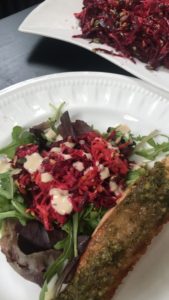 This recipe is from Lynda's second cookery book called Fearless Food. This award winning book is filled with "accidentally healthy" food as Lynda coins it. The photos and food styling are mouth watering. And all the recipes seem to be straightforward. This book was actually given to me as a gift from my friend Michelle who attended classes at the Dublin Cookery School. And she even had Lynda sign the book!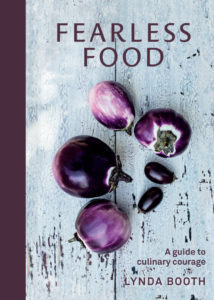 Lynda is such an accomplished chef, business owner and culinary teacher.  How she manages to do it while raising a family and appearing on television and live events like the Taste of Dublin is nothing short of superwoman powers! She is a fantastic role model for women and I am proud as an Irish citizen myself, that she has done so much for the Irish food industry! For now, I am going to enjoy some more of her fabulous salad!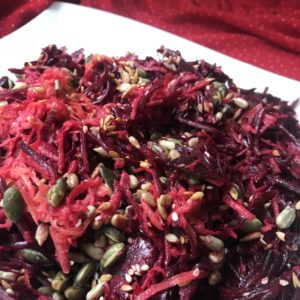 Thanks Lynda! Sláinte!
YDP
ps. You can follow along on the Dublin Cookery School Instagram for more fab inspo!