I just love vegetables! I had to put that out there, and it will make sense in a minute. But what I love most is my weekly homage to the female chefs in the culinary world. Wednesday is more than a hump day to mark the slide towards the weekend. For me it is the focal point of the week. I get so much joy honoring a gorgeous gourmet gal by recreating one of her recipes live on Snapchat (username blissbakery). But today's episode, number 97 if you are counting, is especially dear to me because of the incredible chef Nyesha Arrington!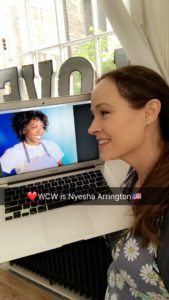 I had the most amazing pleasure of not only meeting Nyesha back in 2013 but also eating her amazing food. I organized and hosted my son and daughter in law's rehearsal dinner the night before their wedding. It was at the beautiful Wilshire restaurant in Santa Monica where Nyesha was executive chef. After all our guests had finished dinner and were mingling, Nyesha came out of the kitchen to say hello and meet the bride and groom! She was so warm and friendly and wanted to make sure everyone enjoyed their meals. I was blown away!
So here I am more than 5 years later, sharing this incredible chef with all of you and giving her the honor she so deserves. And of course part of that is making one of her recipes. But for Nyesha I couldn't help myself and decided to make two of her recipes. Since we are both fans of vegetables, and she gets her fresh produce from the Santa Monica's Farmers' Market (where I used to go when I lived there) I had to choose two winners! One featuring broccolini and one with asparagus as the star!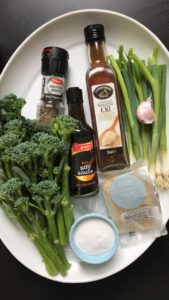 Ai-Soon Broccolini
Ingredients:
2 pounds (900 g) broccolini (called tenderstem broccoli in UK)
5 tablespoons soy sauce
2½ tablespoons white sugar
¼ cup chopped green onion
2 tablespoons minced garlic
2 tablespoons sesame seeds
2 tablespoons sesame oil
½ teaspoon ground black pepper
Instructions:
Place the broccolini in a shallow dish.
Combine soy sauce, sugar, green onion, garlic, sesame seeds, sesame oil, and ground black pepper in a small bowl, then toss in the broccolini.
Roast on high heat (425°F/220c) or grill over an open flame until al dente. (I roasted mine and it took about 15 minutes for it to be al dente)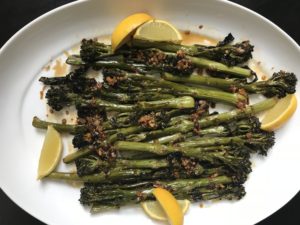 This turned out delicious. I loved the flavor combo of the sesame oil and soy sauce and the garlic and sesame seeds added a lovely texture too! I was curious about the sugar in the recipe but to be honest it balances the saltiness of the soy sauce and adds a caramelized flavor as well. This was wonderful hot out of the oven as a side dish (to go with fish, chicken, pork or beef) but also fantastic cold as a salad!  So many people get stuck in a rut of boiling vegetables and piling on butter. But this is such and inventive way to jazz up the greens! Now on to recipe number two….
Grilled Asparagus Pistou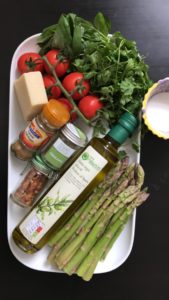 Ingredients:
1 bunch asparagus
1/2 cup (50 g) parmesan cheese
1 cup (200 g) tomatoes, diced
1 Tbsp crushed red chili flakes
1/2 bunch cilantro (also called coriander) , chopped
1 Tbsp oregano
8 leaves of basil, diced
2 cups/473 ml olive oil (*note I only used 1 cup of olive oil in the recipe)
1/2 tsp espelette pepper (I didn't have any so substituted Cayenne Pepper)
Salt, to taste
Instructions:
Grill asparagus until lightly blackened on leaflets, remove from grill and chill immediately.
Dice asparagus finely.
Fold in parmesan cheese, diced tomatoes, crushed red chili flakes, cilantro/coriander, oregano, and basil.
Cream together the asparagus mixture with olive oil.
Season mixture with salt and espelette pepper.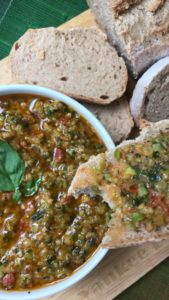 Ok, can we talk about what heaven would be like in one bite? THIS!  I am a big fan of asparagus but I have never had it prepared like this before. Pistou, for any inquiring minds, is the French cousin of the Italian Pesto. The difference is that Pistou lacks pine nuts, or other nuts, which would be used to make pesto.   But it is brilliant to add the grilled asparagus to it. Pistou is delicious as a spread on bread, or as a topping to grilled chicken or fish. And it can be dolloped onto a lovely bowl of soup for an added flavor dimension. I put it on some Spelt Sourdough bread and it was a meal in itself. And I put some on my grilled salmon, which was great because it sort of melted into it and made it very more-ish!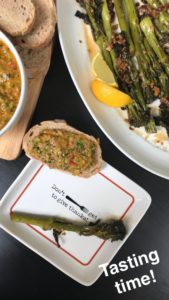 Nyesha is a native Los Angeleno. So it is no surprise that she named her latest venture NATIVE! It is a critically acclaimed restaurant in Santa Monica and I can't wait for my next visit to L.A.  as I will have to go there! The tag line for Native is "An expression of LOVE through food." Like hello! My sentiments exactly! So what flavors can one expect? "Progressive California Cuisine Celebrating the Multicultural Landscape of Los Angeles". Nyesha herself is multicultural and her food is another reflection of that.  In fact the Broccolini dish I re-created is named after Nyesha's Korean grandmother Ai-Soon.
I really admire Nyesha for her ethos in life.  She is an advocate for sustainability and supports local farmers. She is active in philanthropic endeavors. She is humble even though she has much to brag about. She has a resume any chef would covet having worked at some high profile restaurants such as Melisse and Jiraff (both of which I had the pleasure to dine). And Nyesha comes from an artistic family and those genes shine through in each beautiful plate she serves. I hope you keep up with Nyesha on Twitter and Instagram and most definitely visit Native if you are in Los Angeles. It will be a meal you won't forget! In her own words, she cooks food that "hugs the soul".
Thanks Nyesha for your amazing soul, spirit, talent and humanity.  You inspire all of us, chefs and non chefs alike!
LOVE and Soul,
YDP