Welcome back to Woman Crush Wednesday. It is always a fabulous day when I can honor a female chef doing amazing things in the culinary world. Today's recipient of the 98th WCW episode is Lidia Bastianich. A giant in the gastronomic world. A chef, restaurateur, cookbook author, television star, you name it, Lidia's done it. She is such an inspiration and I am delighted to share the LOVE for her with all of you!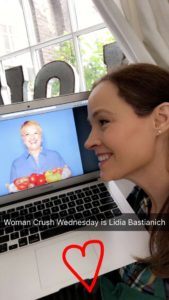 Lidia Bastianich is one of the most amazing American success stories. From an immigrant who arrived in New York as a preteen to now running an empire of restaurants! She is so well respected and has won numerous awards and accolades. And she is the essence of what this day is about, girl power! She was one of the founders of Women Chefs and Restaurateurs now in it's 25th year of helping women in the culinary world connect, network and succeed! So with that I will get going on my live cooking tutorial. If you are on Snapchat come watch as it will be up for 24 hours (my username is blissbakery). I will be making Lidia's very simple but elegant dish,  Salmon with Mustard Sauce!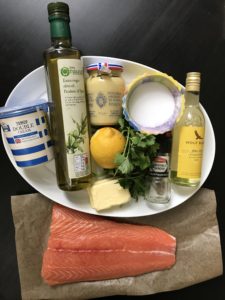 Ingredients:
SIX -6oz Skinless SALMON fillets
¾ tsp salt
2 Tbsp  Extra Virgin Olive Oil
6 Tbsp Unsalted Butter
Juice of 1 Lemon
1 cup (240 ml) White Wine
2 Tbsp Dijon Mustard
¼ cup (60 ml) Heavy Cream (Double Cream in UK)
3 Tbsp Chopped Fresh Italian Parsley
Instructions:
Season the salmon with ¼ teaspoon of the salt. Heat a large nonstick skillet over -medium–high heat. Add the olive oil. When the oil is hot, add the salmon, and sear on both sides, about 2 minutes per side, but don't worry about cooking the fish all the way through at this point. Remove the salmon to a plate, pour out the oil, and wipe the skillet clean.
Return the skillet to -medium–high heat, and add the butter. When the butter is melted, add the lemon juice and white wine. Bring to a boil, and whisk in the mustard. Lower the flame and let the sauce reduce by a quarter, about 3 minutes; then add the heavy cream and the remaining ½ teaspoon of salt. Slide the salmon back into the sauce. Simmer until the salmon is cooked through, about 3 minutes. Whisk the parsley into the sauce and serve.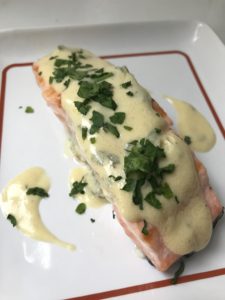 I love this! The salmon was so moist and tender.  The sauce was a perfect balance of sharp lemon and mustard contrasting with a mellowness of the butter and cream. I think if anyone presented this to their dinner guests they would be very impressed indeed! I decided to make Lidia's Savory Potatoes recipe to go with the main course (though I didn't demo it) and it is out of this world! This rustic dish is going to be another hit in our house! Very flavorful with the oregano and the tomatoes and potatoes roasted so beautifully together!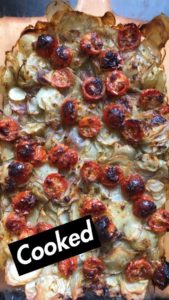 With the salmon on top of the potatoes and the gorgeous sauce spilling over both it was literally heaven on a plate!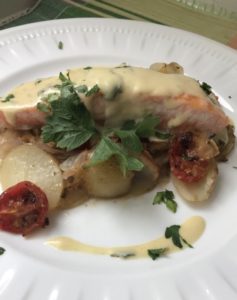 What I really admire about Lidia is that for all her television exposure and business success, she is still down to earth. I could watch her videos all day. Her cooking demonstrations are calm and encouraging. While she is very accomplished as a chef her recipes aren't too fussy and focus on quality ingredients put together in the best way to enhance the flavors. Her Italian heritage shines through in all her dishes and is in fact the inspiration for her restaurants. I can hardly wait to travel to New York to dine at one of her four successful restaurants. And next time I am back in my hometown of Chicago I will definitely go to Eataly. There are locations around the globe, with others in the works. But it is more than a place to eat Italian food.  You can learn how to cook in their classes and you can purchase a wide range of products.  They even have an online store!
At 71 years young, Lidia is full steam ahead. One look at her Instagram account you'll see her gorgeous face, delicious food and adventures galore! Her two grown children work with her in the food business. Which is why her Twitter moniker "I've married my two passions in life: Family and Food" couldn't be more apropos. Yet it is the title of her latest book that sums it all up:  My American Dream:  A Life of Love, Family and Food. All of her hard work has led to her success but she has kept her sense of gratitude for her life, which includes many struggles along the way. But when I see her smile my heart melts! What an inspiration! Thank you Lidia!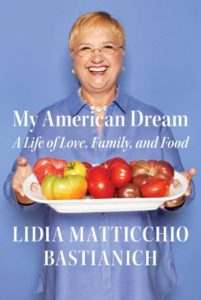 Con amore,
YDP