Another Wednesday has arrived and I am amazed to be honest. Today is the 99th Woman Crush Wednesday episode. I get so much joy out of honoring a female chef each week. When I started this, I never thought about how many there would be, but I just focused on each and every one. Giving them all the love they deserve. These women have inspired me so much, and today's honoree is BEYOND inspiring. Mashama Bailey may be a New Yorker by birth, but she is a Southern girl at heart. She puts soul into every dish and just wait until you see what recipe of hers I am going to re-create today!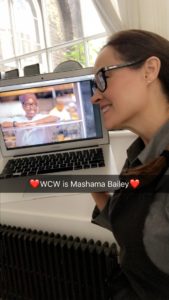 Mashama got the cooking bug at a young age, making meals for her family and learning from her mom and grandma. But she didn't initially think it would be her career. In fact, she became a social worker. But the foodie world kept calling her and she eventually went to culinary school and then on to cook at Prune in New York.  Prune owner, chef Gabrielle Hamilton became not only Mashama's mentor and boss, but also her match maker. She introduced Mashama to John O Morisono and the rest is history!  In 2014 they opened The Grey restaurant in Savannah, Georgia in a former segregated Greyhound Bus depot. The inventive food, cool Art Deco decor and the history of the place are just a few things that have led to its many successes including Eater's Restaurant of the year for 2017!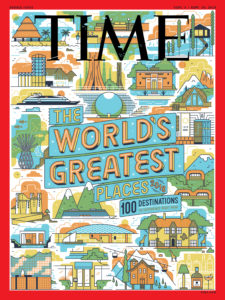 Not only has The Grey been a huge success but it was recently featured in Time Magazine's "World's 100 Greatest Places"! And Mashama was a finalist for this year's James Beard Award for best chef. In fact, she is the first African American woman to be nominated for best chef in the 27 year history of the awards. When interviewed recently on The Dish, Mashama said her Grandma, who taught her so much, would have been proud. She sadly passed away several months after The Grey opened, but I am sure her spirit is watching over her amazing Mashama with every dish she cooks! And speaking of cooking I am going to get cracking making her Roasted Spicy Eggplant! I'll be doing a live cooking tutorial on Snapchat (username blissbakery) too!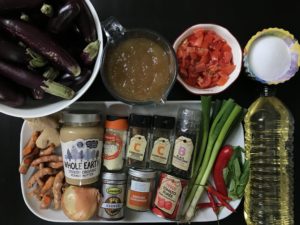 Ingredients
¼ cup Red palm oil with extra for roasting eggplant
¼ cup (40 g) smashed ginger
¼ cup (40 g)  smashed turmeric
1 large yellow onion, small diced
4 pieces of chili d' arbol
1 tsp ground coriander
1 tbsp cumin seed, toasted and ground
1 tsp cracked black peppercorn
2 pcs. Cinnamon Sticks
¼ tsp fenugreek seed
3 whole cloves
2 tbsp tomato paste (called tomato puree in UK/Ireland)
¾ cup (190 g)peanut butter
1 cup (200 g) Plum tomatoes
4 cups (950 ml) chicken stock
3lbs (1360 g) of baby eggplant (known as aubergine in some places)
Garnish
Sliced fresh chiles
Sliced scallions/spring onions
Basil leaves
Instructions
1.Preheat the oven to 400F/200c. Slice baby eggplant lengthwise and place in a large mixing bowl. Lightly salt cut eggplant and let stand for at least 30 minutes.
2. Drain any liquid in the bowl and lightly pat dry the eggplant. Toss a small amount of palm oil over the eggplant, toss the eggplant until evenly covered. Place eggplant on a baking sheet and roast for 20 minutes until tender. Set aside.
3. In a heavy bottom saucepan heat palm oil over medium heat add ginger, turmeric, onions and chile d'arbol. Cook until translucent and everything begins to turn caramel in color. Add ground spices, cook and stir until fragrant. Add tomato paste and also caramelize.
4. Stir in peanut butter, chicken stock, and tomatoes and bring to a boil then reduce to a med-low heat. Cook for 15 minutes until peanut butter no longer taste chalky and all the flavors are melded together. Remove the cinnamon sticks and half of the chilies. Puree the ingredients until smooth. Reserve.
5. Add roasted eggplant to peanut butter sauce.  Gently toss and season to taste. Garnish with chiles, basil and scallions.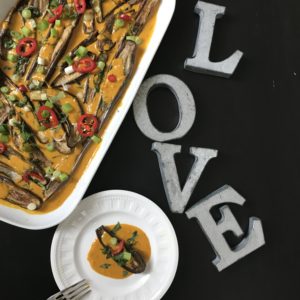 Oh wow! I have fallen in love with this recipe! It is almost addictive. I did the tasting live on Snapchat and continued nibbling on it as I tidied up the kitchen. And when Hubby came home I served it to him with some steamed rice and he was bowled over by the complexity of flavors. It wasn't difficult to make even though I know it looks like a lot of ingredients. But each one is important in lending the perfect compliment and balance. It was spicy but not too hot.  The earthiness of the roasted eggplant gave the whole dish a wonderful foundation, fitting as it is the star of the show. There were so many textures to this dish too. Even the garnish added a bit of color and flavor and bite!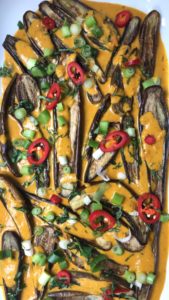 I really hope I make it back to Savannah one day to experience The Grey and Mashama's cooking in person. I was in Savannah in 2006 for a business trip and fell in love with the city. I love Southern food, but Mashama food has taken the cuisine to another level. She has incorporated classic and modern with an ode to historical by allowing her style to be influence by the great culinary trailblazer Edna Lewis.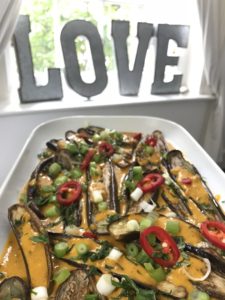 I feel blessed to have had women chefs like Mashama in my midst. I didn't have positive food memories growing up, so this WCW series has been a way to create them for myself. So thanks to all of you for sharing this with me. And thank you Mashama for your inspiration!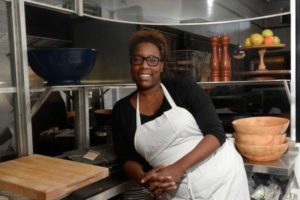 Grey LOVE,
YDP
P.S. You can find The Grey on Instagram, Twitter and Facebook. Trust me, you will enhance your day by seeing their daily posts!