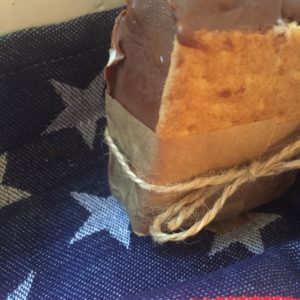 True to my Yankee Doodle Paddy nature I create new word combos that include American and Irish sayings.  For instance, S'Mores is a very American invention and I have made S'Mores bars on here before.  And Sambo is a very Irish way to say sandwich.  So yesterday on Snapchat (username: blissbakery) I made up a summery treat that even with grey London skies will still make us feel like it's summer!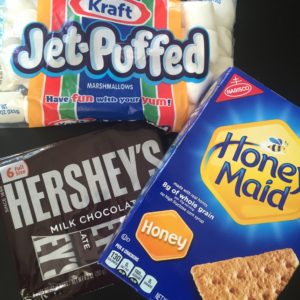 Living in this part of the world I realize it isn't always easy to get certain ingredients. So I often stock up on contraband, as I call it, when I am over to the States visiting. However, this can cause a bit of trouble when going through customs or security. If you want to read about my Peanut Butter melt down click here.  But I have learned to substitute as best as possible and try to include those suggestions in my recipes.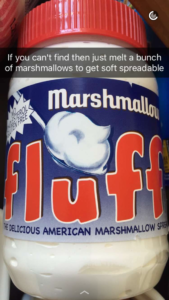 Ingredients:
2 Pints of good quality Vanilla Ice Cream (you will need to let them soften at room temperature at separate times as you will see in the instructions)
1 large pkg Chocolate Chips (some to sprinkle into the ice cream parfait and some to melt). I actually used semi sweet chips for inside the ice cream parfait and then used milk chocolate chips  for the melted chocolate coating.
1 box Graham Crackers (crush some for crumbs, then use some for making the outside of the sambo). If you can't find them you can substitute with digestive biscuits
1/2 jar of Marshmallow Fluff (if you can't find this then melt a bag of marshmallows in a saucepan on the stove top or the microwave)
Equipment:
a long rectangular tray or container such as a bread loaf tin (I re-used an After Eight Mints tin)
Cling Film (or plastic wrap)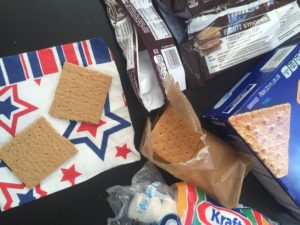 Instructions:
So first you need to make the ice cream "parfait" as I call it.  To do this you need to line a tin with the cling film making sure the piece is big enough so that it hangs over the sides of the tin.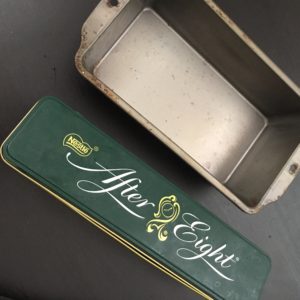 Spread one pint of softened (but not totally melted) vanilla ice-cream on the bottom of the lined tin. Then put back in the freezer for a few mins to harden up a bit.
Remove the tin from freezer and then spread some Marshmallow Fluff on top of the ice cream , spreading it around to cover it.
Next sprinkle a handful of chopped chocolate chips enough to totally cover, and then sprinkle with a handful of graham cracker crumbs to cover.
Finally carefully spread a bit more Marshmallow Fluff on top of the ice cream/choco/crumb mixture and pop back into the freezer to harden up a bit more.
Now take the tin out of the freezer and spread the second pint of softened ice-cream evenly on top and fold the cling film over to cover well. Place back in the freezer to harden completely. This may take an hour, but can be done a day or so ahead if making it for a party.
When you are ready to make the sambos, get your chocolate melted.  Depending on how much you will want to use, melt accordingly.  Then prepare your sambo graham crackers by carefully breaking in half the rectangle cracker along the dotted lines to make them into squares.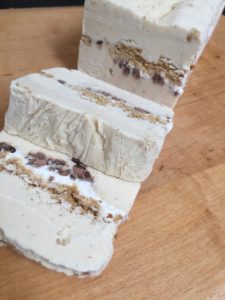 Now take the ice cream "parfait" out of the freezer and remove from the tin.  Unwrap the cling film and place the ice cream block on a chopping board. Carefully slice into 1 inch thick slabs. Place one slab on top of one of the square crackers.  Then top with the other square.
Then dip into the melted chocolate and immediately place in the freezer to set. I first covered all four edges of the sambo in the melted chocolate, and then put in the freezer.  Once the chocolate was set (hardened) I removed it and covered one of the sides completely with melted chocolate, but left the other side without chocolate (naked) so you can see it's a graham cracker.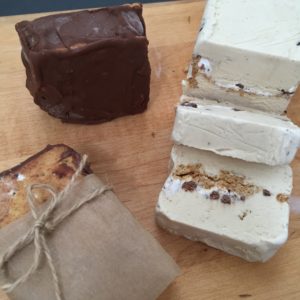 To serve, you can wrap them in parchment and tie a bit of twine around to be fancy.  Or just dig in as is! To be a bit more dainty, I cut one square in half to make finger size sambos!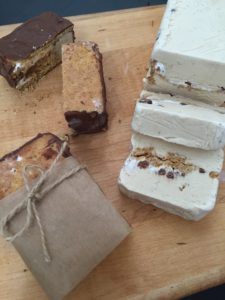 Not everyone has a campfire, or even a gas stove top (which is how I toast my marshmallows when I want a S'more) but this recipe is a way to get the flavors without the need of the fire!  There is something so summery about a S'more and of course, ice cream as well.  That's why it turned out to be the perfect combo all the way around!  And Hubby gave it a massive thumbs up!
Here to hoping you have S'more LOVE in your life!
YDP