Though you may think I am a bit serious at times with my sobering childhood stories, I'm actually quite silly and love to laugh.  It really is the best medicine!  I even choose social media that makes me smile.  Lovin' Dublin is one of those.  Every now and again there is a bit of naughty language, but I just look at the source.  I mean, when I lived in Dublin, I heard many an eighty year old Irish granny use the "F" word.  However, they just use an "e" in place of the "u" since that version of the word is part of the Irish vernacular.  But for the most part Lovin' Dublin is fun, whimsical, and I get my daily dose of home to keep me going.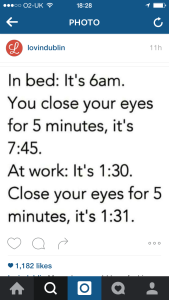 This morning's Lovin' Dublin Instagram post couldn't have been more apropos, except instead of the later part being about work, it was my online wait time trying to buy tickets to the Adele concert in London 2016.  Today was the day for those that had signed up for Adele's special ticket offer, to avail of an early ticket sale.  While I was up very late last night because of the Sabrina Gayhour's pop up restaurant we went to, and then up early with Hubby who had a work trip today, I still made sure to be ready to go at 9am when the online sale started.  Sadly, the web server for the sale crashed before it even started.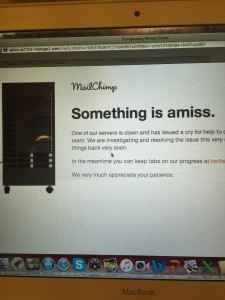 Then when it finally went live a message appeared on the computer screen saying to stay in the queue and not to refresh your computer.  So I didn't dare walk away from it or surf around the net doing Christmas shopping!  But I did put up my own Instagrams/Twitter and Snapchats (username: blissbakery) using my mobile with Adele music in the background just to share with others my dilemma (here and here).  When after nearly three hours waiting, I received the dreaded "all four London concerts sold out" I was gutted (as the English say).  So Stella, my pretty pit, and I drowned our sorrows in our lunch here.  And I had a little look see on Twitter.   When I saw that I wasn't the only one left with nothing to write on my calendar for March 15, 16, 18, or 19th I felt comforted.  Not better, but at least not alone.  Some of the comments on Twitter were actually hysterical…
The third one had me doubled over;  things to do whilst waiting for #Adeletickets:  Learn a language, write a book, give birth, evaluate every life choice you've ever made.  OMG!  Too funny!  Apparently the meltdown wasn't just emotional but there was a security breach with the website.  Can you imagine?  Some people that did manage to get a chance to buy tickets had their payment details exposed for all to see!  Jeepers!  Check out these two links here and here to read what the media has to say about it.
I love Adele, don't get me wrong, and I would totally be honored to see her live in concert.  She is a legend, even at the young age of 25.  But Hubby and I have a friend who is an Adele fan traveling all the way from Los Angeles that week to stay with us.  So I offered to get tickets so we could all go to the concert together.  Well, I have been assured she is still coming to visit anyway.  Phew!
I wrote a letter to the ticket organizers, and they encouraged me to try again at the general ticket sale on Friday, to which I will diligently attend.  Fingers crossed!  But man, oh, man!  Pretty incredible when you think in those three hours of staring at a computer screen, I could have made the best s'more bars in the history of the universe.  Now I need s'more time, cuz I've run out of at this juncture.  The days are so short now that I have to do my baking/cooking early to get the pics taken with some natural light.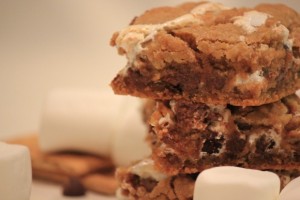 Lucky for me, my daughter is a great photographer and since she is a s'more aficionado I can just borrow this pic of hers.  Cuz it helps to see the deliciousness that is in store if you make these amazing, moreish treats!  They will transport you to that time you had a campfire going, with your marshmallow on a stick toasting over the flames, getting it all charred. And when the warm marshmallow was sandwiched between the graham crackers and the chocolate, which then began to melt, you lost track of time all together. Cuz you were in s'more heaven!  But for this, you won't even need a campfire folks, just your oven and a bit of time!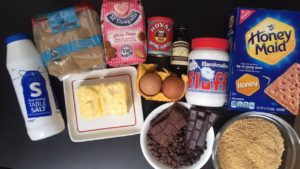 Ingredients
2 cups (333g)  all-purpose flour
2 cups (187 g) graham cracker crumbs (or digestive biscuit crumbs if you can't find graham crackers)
1 teaspoon baking powder
1/4 teaspoon salt
16 tablespoons/8 oz/ 227 g (or 2 sticks) unsalted butter, at room temperature
1 1/2 cups (292g) light brown sugar
2 large eggs, beaten (room temperature)
1/2 tsp vanilla extract
2 cups (213 g) marshmallow topping (such as Marshmallow Fluff) or you can melt marshmallows in the microwave (or in a saucepan on the stove top) to get the spreadable consistency
2 cups (356g) milk-chocolate chips (or a combo of semi-sweet chocolate chips and milk chocolate bar broken into chunks)
Preparation
1. Preheat oven to 350F/180c degrees.  Line a 9-by-13 baking pan with foil or parchment paper, leaving a 2-inch overhand on 2 sides. Mist foil with cooking spray
2. In a bowl, combine flour, graham cracker crumbs, baking powder and salt; mix well. In a large bowl, using an electric mixer on medium speed, beat butter and sugar until light, about 2 minutes. Add vanilla and best some more.  Beat in eggs until well combined. Reduce mixer speed to low and slowly beat flour mixture into butter mixture. Divide dough in half. Press half of dough into pan until dough is uniform and flat. Spread with marshmallow topping and sprinkle chocolate chips on top. Scatter remaining dough over in clumps. Don't worry about covering the top; marshmallow and chocolate chips should peek through.
3. Bake until golden brown, 30 to 35 minutes. Place pan on wire rack to cool completely. Remove from pan, peel off foil and cut into bars.
So to Adele I say, using her own lyrics, "Hello, from the outside, at least I can say that I tried. Should I give up, or should I just keep chasing tickets?" And to my ticket-less compatriots  "We'll let the sky fall, when it crumbles we'll stand tall, face it all together!" Best comes to best, I might have to go to Dublin to see her perform there, and get my home fix!
With S'more Love that's oh so gooey,
YDP