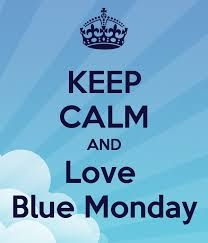 During Salad Scentral, which finished a little over a week ago, I received a request for a spiralized salad recipe with a soy dressing.  It is great that people are so motivated to eat healthy with the New Year.  And I aim to please, therefore I had to post the recipe today as I am on the move again with planes, trains and automobiles. So as I was getting all the bits and pieces together for a snapchat cooking tutorial (username: blissbakery) I happened on a news item about Blue Monday. Apparently today, January 18th, is coined the saddest day of the year!  So what better way to bust out of the blue than with a colorful, healthy salad.  And of course a bit of bad singing and dancing by yours truly! You know it! Yet in spite of the sore ears of my followers, there is always a good recipe for the pain!  This one is light, easy, meatless, and it actually keeps well.  That is important as most salads start to wilt once you put the dressing on them . Believe it or not this one tastes better when you give it a chance to marinate a bit.  Hence, I popped some in a tupperware and headed out the door.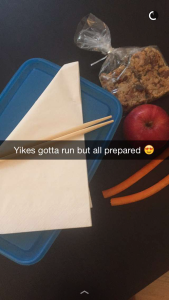 I am traveling to America today to see my family.  I'm so excited!  I also want to arrive feeling well. That can be hard to do when going such a long distance.  But the quote, "Fail to prepare, then prepare to fail" is keeping me on task.  I may not have control over flight delays or elevators not working at the London Tube stations (though I was lucky to get a couple nice people to help me lift my heavy bag up the stairs), but I can control what I put in my mouth. And this salad, along with an organic apple and some healthy oaty flapjacks I baked last night, will get me through!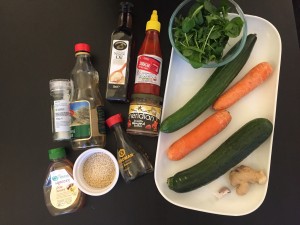 Ingredients
1 seedless English cucumber, Blade D, noodles trimmed if too long
1 large carrot, or 2 medium carrots, peeled, Blade D,
1 medium zucchini, Blade D, noodles trimmed if too long
Large handful of mixes leaves (spinach, watercress and rocket/arugula)
½ cup toasted flaked almonds
For the dressing:
¼ cup rice vinegar
2 tablespoons creamy almond butter
2 tablespoons  soy sauce (you can also use tamari sauce which is gluten free)
1 tablespoons sesame oil
1 teaspoon honey
1 tablespoon freshly grated ginger
1 garlic clove, pressed and minced
1 tablespoons sesame seeds
1 teaspoon sriracha sauce (or chili garlic sauce or red pepper flakes)
Instructions
Pat dry the cucumber noodles to rid of excess moisture. Place into a large mixing bowl along with the carrot and zucchini noodles. Add in the mixed leaves and almonds.
If you have a jar (I used the almond butter jar which was nearly empty, just the 2 Tbsp left which I needed) then put all the ingredients in the jar and shake well. Or using a bowl, whisk together all of the ingredients for the dressing until creamy. Taste and adjust if necessary. If using low sodium soy sauce you may need to add a bit of salt.
Pour the dressing over the noodle salad and toss to combine thoroughly. Serve immediately or chill for future use, 1-2 days in the refrigerator for optimal freshness. (adapted from Inspiralized)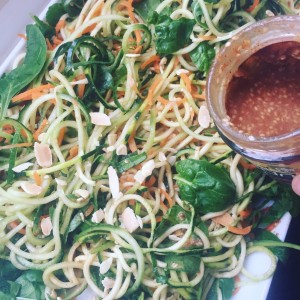 So while everyone on the plane is eating mystery meat, I'll be breaking out my lovely Spiralized Veg Noodle Salad with Asian Dressing. No offense to my son, who as I have shared here before, likes airplane food.  Then for my afters treat I'll be having my tasty flapjacks.  Um, I might have already devoured the apple just now while writing this!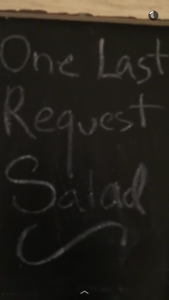 I hope everyone has a great day in spite of what the media tells us! I mean this term Blue Monday has only been around since 2005.  It isn't scientific, and likely makes people feel more sad because they think they are supposed to be.  I say, have a dance party in the privacy of your own home.  Sing a little (hey if I can do it anyone can, I have the world's worst voice) and smile ALOT. Smiling actually stimulates muscles in your face and that triggers your brain to brighten up you mood.  Lastly, have some colorful food. Whether this salad or something else that brings a rainbow to your tummy!  And I am gonna keep spreading some LOVE!  I carry this quote with me everywhere.  I like to think that if WE spread just a little bit of LOVE right where we are, then that multiplied will make the world a better place!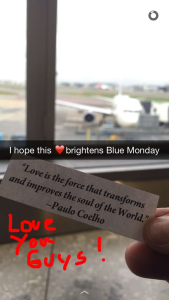 Rainbow (not Blue) Monday Love!
YDP
PS.  A special thanks to my Hubby for the Spiralizer gift for Christmas, I love it!  But for anyone that doesn't have one, don't fear. You can still make this by using your best chopping knife and cutting the veg into julienne (thin strips) or using a flat/square style potato peeler like I used when I made the Courgette and Carrot Ribbon Salad.