The old saying "When in Rome" has been used to cover any city in which you "should do as the locals do".  In the case of this week's Snapchat takeover of Cookreel's channel, it was a must to make anything with corn as the main ingredient.  I was in Lincoln, Nebraska my Hubby's birthplace. We were visiting his family and attending a University of Nebraska Cornhuskers football game. Lucky for us we were staying with his brother and sister in law and they kindly let me use their kitchen to make the most delicious Sweet Corn Cakes. Like pancakes but even better as the little kernels of corn are a texture of delight for your mouth.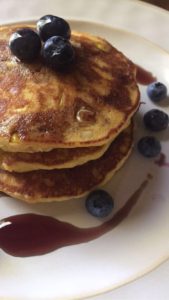 The thing about this recipe is its versatility. You can use the same batter and make it a savory or a sweet dish. I did both for the snapchat culinary creation. I made a stack of the corn cakes with some fresh organic blueberries and drizzled some organic blueberry syrup on top. It was a big hit with the very patient customers (all the family). I was having some wifi issues and couldn't let them eat the corn cakes until I had finished uploading the snaps! Even though it has since expired, you could always check out my Snapchat account (username blissbakery) or Cookreel for some yum foodie fun!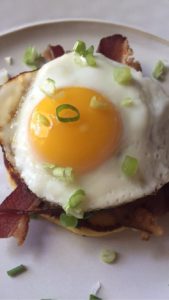 I also plated up the cakes stacked with some maple bacon, sautéed greens (done with olive oil, garlic and onion), Trader Joe's Cowboy Caviar (a corn/black bean salsa) and a fried egg and sprinkle of green onion on top. This could also be done vegetarian without the bacon and sautéed mushrooms and shaved parmesan cheese as a fab alternative.  If one wanted a spicy kick, you could add finely diced peppers to the batter or some chile powder. Just look through the recipe and get inspired!  I used corn flour which meant that this recipe was totally gluten free. But if you can't find it you can substitute for regular plain flour (all purpose flour).
1 1/2 cups (235g) corn flour (see Note, below)
1 1/2 teaspoon baking powder (preferably aluminum-free)
3/4 teaspoon salt
4 tablespoons (55g) butter, at room temperature, cubed
1 cup (250ml) whole milk
1 tablespoon honey
2 ears of fresh corn (2 cups kernels, 300g)
2 large eggs, separated
1 large egg white
Whisk together the flour, baking powder, salt in a large bowl.
In a small saucepan, heat the butter with the milk and honey, until the butter is melted. Set aside until tepid, then make a well in the center of the dry ingredients and stir in the milk mixture, the 2 egg yolks, the corn.
In a clean, dry bowl, beat the 3 egg whites until stiff and they hold their shape, then fold them completely into the corn mixture.
Heat some butter in a skillet. When hot, spoon batter in flat round into the pan, spaced apart using a large spoon.
Let the corn cakes cook until browned on the bottom and starting to bubble around the edges. Flip the corn cakes with a spatula and cook on the other side for about a minute, until lightly browned on the reverse side.
Serve two ways, sweet by using fresh blueberries on top and blueberry syrup. For a savory option top the cakes with a poached or fried egg and bacon with some corn salsa or avocado.  You can also serve with some sautéed greens. Just cook spinach or other greens in a pan using olive oil and onion and garlic, salt and pepper for flavor.
Note: Corn flour is not the same as cornmeal; it's very finely ground corn. You can grind cornmeal in a blender to replicate corn flour. In Ireland and the United Kingdom, corn flour refers to corn starch (which should not be used for this recipe because it is actually a starchy thickener for sauces)
As I do every Saturday with my Cookreel episode, I take the viewers on a gastronomic expedition. And with a football game, some awesome tailgating parties were on the docket. BBQ's, all sorts of snacks and treats and of course amazing liquid libations. However, this week Cookreel asked me to do a take over of their Facebook Live account for this part of the presentation. However, if you've gained anything form me beyond my recipes, you'll know I am a major non tech. But I uploaded (or is it downloaded) the app necessary to complete the mission. What I didn't anticipate were the wifi challenges and of course my ineptness in navigating the ins and outs of Facebook Live. Since I'm not on Facebook myself it was a bit awkward.
By the time it was all sorted the game had started. I did some of the posts in the sea of Big Red and showed some typical stadium snacks (total junk food actually) but didn't get to do as much as I had hoped. Maybe next time things will go a bit smoother. Nevertheless it is always a total blast doing these take overs and an huge honor to do so. Thanks Cookreel for your support and faith in me. And thanks to Mark and Sara (plus Abbie, Sophia and Grace) for letting me do my bad singing and dancing cooking tutorial in your beautiful home. Love you guys!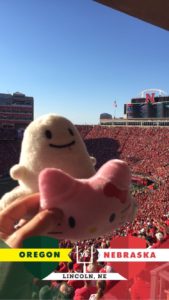 LOVE and Husker Hugs
YDP
P.S. The recipe is a variation from the wonderful David Leibovitz