A while back I shared a delicious recipe and story called "Hand Me Ups" which refers to things I get passed up to me from my daughter. Well for this week's edition of Woman Crush Wednesday I am in the U.S.A. with my daughter and family. And she kindly pointed me in the direction for this week's honoree.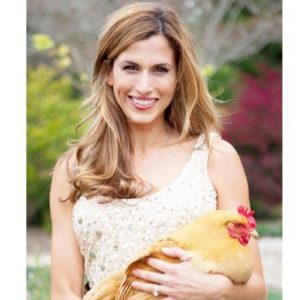 The lovely Marina Delio of the Yummy Mummy Kitchen is a wife and mommy, famous foodie blogger, self taught chef and cookery book writer. I remembered seeing the cookbook at my daughter's house when they used to live in Santa Barbara.  She even has mutual friends with Marina though they never met while my daughter lived there. But the fabulous  Marina's sumptuous and healthy recipes are perfect for this wonderful day. It is a chance to celebrate what some gorgeous gourmet gals are cooking up in the kitchen. Marina is the queen of beautiful everything and her food is only one of the fantastic inspirations you'll find on her social media platforms.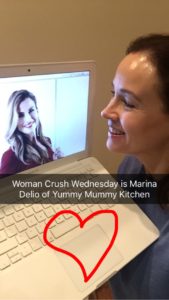 Today I am going to recreate one of her recent delights, Protein Nice Cream Pies.  Since my granddaughter is dairy intolerant, this is a treat she can enjoy too.  Marina is the mummy of two little girls, like my daughter. And they love to help in the kitchen. Which is a great way to teach kids about food from its source. Though my granddaughter isn't here while I make these for my live cooking tutorial on Snapchat (username blissbakery) I am sure she will help me devour these when she gets home from school. And they will keep in the freezer for days (if they last that long).
INGREDIENTS
1 cup (143 g)  almonds
1/2 cup (40 g) unsweetened flaked coconut
1 cup (226 g) pitted medjool dates
pinch of Himalayan or sea salt
6 cups frozen banana slices, thawed for about 5 minutes (about 6 bananas)
6 scoops chocolate protein powder, OLLY recommended
1/4 cup (60 ml)  almond milk
1/3 cup (85 g) smooth peanut butter, plus more for garnish
1/3 cup (40 g) raspberries, halved
2 tablespoons cacao nibs (optional)
To make the crusts, place almonds, coconut, and dates into the bowl of a food processor. Blend until nuts are coarsely ground and mixture just holds together. Not too long, or it will turn into nut butter! Taste and add a pinch of salt if desired. Coat a muffin tin with cooking spray. Scoop tablespoons of crust into each muffin tin well and press firmly into the bottom. Place in the freezer and rinse the food processor.
To make the nice cream, you want frozen but not rock hard bananas. I let mine sit on the counter while I make the crust. Place the bananas and protein powder into food processor. Blend until smooth. This takes a few minutes. Add milk if needed (NOTE: I didn't need to use any almond milk when I made it) to turn the food processor or wait a few minutes while the bananas thaw a bit more. Taste and add more protein powder if desired. Add the peanut butter and blend or swirl in.
Smooth the banana mixture into the muffin tin over the crusts. To make peanut butter swirls, place small drops of peanut butter over the nice cream mixture and swirl with a toothpick. Garnish with raspberries and/or cacao nibs if desired. Freeze until firm, at least an hour. Store in the freezer.
Wow these were super easy to make and are absolutely delicious. I know I am a self professed peanut butter addict, but even if you weren't I think these would win you over. They are light and refreshing for a warm day and filling enough so you don't miss all the "baddies". No dairy, no wheat, no refined sugar and totally vegan, but filled with so much flavor and texture, this is a winning recipe for sure!  I made six with the raspberries and cacao nibs on top as Marina suggested. But I also made six without either and just a little drizzle of dark chocolate on top. Both looked great and tasted amazing, even my granddaughter was impressed!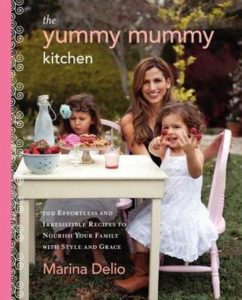 With one successful cookbook under her belt I get the feeling another is on the way. She makes her food simple so that the precious ingredients do the talking.  Her photos seem effortless yet her amazing eye and skill as a photographer serve her in good stead.  And Marina's Instagram is so stunning you'll have to refrain yourself from licking the screen on your mobile device when you see her daily posts. But what impresses me most about the Yummy Mummy is her devotion to her family.  She is a wonderful role model about healthy living and life style balance.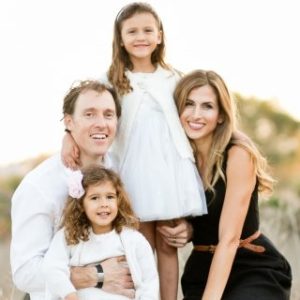 Thanks Marina for your fantastic contribution to the ever evolving culinary conversation. Not only for other chefs like myself, but for budding kitchen queens like your daughters and my granddaughters. For children to grow up knowing they can create food that is not only good, but good for you, is a wonderful philosophy. You're a yummy mummy and a wonder woman in the foodie world!
With love and admiration,
YDP