Ever heard of a 'hand me up" ?  It's like a hand me down but instead of getting, say, an item of clothing passed down from your older sister, you get something handed up from your daughter.  And since my daughter has great fashion sense, and I hate to shop for myself, I have benefitted from many a hand me up!  Like this dress. I was taking my first selfie as I wanted to show her how it looked….and a little photo bomb from my pretty Pit Stella!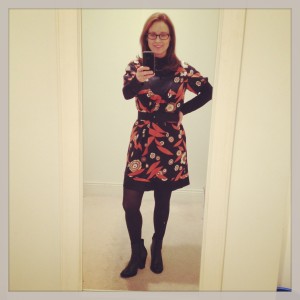 Until my daughter got married she wasn't really into cooking.  I suppose there wasn't any urgency since she had a mom that cooked and baked everyday.  On top of that her brother also loved to get in the kitchen and cook and is a big foodie (a total grill master too). Growing up I tried to impart kitchen wisdom but she wasn't interested.  When she got married, however, she called me on a regular basis for recipes, tips and help.  One time in particular when she made her first Thanksgiving Feast she was literally on the phone with me for hours as I walked her through each step.  Now she can bang out pretty much any dish with seemingly ease (while juggling an infant on one hip and a preschooler on the other all while getting her masters in Social Work).  Superwoman!
So lucky for me I now get "hand me up" recipes as well!  This one for Honey Garlic Chicken is so tasty and super easy!  I've made it a few times and hubby always says, "restaurant quality." And I always say, "yea but without the cost."  It's from a cooking site called D*@#m Delicious. (but with the actual letters spelled out).  If you click on it you will see what a proper cooking site looks like! Great pics! But I will put the recipe at the bottom of this post as well.
Like most every recipe I try, I have to give it my own spin.  In this one, I substituted prawns/shrimp, another time I used chicken thighs (moister and cheaper than breasts).  I also left out the Sriracha.  And I doubled the recipe for the sauce, well, because it is so good!  I learned the first time I made it that this dish doesn't reheat very well.  I was bummed 'cuz I love leftovers.  So the next time I  made it with a pot of rice on the side, and some roasted asparagus.  It says it serves 4, but um… hubby and I just might have polished it all off!  Food coma!!
Just to note that if you are a beekeeper, like a friend of mine from Galway, you too could use your own honey and it would probably be the most incredible version yet.   By the way did you know that honey is the only food that never spoils?  Since ancient times it has been touted for so many medicinal purposes.  I really need to eat more of the stuff.  It's loaded with vitamins and antioxidants,  it boosts memory, and… I forget what else.  Just kidding (my corny attempt at a joke).  Anyway, it's not called "liquid gold" for nothing!   It is really good for seasonal allergies too, but just make sure you are having local honey to get all the benefits.
While living in Dublin I was loyal to a local female beekeeper's  honey.  On her website she has a lovely quote that sums up the bee:  "Unique among all Gods creatures, only the honeybee improves the environment and preys not on any other species" .  They really are special!  When I spent this past summer in the U. S. with my daughter and family I finally watched the Bee Movie  with my granddaughter.   I loved it!  This animated film only deepened my fascination with God's miraculous creature.  Hence any and all recipes that use this sweet, supernatural, superfood ingredient get my vote!  And my purchase of matching bee costumes for my granddaughters' Halloween costumes!  I suggested mom and dad go as bee keepers, but we'll see.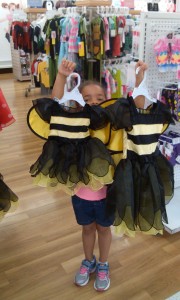 INGREDIENTS
1 pound boneless, skinless chicken breasts, cut into 1-inch chunks
Kosher salt and freshly ground black pepper, to taste
2 large eggs, beaten
1 cup Panko*
FOR THE HONEY GARLIC SAUCE
1/3 cup honey, or more, to taste
4 cloves garlic, minced
2 tablespoons soy sauce
1 tablespoon Sriracha, optional
1 tablespoon cornstarch
2 green onions, thinly sliced
2 teaspoons sesame seeds
INSTRUCTIONS
Preheat oven to 400 degrees F. Lightly oil a 9×13 baking dish or coat with nonstick spray.
Season chicken with salt and pepper, to taste. Working in batches, dip chicken into eggs, then dredge in Panko, pressing to coat.
Add chicken to prepared baking dish. Place into oven and bake until golden brown and crisp, about 15-20 minutes.
In a medium saucepan over medium high heat, combine honey, garlic, soy sauce and Sriracha, if using. In a small bowl, combine cornstarch and 1/3 cup water. Stir mixture into the saucepan until thickened, about 1-2 minutes. Stir in chicken and gently toss to combine.
Serve immediately, garnished with green onions and sesame seeds, if desired.
*Panko is a Japanese-style breadcrumb and can be found in the Asian section of your local grocery store.
My version….
I think I have a lot in common with the honey bee and this quote from the Bee Movie was when it hit me, "According to all known laws of aviation, there is no way a bee should be able to fly.  It's wings are too small to get its fat little body off the ground. The bee, of course, flies anyway, because bees don't care what humans think is impossible." Apart from my cooking abilities,  I literally have no other skill sets whatsoever to be doing this blog, as I said yesterday in my disclaimer. But I don't care!!  'Cuz I'm gonna fly anyway!
Life is the flower, love is the honey!
YDP