And I'm not talking about Christmas!
My favorite holiday is Thanksgiving.  You're probably thinking, it's only September so why are you going on about it now?  Well since this is the weekend that summer is winding down, I'm already thinking about my "Turkey Day" menu!  For me however, the turkey isn't the centerpiece of the meal, it's the meaning behind the holiday that I like to focus on the most.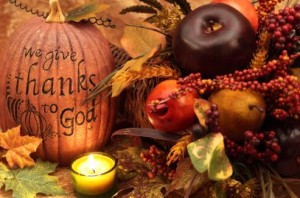 Thanksgiving which was born in America is the one holiday that isn't attached to any religion and so everyone is included.  It is a day simply about the food and the company.  It is breaking bread with family and friends without the stress of buying gifts.  Most importantly it is about gratitude for one's blessings.  And even when life isn't the greatest, in the most difficult of times, you can always find one thing for which to be thankful.
"In a room full of darkness even a pinhole of light will bring attention to the eye"
Thanksgivings growing up were always hectic and we were on pins and needles when and what we might be eating.  My mom had her own inner clock and if she didn't feel like putting dinner on, well that meant we might not be eating until 10!
Then there was the issue of setting the table.  She was the antithesis of Martha Stewart in terms of her decorating skills.  There was a time when we had no furniture in the house only bean bag chairs.  It was a real hippie looking place with posters on the ceiling and black lights everywhere. So when my beloved Grandpa would come over for Thanksgiving in the afternoon (when most people would expect to eat) and the turkey hadn't even gone in the oven yet, he was more than a little annoyed. But he would still joke and announce, "I'll give anyone a dollar for a proper chair" since he was too elderly at that point to sit on a beanbag!
Ever since those days I have a passion for making Thanksgiving special and memorable.  We have served Thanksgiving meals at our church the night before.  It is open to anyone but usually the homeless or lonely in the community come and are fed with not only food but with love and fellowship.  Then on the holiday itself I put effort not just making the delicious food but also creating a festive autumnal ambience.  For instance I make a floral centerpiece using a carved out pumpkin instead of a vase.  I love to include "strays" (people that might not be traveling home to their own families) and save a time during the meal for each person to share what they are grateful for as well.  And of course there is usually some sort of football game on TV that gets slotted into the schedule of our own tournament of board games!  And though everyone is likely filled to the brim with food, we make room for the traditional pumpkin dessert.  Though I don't make pumpkin pie, I make a baked pumpkin cheesecake and it is AMAZING!
Even living in Ireland Thanksgiving is always fun as many friends are curious and like to be included in the day.  And I like to do a Thanksgiving type of menu in my cooking classes as well. However, finding (tinned) pumpkin puree at the supermarket can be a challenge.  Though now a days it is a bit easier, but using a whole pumpkin or even a butternut squash if need be, can be substituted.  Simply roast in the oven and then puree!
Why not give it a whirl, your taste buds will thank you!
Pumpkin Cheesecake
Crust:
1 ½ cups graham cracker crumbs (or digestive biscuits)
1/3 cup butter, melted
¼ cup sugar
Filling:
3 packages (8 oz each) cream cheese, softened
2 large eggs
1 cup sugar
¼ cup packed light brown sugar
1 ¾ cup Pumpkin Puree
2/3 cup Evaporated Milk
2 Tbsp Cornstarch
1 ¼ tsp ground cinnamon
½ tsp ground nutmeg
Topping:
2 cups (16 oz container) Sour cream, at room temperature
1/3 cup sugar
1 tsp Vanilla extract
Preheat oven to 180 C/350F/Gas mark 4
For crust, mix graham cracker crumbs, butter and sugar in medium bowl until combined. Then press onto bottom and 1 inch up sides of a 9 inch springform pan. Bake for 6-8 minutes (do not allow to brown). Cool on a wire rack for 10 minutes.
Meanwhile for filling, beat cream cheese, both sugars in a large mixing bowl until fluffy. Beat in eggs, pumpkin and evaporated milk. Add cornstarch, cinnamon and nutmeg. Beat well. Pour into crust and bake in oven for 55-60 minutes or until edge is set but center still moves slightly.
For topping, mix sour cream, sugar and vanilla extract in a small bowl. Spread over surface of warm cheesecake and bake for 5 minutes. Cool on wire rack. Refrigerate for several hours or overnight. Remove side of springform pan, slice the cheesecake and serve with a bit of freshly whipped cream.
With gratitude,
YDP