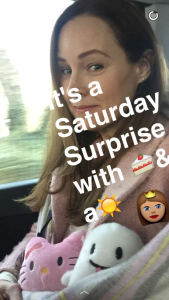 While a Foodie Fieldtrip Friday is freakin awesome on its own, when you get to incorporate it into meeting one of your fav people from Snapchat, it becomes a super duper Saturday Surprise! Since I was posting all this onto my Snapchat account (username: blissbakery) I didn't tell them who I was meeting, so as to amp up the suspense! Haha!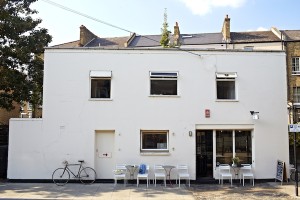 The foodie destination was the famous bakery called Violet. Started by American Clair Ptak back in 2010, it was a natural out growth of her success selling cupcakes from a stall at Broadway Market. Claire had been a pastry chef for the award winning restaurant Chez Panisse in the Bay Area of Northern California. And she brought those fresh, natural and seasonal sensibilities with her when she landed in the U.K in 2005.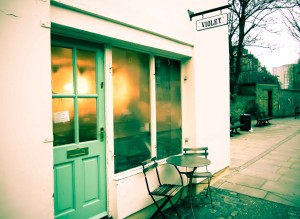 The location is in a neighborhood on London's East side and is much smaller than I had imagined. But it has two levels, the bakery and shop downstairs, and seating upstairs. As well there is a small back garden with seating and plenty of outdoor seating in front and the side of the bakery.  I love the fact that the baking is done literally at arms length from the customers. You can see what the chefs are doing whilst they ice the cupcakes with the gorgeous buttercream or drizzle the lemon glaze on the tarts. The place smells incredible because of the open kitchen, which only intensifies the hankering for the gorgeous looking baked goods. They serve coffees of all sorts and, very exciting, they serve and sell Barry's Tea (a staple in Ireland)!!  I even spotted a famous Irish Lass on one of the magazines they have on offer in the upstairs dining area. I loved all the other bits and pieces of memorabilia and decor around the place. Like even a framed note from, HELLO, Nigella Lawson!
While I waited for my surprise Snap Sista to arrive I perused the bakery up, down, and side ways and drooled over all of it!  Metaphorically speaking! I do know a thing or two about health and safety regulations! Very rustic and casual the way things are displayed allowed the pure beauty of the cakes to shine without any fuss! There are cases that are almost antique wood with glass fronts on them and with the natural sunlight dipping through the windows it felt dreamy, almost like a scene from a movie. A very tasty movie!
Can we talk about cakes though, seriously? The color of the mini layer sponge cake was such a pretty lavender and the cupcakes came in flavors such as rhubarb, salted caramel and chocolate. I think I might have died and gone to heaven at that juncture!
Though I arrived quite early for our meeting, my Snap Sista Miriam from Bake My Style showed up right on time!  It was such a joy to finally meet in person after all this time!  She is a lovely Irish girl from County Kerry and has lived here in London for the past four years. Besides following her on Snapchat and Instagram (her user name is @bakemystyle) I have used her restaurant reviews of London from her blog to help guide my gastronomic explorations here!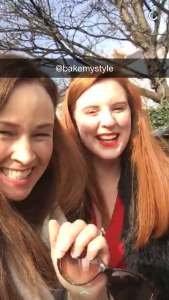 She's even more gorgeous and sweet in person. She said it perfectly at the end of our visit (which could have gone on for days what with all there was to discuss) when she said her cheeks hurt from all the smiling. My sentiments exactly!  Like when I met Kelly Lou Cakes on last week's Foodie Fieldtrip Friday Adventure, it is wonderful to be in the presence of people whom inspire you! And both Miriam and I were delighted to try Violet for the first time as Claire Ptak is an inspiration for both of us bakers!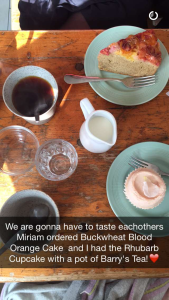 Claire has written and co written cookery books before, but this one is really world class!   The Violet Bakery Cookbook is chock-a-block with sumptuous photos (from the amazing Kristin Perers) and recipes of the classic and popular treats Claire has become known for.  And since Miriam had recently received a copy of the book, tasting the recipes made "in house" was the ultimate research!  We each had a bit of eachother's and I have to say the cupcake was not as sweet as one would think.  Most American style baking can be too sweet, but this was very mild. Which allowed the rhubarb and vanilla flavor to come through without vying for attention due to being overly sweetened.  The Buckwheat Blood Orange Cake was very tangy and luscious, quite a treat!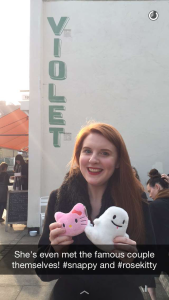 I left Violet feeling very full indeed. Not only with a delicious treat, but the treat of meeting the lovely Miriam. I do hope to be back again to try more baked goods on the menu.  The savory ones looked divine as well. And I suspect I might be seeing Miriam again soon. With all the exciting things she has in store (of which I will let her reveal to you) I'll be there rooting her on for sure. When people are excited to wake at all hours of the morning to bust out the mixer and fire up the oven to bake something new, the only ones who get it are in fact other mad bakers!  So who knows, we might even have to join forces on a recipe one day! Until then, thanks Claire and Violet Bakery for the gorgeous desserts!  As well thanks Miriam for a some great chats, bants and LOLz!  My cheeks are still sore from all the smiling!
Sweet love,
YDP
P.S. Of course the Snapchat mascot himself #Snappy came along, as did his rose colored  companion. Keeping it in the family so to speak, they had to meet Miriam!