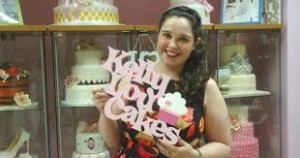 Most people like to eat their savory foods first, then go for a sweet treat. Well for this week's Foodie Fieldtrip Friday, I turned that notion on its head! AND, I headed out first to County Laois, Ireland to get a sugar high and meet one of my favorite Snapchatters, the lovely Kelly of Kelly Lou Cakes. She was a recent Sunday Spotlight Snap Sista (a weekly series where I focus on one person from Snapchat and give them LOVE and share a bit of info about them). Of course, I had to post this little adventure onto my Snapchat story for everyone else to see (my username is: blissbakery if you'd like to check it out).  I was very excited to get to meet her in person and honored to get to taste her amazing creations.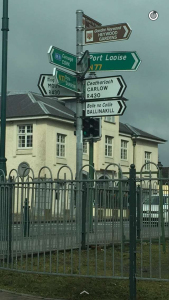 Besides the fact that I got lost on the way down there due to some turned around traffic signs, it was all good. Kelly Lou Cakes is a little bakery and cafe in the back of the Baker & Cook shop located in Kealew Business Park in Portloaise.  It is filled with lovely pastel colors and loads of sample cakes to make it all look pretty.  I especially love the gifts and wedding area. So festive!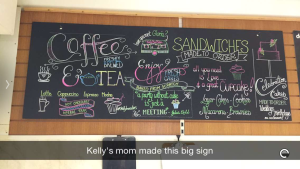 Kelly majored in business at university, but her pastry talents are self taught. Growing up in a home where her mom did a lot of baking, she may have come by it naturally.  But Kelly is such a hard worker and is always perfecting her sugar craft skills, testing new recipes and working VERY long hours creating bespoke wedding and celebration cakes!  Nevertheless, she still posts weekly baking tutorials on Snapchat (her username is: kellyloucakes).
But, of course my fav parts of the excursion were meeting Kelly and indulging in some of her beautiful baked babies!  Like my all time top flavor ice cream, but as a cupcake. Yep, Rocky Road!!!  DELISH!  Kelly and I had a great chat while we each had toasted cheese sambos.  She shared some future goals, which I will let her reveal.  But no doubt they will come to fruition. With her business acumen and warm and charming ways, the sky is the limit for her.  She has already been featured in Confetti Magazine for a wedding cakes special, and been asked to speak at several women in business seminars.
Typical Irish, we didn't meet with empty hands.  She and I both had little gifts for each other. But her gift was so amazing!  I've been doing a little story on my Snapchat about the mascot (which I call Snappy) that was given to me when I visited the Snapchat Headquarters in Venice, California.  Along the way he gained a little friend (Rose Kitty) and, well, let's say their love story is trending. LOL!  Anyway, I had made some Snapchat logo cookies which Kelly saw on my Snapchat story. Well, she surprised me with this incredible Lemon Sponge Layer cake with Snappy on top!  Wowza!  And then even posted a pic of the lil gift I gave her (just a small cupcake shaped tin of mints) onto her story. She really is even nicer in person than the already kind lady she is on social media.
All of her baked gorgeousness is also mobile!  There is a lil camper van called Gloria which travels to different music festivals and is very popular as a treat for wedding receptions. I absolutely loved my visit out to Kelly Lou Cakes , and can hardly wait to go again! What are you waiting for?  You ought to go yourself. Only one hour drive outside Dublin, that is if you don't run across road signs that have been turned around!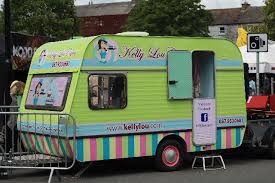 While driving back to Dublin, I had some "messers" in the back seat! Haha! But I was bound and determined to finish off the Foodie Fieldtrip Friday with a savory stop. Of course, finding locations are always an adventure for someone that has yet to embrace new fangled technology! Remember, I've already disclosed my lack of technology skills on the ABC of YDP!
I've heard it said many times that certain foods can be thought of as medicinal. Meaning if eaten frequently it serves as a medicine, tonic, healer or immunity booster. One of those foods is curry. Got a sniffle coming on, then go eat a spicy curry dish and this too shall pass! Though I'm feeling good at the moment, everyone I know is sick. So looks like the second half of the FFF (Foodie Fieldtrip Friday) will just have to include something hot and flavorful!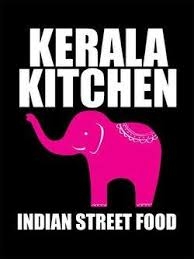 I ended the day at the coolest curry restaurant in which I've ever been. And, since I now live in London and have frequented the famous "Curry Mile" numerous times, this is a big compliment. Kerala Kitchen has been in business for a while now, but only as a mobile restaurant. They had been serving their gorgeous food at markets and music festivals for years. But they finally got their brick and mortar (located at 5 Baggot Street Upper) and it is beautiful!
When you first walk in you notice the cool decor and vibe, with large copper pots (traditionally used to cook the curry in) transformed into the lighting fixtures. And the stunning framed photographs taken in India make you feel like you are practically there. Especially when you get a whiff of the the beautiful aromas coming from the kitchen!
I love the wood floors, the family style seating on long tables with benches, and I really adore the signage.  I mean how cute is this sign for the men and ladies toilets? The antique wooden hutches filled with kilner jars of spices also give you the feel you are in someone's home, very cozy! There are even seat cushions made from the rice bags!  As you guessed, Snappy and Rose Kitty were there too!
But when one goes to a restaurant, though the physical environment is important, what is most important is indeed the FOOD!  Well, this was without a doubt the best tasting Indian food I have ever had.  It was tasty, light, clean, satisfying and inventive. I mean who knew you could get a salad (which if you read my Salad Scentral post on here then you know I'm a salad addict) like this one at a curry shop?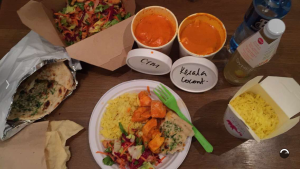 Of course, I way over ordered as I do, and had so much food, but ate it for left overs too!  I also got a Saag Paneer (a spinach and Indian cheese dish) but didn't eat it with this plate of food. There was no room. But it was absolutely delicious! I'm going to be dreaming of this food now for months! Yep, those are the kind of dreams I have.  The good news is that the price is budget friendly, and the upstairs dining room with the tall ceilings and giant windows looking down onto the street make for a wonderful casually elegant experience!  But if you wanted to eat at home in your PJs, they offer take away and delivery as well. But the service and staff are top notch and friendly so you'd miss out on that aspect if you were hunkered down at home.
All in all it was a one of my favorite Foodie Fieldtrip Friday's EVER! And now writing up this post is making me want to go back to both Kelly Lou Cakes and Kerala Kitchen right now! But until then I will savor the memories of this FUNtastic day!
Sweet and Spicy LOVE,
YDP