Can you believe it is time for another recap of our incredible infatuations of our female chefs? Yes we have had 19 super fun Woman Crush Wednesdays now, and have made some very tasty food.  We have also learned a bit more about these fabulous female foodies!  I did a recap of the first seven honorees back in November and here is the link if you'd like to have a peek. Then back in January, I took another gander at the next six lucky ladies that had been chosen. You can click here for the detailed synopsis.
And since then, there have been six more delicious dames and I just want to take a moment to appreciate them again. And also marvel at how I was able to keep up the weekly tradition of #WCW with all my travels through America during this time!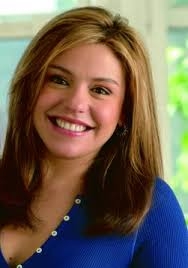 Rachael Ray is one of the sunniest personalities out there. You just want to wake up to a happy person like that! And when I think of waking up I think of Rachael because her Oatmeal Cookies Pancakes are so good!  Click here if you'd like to bask in her sun, and maybe even look at the recipe and think, "Ah sure, I have most of those ingredients in the cupboard anyway so I think I'll make it!"  You won't be disappointed!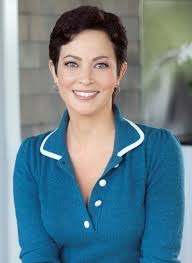 I had thought a nice healthy pasta would be in order on this particular day, and lo and behold I ran across the Ellie Krieger pasta recipe that changed my world. Yes it is that good! Trust me, if you want to indulge in flavor and taste without going overboard, then make this or any of her recipes. She defo knows a think or two about smart and clean nutrition.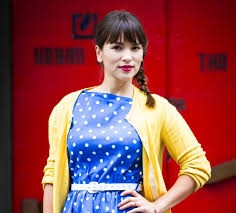 This was such a fun #WCW because Harper my granddaughter joined in while we did the tutorial for snapchat. We made Rachel Khoo's puff pastry wrapped banana and chocolate recipe.  Harper even got into the whole dancing around the kitchen as well. Click here to see the recipe (sorry you can't see the dancing and singing part as the video expires in 24 hours, but you can still see my snapchat: blissbakery).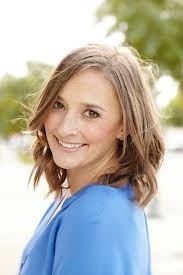 While visiting my friend in Southern California, I knew I just had to do a cooking demo with a Gaby Dalkins recipe.  She is the quintessential L.A. girl!  But this wasn't just any recipe, this was the awesome Asian Chicken Slaw.  It was divine and yes, I am craving it again!  You'll defo want to make it too so here is the link to whet you appetite.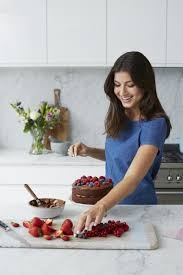 Olivia Wollenberg (aka Olivia's Kitchen) may be from London, but she has the healthy eating down pat like she's from L.A.!  Geez!  I did a demo of her lovely Chocolate Chip Blondies.  But they are totally guilt free!  No wheat, dairy or refined sugar.  My granddaughter was delighted as she doesn't eat anything with dairy products.  So having a treat that suits her dietary needs are a real treat indeed.  And these keep for a week in an airtight container. Here is the link if you want to see how good, these good for you, dessert bars look!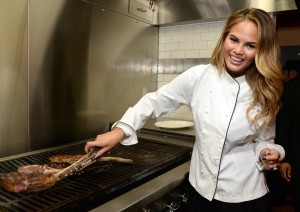 Finally, just as Chrissy Teigen's first cookbook was about to launch, we were making her decadent Cereal & Milk French Toast Casserole With Salted Frosted Flake Topping. Click on the link here if you'd like to see this beautiful momma to be's #WCW story and the recipe.  And with Mother's Day in Ireland and the U.K. this weekend coming (March 6th) this would be a good time to pull it out for the day that's in it!
Thanks so much for the support of this very popular weekly series. It sure is fun for me to recreate a recipe from one of the #WCW recipients.  Long may it last!
Recappin some lady love,
YDP
P.S. In a way, today was still a #WCW as I finally met my Snap Sista Melanie Morris (her user name is: melanierjmorris).   I have mentioned her before as she was the one who recommended a Foodie Fieldtrip Friday to Moon Juice in Venice. Well she kindly invited me to an evening with Image Magazine featuring a lecture on Digital Media. Hello! Need! Want! Grateful!