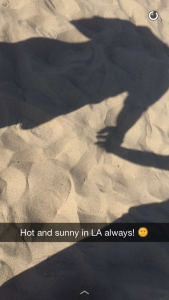 It is wonderful and simultaneously strange to be in L.A. as a tourist. Having spent most of my life in California (though born in Chicago) growing up and then raising my own kids here, I thought I had a pretty good handle on the So Cal lifestyle.  But living abroad the past 8 years, I feel like I am now navigating it for the first time. So much has changed. Yes there is more traffic and smog, and indeed some of my fav places have gone out of business or moved.  But there are so many cool places that have opened since I left and I have been enjoying exploring them all.
One of the aspects of Los Angeles I've always admired is that it is certainly on the cutting edge for the latest and greatest health fads.  Because of the hot and sunny weather nearly 365 days of the year, people dress accordingly. And when you are in shorts and tank tops, you do want to look your best. Since health comes from the inside out, Angelenos (as they are called) are always finding ways to nourish their human tank with clean eating, exercise and various stress busters. I mean, think Raw Food, Hot Yoga and deep tissue massage and that is the embodiment of many in "LA-LA Land"!
So for this week's Foodie Fieldtrip Friday, a nice visit to a trendy place called Moon Juice fit the bill perfectly!  I hadn't heard of it before, but a lovely snapchat note from Melanie Morris peeked my interest and I decided it was a great one to check out along with a lil tour of Venice Beach (always a hoot with the various things going on down there). And of course, my snapchat buds came along for the tour (username: blissbakery).
While I am quite familiar with juice bars, as Jamba Juice was a hit when I still lived here, Moon Juice is another whole ball of wax.  With two locations (their other store is in Silver Lake), they sell totally organic products. Their juices are also cold pressed.  However, according to the founder Amanda Chantal Bacon, Moon Juice is actually a lifestyle shift. A way to use food as a healing element. With beauty foods and high powered natural remedies, this isn't your average stop for a quick O.J.! They even have glass vials of detoxifying minerals from the sea that you crack open and throw down like a shot of Tequila (only better for you, duh).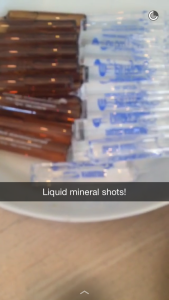 .
Yet one look at Amanda and her incredible glow and you feel like you want some of that in your life!  Gwenyth Paltrow and other celebs seem to as well!  But when I saw the price of one juice from the Rose Avenue flagship store I wondered, is this really the nectar of the gods or just hype? One sip and I was hooked. No joke, this was the most incredible green smoothie I have ever tasted!
Though I love, love, loved my Greens Shake smoothie (with celery, kale, spinach, parsley, dandelion and a frozen banana), Hubby opted for a Vanilla, Fig and Almond smoothie.  And since I was doing some research I just had to help him with it!  It was like a dessert it was so good, but the description sounded like it was miracle worker:  Alkaline/Mineralized Oxygenated water, Turkish figs, unpasteurized activated California almonds, Lukuma, honey, vanilla bean, and pink salt. Each of our smoothies promised their own perfect prescription. In a nutshell, mine was meant to be an energy provider, joy promoter and a detoxifier. Hubby's was an alkalizer and mineralizer. Both oozed "good for you" gorgeousness, but they weren't easy on the pocketbook.  I'm talking $10 and $14 respectively!  Ouch!  But as the saying goes, "your health is your wealth" and better to spend your money on good, clean healthy food now then on doctors and meds down the road.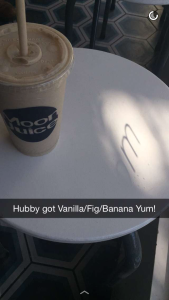 The other thing on offer at Moon Juice is an array of little snacks. They even had a taster to help whet your appetite. And I love my tasters!  Remember on one of my other Foodie Fieldtrip Fridays I went to Costco and that place is taster heaven. But THESE tasters at Moon Juice are nearly medicinal because they are so healthy!  This one had "Activated Hazelnut, Mulberry and Cacao".  They also have a wide range of dehydrated fruits and veg which make great lo-cal, high nutrient nibbles.  The menu is brilliant as it outlines which elements in each juice or snack are meant to help what areas of your well being.  I like to think rather than a menu, it is a map through a gourmet galaxy to Moon Juice Heaven!
I left with a lil treat besides my smoothie, some chocolate candy!  Hey before you judge, remember this place is healthy!  Not only did they taste AMAZING, these chocolate treats are also good for you!  They are made with coconut oil and nut butter!  Like a healthy Reece's Peanut Butter Cup!  Yummy!
With so many things going on in L.A. over the President's Day holiday weekend (Valentine's Day, the L.A. Marathon, the Grammy Awards and a PGA golf tournament),  Venice Beach was buzzing!  Sure it is a tourist destination, but it is also favored by local basketball players (and was featured in the movie White Men Can't Jump), surfers, artists and lately, LA headquarters of tech companies such as Google and Snapchat.  But it is probably best known as the birthplace of Muscle Beach which started the weightlifting and fitness craze in California in the mid 1930's. Former California Governor and action film star Arnold Schwarzenegger used to work out here as well!  Besides the weightlifting area there is a stage and grandstand that serves as the body building competition arena. And some passers by like to have a pic there, but uh not me.  Nope, not on the workout train at the moment!  LOL! Just the foodie train!
The crowds on the boardwalk (the ones not whizzing by on bikes or rollerblades) were treated to a fun music and dance show. And this one particular dancer not only busted a move, but was also a contortionist.  He twisted his body into all sorts of positions whilst keeping up the beat to a Michael Jackson song!  And of course besides all the tattoo and piercing shops scattered around, there is also a bit of shopping available, though nothing caught my fancy.
After all the vitamins (the ones in the smoothie and the vitamin D from the sun) my Hubby decided a real decadent treat was in order!  But it was sweet because it was getting us in the mood for Valentine's Day!  All in all, it was a wonderful day of exploring a new place, and reconnecting with a corner of our old home town.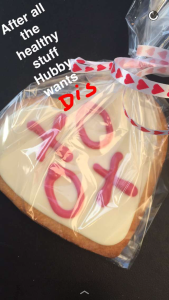 Love you to the moon and back,
YDP