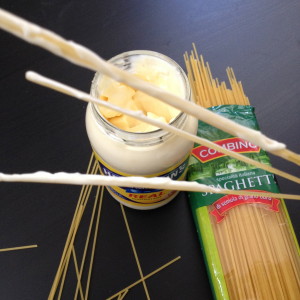 Since I stated on a previous entry that this blog will serve as a way of sharing recipes I won't delay and today we have our first! Haha, your thinking "Spaghetti Sticks and Mayonnaise"  how can that be a recipe?? Funny, I actually think there is a current food trend of two ingredient recipes, but that isn't what this is here.
I thought I would start with this as my first recipe entry since this is in fact the first meal I attempted to make as a very small child. Instructions: Open package of spaghetti, then open jar of mayonnaise, take one spaghetti stick at a time and dip awayo in the mayo!
I don't recommend it as a satisfying food experience. The uncooked pasta is too crunchy and the mayo is just too fatty as a dip! But since I was only five years old and not able to read at that juncture I didn't even know how to decipher the package instructions on how to boil the water to cook the noodles! But when you are left alone with one other five year old and the only adult is a mother passed out on drugs for days on end you have to be creative. There was literally nothing else to eat in the entire house. And so this was our "go to" meal.
Just  a disclosure here…I'm not wanting to be a "Downer Debbie"  on this blog, but I'm simply being a "Tell the Truth Ruth" however as Dr. Martin Luther King Jr. would say, "The truth shall set you free" and that is my mantra as well. It is dichotomy in my "Yankee Doodle Paddy" world because we Americans are known for being open and giving a little TMI (too much information) and at the same time as Irish we are known for being quite private about our personal lives. So just bare with me I promise it will be worth it!
I've shared that  Ireland is my muse, well food has been my mother. My dear friend Quincy Jones has openly revealed that since he didn't have a positive motherly influence in his life, music became his mother. This is one of the many things he and I have in common. We were blessed to find our respective adoptive mothers through sheer survival and determination in the midst of turmoil.
You will see if you come along on this food journey with me that each and every story will have a wonderful, loving and nurturing conclusion. Food has sustained me and not just from a physical nutritional standpoint. But I have learned through the years that when times get tough, and I head for the kitchen. Out of the miracle of the cooking alchemy comes LOVE!
Now that I am well able to read the instructions on how to boil the spaghetti noodles, and have a few extra ingredients tucked away in the kitchen I can make a lovely pasta salad good for a lunch, or to serve at the buffet table of a family reunion!
Bon Appetit,
YDP