Do you have a bucket list? I do! And this past week I was able to cross off one more precious item on that list! Monet's Garden in Giverny, France…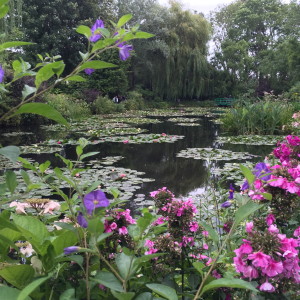 I was actually crying when I was standing there in the gardens looking at the sparkling pond with the famous water lilies. Monet is my favorite artist and I have seen many of his works of art at various museums around the world. But to be at the spot that served as his inspiration for his creativity, where he lived and ultimately where he died was powerful indeed.
I am not an artist by any means. In fact I can't even draw a stick man! But I am just as necessary in the process of artistic collaboration because I am a fan, an admirer, a spectator, a paying patron, and enthusiast. We all have our place. I am creative in other ways. I use food as my artistic expression. And like Monet, I hope to bring joy and love through my art. Not everyone has the talent for cooking, and in fact even have trouble boiling water (like drawing a stick man in my world). Thankfully for me my creativity is also part of an artistic collaboration whereby I make a decadent gooey and delicious sticky toffee pudding and someone else can be an enthusiastic admirer! So my friends that is what this blog shall be about….sharing my creativity, my love of cooking, with you!
Cheers!
YDP