I decided to start a new ongoing weekly post called Foodie Fieldtrip Friday.  Yes I know field trip is supposed to be two words, but if you go to the ABC of YDP you'll see how I feel about Punctuation Police and Grammar Garda (the Irish name for police).  But I figured since I am lucky enough to live in one of the greatest cities in the world, rich with a diverse culture and foods from all over the globe, then I should go out and explore.  And what do explorers do?  They bring the discoveries back home!  So I will be getting out and about and bringing all I've learned back to YOU my YDPeeps!
I will do my best to have photos (at the moment taken with iPhone 6) and videos (at the moment only avail on snapchat*).  I wish I had taste-o-rama and smell-o-rama on this blog!  But hopefully my descriptions will whet your whistle and when you are over here in the "Big Smoke" you too can check out some of my foodie finds.
For my first Foodie Fieldtrip Friday (from henceforth called FFF or F cubed) I wanted to do something fantabulous!  And so I booked myself on a food tour in the East End called "Eating London Food Tours".  Having been on one other food tour before (in Austin, TX) I had an idea that there would be lots, and lots of food.  Hence I didn't eat breakfast.  Well, I was right.  I think I ate enough for breakfast, lunch and dinner for two days in the 3 plus hour tour!  But it was absolutely worth every pound (£) spent and every pound (lb.) gained.
I brought along my *snapchat friends on this journey led by our energetic guide Harry, and we literally did not stop.  Even when we sat down at the food establishments there was so much to take in!  And I'm not just talking about the actual food consumption.  Harry was a wealth of information about the restaurants (the buildings, the proprietors and where the ingredients are sourced) and the cultural and historical context of the area.  It felt like a high speed university course using all of our senses.
The group of eleven (four Americans, four Norwegians, two Brits and one Yankee Doodle Paddy) met promptly at 10:45 a.m. at the Old Spidalfields Market walking distance from the Liverpool Train Station.  And walking being the key word.  I believe the person who designed this tour was smart, in that we balanced out our calorie consumption with our calorie burning.  But it was such a beautiful sunny autumn day that the walking was a treat!
Our first of eight stops was St.John Bread and Wine for their famous bacon sandwich.  I was a bit skeptical about all the excitement over a BLT minus the L and the T, but truth be told this was the best "B" Sambo I have ever eaten.  The freshly baked and chargrilled bread was a carbo lovers dream!  And the bacon, while making a popular worldwide resurgence, hit a home run with its flavor.  It was served with a side of homemade ketchup that contained a secret ingredient, apples, and the sweet and tart taste was a bright surprise winner compared to the ordinary Heinz variety.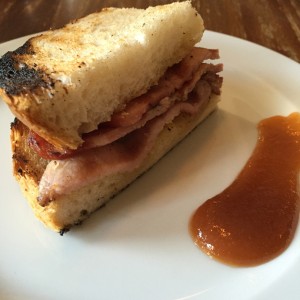 Our second stop, The English Restaurant, served us some lovely bread and butter pudding with gorgeous vanilla bean custard.  Some on the tour had never had bread and butter pudding before, and were delighted with it.  Let's just say all the little ceramic ramekins were emptied!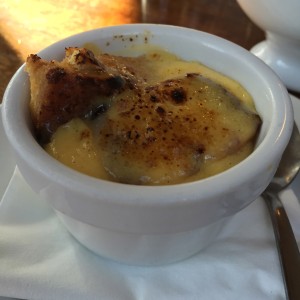 While the food digested a bit we were gifted with more historical tidbits as we did our walk about the area, which is literally built on top of Roman Ruins.  And not because it is Halloween in a few weeks, but some of the stories were a bit ghostly.  Such as the infamous Jack the Ripper related unearthing of the body of his final victim.
As we carried on to spot three, we needn't look no further than our nose.  As the House of Androuet Cheese scent was wafting through the East End.  And rightly so.  Londoners line up (or Que as they say) around the block before Christmas for their famous Stilton Cheese which was delicious indeed.  We also tasted some beautiful Cheddar (which is the number one variety of cheese sold in the UK).  The stack of "A Year in Cheese" books (pic on the left) to look like an "A" for the family name Androuet, is really the basis of their ethos.  They only carry cheese that is in season.  And because of their adherence to seasonality guidelines along with their knowledge and passion for cheese they are regarded as masters of their craft.
There were two massive highlight for me on the tour and one of them was a trip to the award winner Poppies Fish and Chips.  When done properly like these are, there is nothing better except a side of mushy peas and all wrapped up in newspaper.  Though newspaper was outlawed as a means to traditionally wrap the "chipper take away" Poppie's owner devised a way around it by printing up his own newspaper looking packaging.  Clever and tasty!  After all that salt and vinegar we headed to the quaint pub Pride of Spitalfields for a taste of Truman's Ale and Orchard Cider.  And we got to meet its famous feline resident, Lenny!
At this point in the tour I was personally starting to feel filled to the brim!  But we still had three more stops to make so we soldiered on and saw some beautiful street art along the way.  I am not a fan of graffiti but I have to say that street art fascinates me as it is more than just gang tagging with spray paint.  Creativity and thought is put into this form of visual expression.  This area of London is known for this public guerrilla art form and its most famous representative is non other than Banksy himself.
Our trip to Curry Mile was definelty beneficial for my sinuses!  Aladin curry house served us  lamb, chicken and vegetable curries, which were all great, but the tender and a slightly sweet lamb was my favorite.  The chicken madras was piping hot, and I didn't need an oven mitt for it, I needed a glass of water or two.  But in a good way!  I know the medicinal benefits of all those spices so I didn't mind.  Considering there are approximately 16,000 curry restaurants in the UK and this one is rated one of the best, I felt very privileged to dine in such an esteemed restaurant.  However, I did think the naan bread left a little to be desired.  But then again I'm a carb aficionado and have high standards.  And since that was the only nit picky thing on the entire tour then I'm not complaining.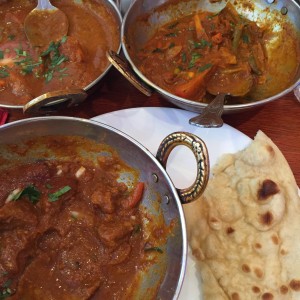 With the double chin now becoming a triple, I felt like I was reaching a tipping point.  But when we stopped in front of Beigel Bake what could I say?  Hellooo, get in my belly!  This shop is open 24/7 and now that I know that I might be back again when a late night craving hits.  I don't think I have had a bagel that nice since I lived in NYC.  And when I saw it came with lovely Salt Beef (called Corned Beef in the U. S. ) I tucked away a little bit to take home to my pretty Pit Stella!  I just made sure she didn't get any of that hot English mustard!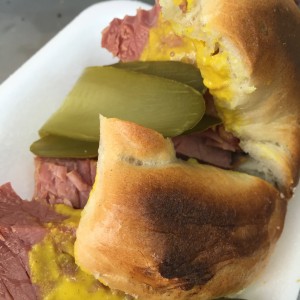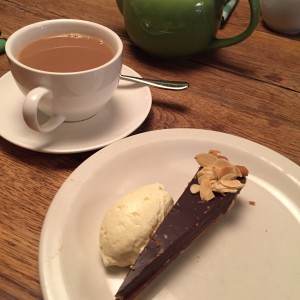 At long last we reached my second highlight of the tour!  The coveted Chocolate Salted Caramel Tart (on Time Out's list of top 100 foods in London) at Pizza East, and it was worth the wait.  Number 8 has always been my lucky number so I should have known our eighth and final stop would be my fav!  We were also served a pot of perfectly brewed English tea and had a moment to catch our breaths (after we let our belts out a few notches).
Our schamazing tour guide extraordinaire Mr. Harry was oh so merry.  He made us feel like we were all one big happy family having a moveable meal.  And he was the quintessential patriarch of the bunch that kept everyone on task, on time and in tune!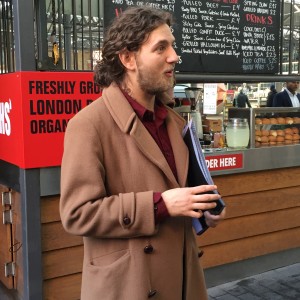 Before we departed to go back to our respective homes, Harry asked us to choose one food on the tour that we fancied most. Three folks chose the bacon sandwich, three chose the bagel sandwich, three chose the cheese, and one chose the fish and chip.  Me?  Well, my sweet tooth always gives me away.  And that was one decadent chocolate salted caramel tart!
I can't recommend this tour highly enough.  If you decide to go yourself, defo request Happy Harry!  The experience will bring out the foodie in anyone!  And the company is very mindful of anyone with food allergies or restrictions.  Though it appeared on our particular group everyone was game for the whole lot.  I am hoping to go on some of the tours they do in other cities next time I travel to Rome, Amsterdam or Prague.  But I better start my training now!
Food Coma Love,
YDP
*if you want to watch the video story on snapchat my user name is bliss bakery but fair warning the story disappears after 24 hours.
ps. I am always looking out for love in the world.  While on the tour we passed this literally heart warming sign near Poppies.  I get a tingle when I see confirmations like this out there….