No the title isn't indicative of a new fashionable foodie dish taking over from the current hottie "Pulled Pork".  But this is literally how we felt last night after leaving the miserable US loss at the Rugby World Cup.  Helllloooo like 64-0!  I mean at some juncture I thought South Africa would be polite and not continue to run up the score, but nooooo they just kept hammering away!   Nevertheless, it was a worthwhile outing for us Yankee Doodle Paddies! It's not every day that a major international sporting event is in your back yard!  As the saying goes, "When in Rome!" And though we have been following the World Cup since it began a few weeks ago, as I shared here before, it just isn't the same as seeing it in person.
Of course the tickets to see Ireland play are more than a pretty ha'penny!  So that's why we opted for the USA match.   But I thought, gauged on their performance in the previous matches, that they might have at least scored one try (for non rugby fans a try=points).  Instead we had to listen to the announcer keep saying "USA ,Nil!" For non rugby fans nil=zero/nada/nothing/zippo/sooo sad!
But thanks to hubby we had the most incredible seats!  Literally three rows up from the pitch (for non rugby fans pitch=field).  The press photographers were nearly within touching distance, and since hubby brought one of his cameras, he was like my own paparazzi!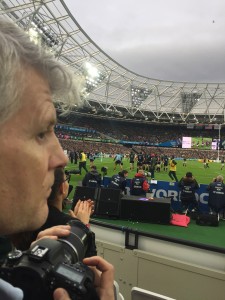 I expected to see the Americans go all out with their gear and get ups, they usually do that kinda crazy stuff.  And I'm sure you're not surprised to hear that I love that! haha!  My own look was pretty tame. However, some of the garb worn by the American revelers was hilarious.
But what surprised me most was the fact that the South Africans were way more dressed up! In fact they had a face painting brigade outside the Olympic Stadium giving away free South African Cheek Flags.  As well, there were tons of these "Flame Heads" floating around, and they were rooting for, well just to have a good time I suppose.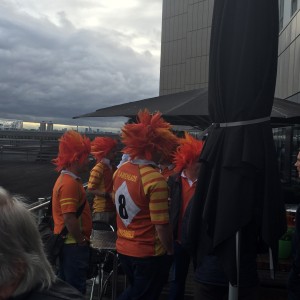 South Africa is such a rugby nation. They live, breath, and eat it!  They most recently hosted the World Cup in 1995.  And who can forget the powerful true story film Inviticus about President Nelson Mandela's involvement in South Africa's Rugby World Cup win that year? To say that the USA fans were outnumbered by South African fans is one thing, but they were definitely outgunned by the team.  One player in particular stood out for me and that is Bryan Habana, who scored a hat trick (for non rugby fans hat trick=3 tries).  And what I liked about this guy most, was every time he scored he looked up to heaven and pointed. That is why humility is a virtue!
But the most awe inspiring and heart stopping part of the whole match was when two players collided jumping up for the ball.  They were both knocked out for a bit and went off for head injury checks, but eventually went back in to play.  Thank God they were okay.  I was so shook up I had to take a break from the match and decided to go check out the food scene..okay now we're talking.  I mean this is a mostly food blog, so even if it is a rugby post I can toss some tasty crumbs into the mix!  And speak of mix, the English love their pick and mix candy selections!  I had never seen a display such as this at a sporting event!
I did find it fascinating, from a purely social scientific standpoint, the orderly way in which the spectators left the stadium.  Nearly 56,000 people exited in herds, but not too bunched up and with a disciplined demeanor.  Of course it helped that they had 'people patrol' or 'crowd corralers" that held up signage.
So thankfully, being the Yankee Doodle Paddies that we are, even though the U.S. doesn't have a chance to win it, our boys in green still do!   So we are hoping the Irish go all the way!  Just outside the stadium there were jerseys of every nation competing.  And as luck would have it the only one I had my pic taken with was the one from Ireland!  I was trying to make a heart symbol with my hands, but not sure you can tell.  But I hope will all my heart the Emerald Isle gets to take home the Webb Ellis Cup (for the non rugby fans Webb Ellis=Championship trophy).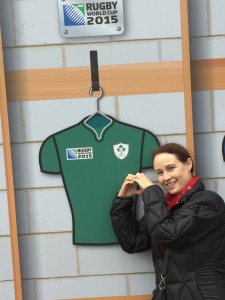 We still love our red, white and blue and are proud they have given it their best shot this World Cup.  As someone teased us, "Hey America can't dominate everything!" And my response, "Why not?" Just kidding guys!   I literally had tears in my eyes at the National Anthem Star Spangled Banner.  Who knows how the sport will grow in the U.S. over the coming decades.  I for one never thought I would have become such a fan, but it truly is an awesome sport.  It really is a nice way to set aside all the conflicts and troubles of the world for 80 minutes and just watch two nations engage in a thrilling sporting match.  And even for the non rugby fans, if you have read this far, there is actually hope for you yet!  Next you'll know all about props, hookers, flankers and scrums!
Line Out,
YDP