And on the seventh day, YDP rested!  It was actually more than the seventh day however.  Research says it takes 30 days to make something a habit.  Well I have written for this blog everyday for 33 days, and then I paused….to catch my breath!  And maybe give your eyes a break too!  Hence no post yesterday.  I just have so many stories and so many recipes to share with all of you!  But.. Whew…..it is okay to pace myself,  don't you think?
Nevertheless I did play a bit more on Snapchat.  I got to see some of the footage of Pope Francis' visit to America on the Live Snapchat feed. That was especially nice because though we own a tv we still haven't gotten it connected.  I loved seeing all the clips of the Americans welcoming him and the different celebrations.  It was pretty cool to watch a group of nuns dancing to Sister Sledge who were performing their song 'We Are Family".  At one event the MC was the actor Mark Wahlberg (yeah the Marky Mark one), the queen of Soul Aretha Franklin sang some gospel and the Irish band The Fray performed their song "How to Save a Life".  I literally had tears in my eyes!
I also did a another food demo for Snapchat.  I made some awesome "paleo pancakes" and my luck I think it might have actually been National Pancake Day?  They are super easy to make and really all you need is an egg and a very ripe banana.  But I added a drop of vanilla extract and a teensy weensy bit of baking powder.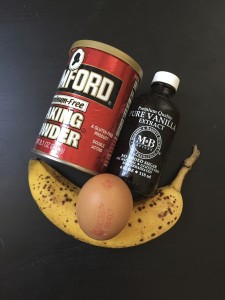 But then I realized I had no maple syrup!  Oh dear!  The good news was I still had some peanut butter and a bit of dark chocolate left over from the gorgeous bars I made the other day.  So I threw together some homemade peanutella!  So yummy!  I made two large pancakes (they are the consistency of a crepe) in my biggest skillet using hot coconut oil (so then they are dairy free too) and rolled them up with the peanutella.  Of course, then put more on top!  Goodness gracious me oh my!  This pic is from the Snapchat feed, and I was rocking out to "Don't Stop Believing" from Journey.  It was during the part of the song where the lyric goes, "Working hard to get my fill."  So of course I had to belt that out while trying to stuff my face with this amazing brekkie!  Ah, the things I do for entertainment.  This is why I say, I am truly never bored!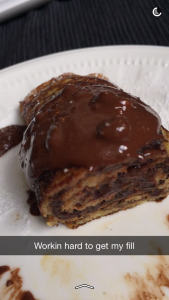 Suddenly I noticed the peanut butter jar was nearly empty.  But for me, that means possibilities!  So I actually did a quick snapchat tutorial on how to make some overnight oats in the almost empty peanut butter jar.  Mine happened to be the famous American brand Jif Peanut butter.  And I used the  wonderful Irish brand Flahavan's Organic Oats.  How perfect is that for YDP?  America + Ireland = Love ( and a healthy brekkie the next day).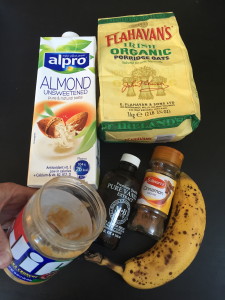 There are endless variations, using chia seeds, or various fruits.  You can use any nut butter jar too.  For my version I simply used 1 cup of milk (I like almond milk), 1/3 cup oats (of course, I like to use Irish oats),  one ripe banana mashed, and a drop of vanilla extract and a sprinkle of cinnamon.  Put them all together in the jar and give a nice stir, making sure to scrape up the bits of peanut butter from around the sides.  Put back on the top.  Give a little shake for luck.  And do a little sing song and dance to Taylor Swift or Florence and the Machine (funny, they both have songs with the name `'shake"in the title) and pop it into the fridge until morning.  Some people eat it the next morning straight up cold. Yuck, not me!  I like my porridge just the way Baby Bear's tastes (from the story Goldilocks and the Three Bears).  Not too hot, not too cold,  but just right!
Today was a super duper Rugby World Cup day!!!  As I said here before, I love rugby.  The first match was USA against Scotland.  Stella and I wore all our Yankee Doodle red, white and blue patriotic garb and headed to our local pub.
Honestly, my food focused dog was just excited because she knew I was going to share my Sunday roast dinner with her! Which of course I did!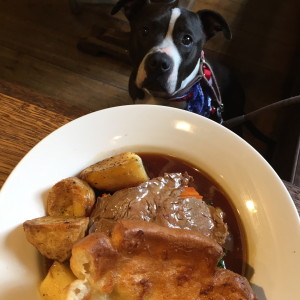 Sadly the U.S. lost, but they gave it their best effort!  So we regrouped, changed clothes and got ready for the Ireland vs. Romania match.  While there were no American fans apart from us, there were tons of people cheering on the Irish!  And they all loved Stella's Irish flag cape!
All the kids thought Stella was "Super Paddy Dog" which actually is kind of a cool moniker.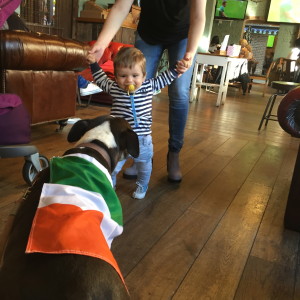 And lucky for all of us, Ireland won the match handily!  It was a practically perfect Yankee Doodle Paddy, America + Ireland = Love,  kinda weekend.  But hubby coming back home tonight will really make it complete!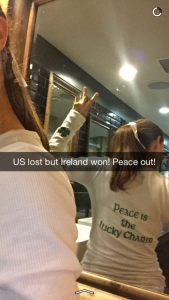 As the back of my shirt say, "peace is the lucky charm".  I hope you all have a wonderful and peaceful week ahead.  Thanks for the love!
God bless,
YDP