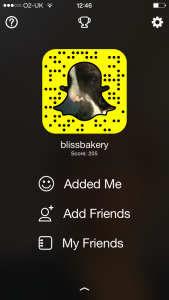 When was the last time you were on a roller coaster?  Can you remember what it felt like when your tummy tickled as you whooshed down from that top peak?  Then you almost felt sick when the next ascent began…thinking oh no here goes again!!??
Okay guys, that was me yesterday, only I never left my house.  In a nutshell I joined this (maybe no so) new social media called Snapchat. That is the icon pic above with half of my pretty Pit Stella's face.
As I shared with you on the ABC of YPD I am a techno flub. I don't have a phobia just that it is a massive challenge.  It is hard to believe I was in the gifted program in school, but I was.  So I get very frustrated with myself when I can't navigate these 21st century forms of communication.  I only joined Instagram a little over a year ago because my daughter said if I wanted to see pics of my granddaughter regularly it was easier than her emailing them.  I had a very short lived relationship with Facebook as I mentioned the other day. And here I am starting this blog by jumping in the deep end (which by the way was how my older brothers taught me how to swim, by literally throwing me in the deep end of a pool).
But I was so inspired to do this snap chat because of two amazing ladies.  One of whom I haven't even met in person!  I guess the virtual community is a reality!  And yesterday I made my "story" of preparing  a healthy version of my Lime Bars.  I baked a batch of the naughty ones for the blog last week (click here to see) and they are fab but they do have all the usual suspects.. butter, sugar etc.  So this was really a test to see if I could make a tasty healthier version. Eureka!  I did!  But it literally took me the entire day to do it.
I have very small hands, but seriously I think each of my fingers is a thumb.  Now I know why there is that phrase "I'm all thumbs."  To get my non snap chat friends up to speed, in order to make your "story" you have to record in 10 sec increments  by pressing and holding this button on your phone.  Try doing that whilst you are holding a microplane while you grate/zest the limes.  Oh and then you have to type in a few words here and there of various instructions.  And of course do the ordinary bits like wash the dishes in between!
There were two things however, that got me through it. One, my cooking songs playlist (heavy on Irish bands of course). Second, my two inspirations Holly and Katrina. They make it look so easy, effortless and they are very entertaining on their snap chats.  They do this in spite of busy professional, family and social lives.  Not to mention that before yesterday, in the week since I had joined and posted just a couple pics,  I only had two followers.  Because of their "shout outs" (a Snap chat seal of approval) of me to their followers,  I now have….more than two!
 By the way, because I now know how to do a screen shot, I was able to take a pic of their shout outs. You see, with snap chat all the stories disappear within 24 hours (hence why Hilary Clinton has been referencing Snap chat lately, but we won't go into that).
The only caveat is, I love to sing and bop around while I cook and apparently since I am tone hearing impaired, this got Katrina using all sorts of emojis (I even know what those are now too).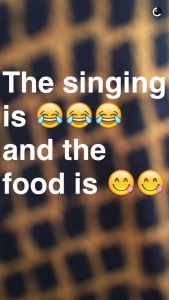 This was a seriously fun (oxymoron) kinda day, and Stella had fun too 'cuz she is my "food focused" twin!  I saw a quote recently that says, 'First name hungry, last name always."  Yep, sums it up!  And without further adieu I will sum up this post with some gorgeous lime bars that are, get this, GLUTEN FREE, DAIRY FREE AND SUGAR FREE!!!  So even though I ate one yesterday for that perfunctory cooking show shot "now tasting the final result", I just might have tucked into another lime bar last night before bed…and no guilt what so ever 'cuz these bars ROCK!
Ingredients:
For the base/crust:
200 g Pistachios (shelled…this is the hardest part of the whole recipe you put your nails in danger for the process!)
300 g pitted dates
3 Tbps coconut oil
100 g gluten free/sugar free biscuits (I used Nairn's Oat cakes) but you can leave these out if you want to make it Paleo…just add more nuts
For the filling:
4-5 RIPE avocados, depending on size (In the pic I only have 4, but one had some yucky black stuff so I had to throw that part away and used another avocado to make up the difference)
3 Limes (organic and unwaxed if you can find them) juiced plus 1 more for zesting
¾ cup (170 ml) Maple Syrup or Honey (I used a combo of both because I ran out of syrup) sorry I forgot to put that in the pic here
4 Tbsp Coconut Milk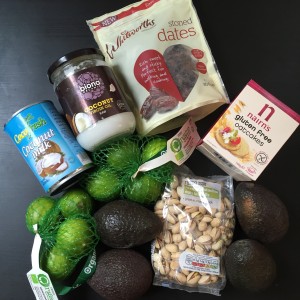 Instructions:
Line an 8×8 square pan with parchment paper so it goes up above the pan…you'll see why later
Make the base by blitzing the shelled pistachios in a food processor until somewhat chunky. Then toss in the pitted dates and the coconut oil. Continue whizzing until combined and nice and sticky, just a couple of mins.
While the food processor works away, put the biscuits into a large plastic Ziploc bag and then bash them up with a rolling pin until the are crumbs…see I told you, cooking is so therapeutic!  Then pop those into a big bowl and add the pistachio/date mixture and blend all together with your (clean) hands…go on have a sensory experience! Okay, then just use a spoon to mix!
Press the mixture into the prepared baking tray…when I say press I mean PRESS down really really hard! Now set aside until your filling is done.
To make the filling, cut open the avocados, remove/take out the pit, and scoop out that gorgeous green flesh into the food processor (which obviously you have washed up after you made the base). Then add the lime juice, the maple syrup, coconut milk and whizz it up until it is nice and smooth. Then grate some lime zest (the green skin/peel on the outside of the fruit, but make sure that if you aren't using organic unwaxed limes, to wash your limes before you grate the peel).  Now give it one final quick blitz! Voila!
Pour the filling into the prepared baking pan on top of the crust and smooth well with a palette knife or back of a spoon.
Put it into the freezer for at least an hour to an hour and a half (depending on how firm you want it).
When it's done, with both hands carefully remove from the baking pan by lifting the parchment paper up (see this is why you had to make the lining go up above the pan!). Delicately peel down the parchment from the sides so you can then cut it into squares. You must rinse your knife between each cut (sorry to be a pain) to get them to look beautiful!! Some things are just high maintenance!
To serve, you could plate them and garnish with wedges of lime, more lime zest, even some whipped coconut cream.
Just to say you could even make these in individual paper lined cupcake trays!
I know you might be thinking, hmmm, does this taste like guacamole! UHH NO my skeptical friends!  It is light, creamy and lime-y lusciousness!  This is where you have to suspend disbelief.  Like the time I made my Chocovado pudding for my cookery class. Normally the students get all the printed out recipes when they arrive (a starter, main and dessert) but on this day I didn't want them to see the dessert recipe until after they tasted it. In fact I let them taste the pudding before they watched me demo it because I wanted to see if they could tell the secret ingredient and they couldn't!  It is amazing what our mind tells us based on preconceived notions!
Avocado is one of the all time greatest super foods! I actually used to have an avocado tree just outside the back door when I lived in my dream house in L.A.  But it's only been in the last couple of years that I have been going outside the box and using it more creatively as opposed to the standard guacamole.  Not that there's anything wrong with that, but then you kinda need a margarita on the side! Tee hee!
By the way, did you know that among other things, avocado is great for fertility?  Sorry guys, not for you, but for the ladies.  In fact, the avocado mimics a women's pregnancy by growing, for nine months, that gorgeous seed/stone inside itself.  And surely that momma avocado would want her seed to come out, grow up and live life!  Hence many people like to  DIY the seed/stone into another tree…The miracle of life in action!  And here is a video tutorial by a guy (cuz I didn't want my boys to feel left out) if you want to give it a try…
Okay, I hope you have a great day, and if you don't feel like giving these lime bars a whirl, I would suggest something else that pushes you outside your comfort zone…'cuz like the cute grandma in the movie Parenthood said…
"You know, when I was nineteen, Grandpa took me on a roller coaster.  Up, down, up, down.  Oh, what a ride!  I always wanted to go again. You know, it was just so interesting to me that a ride could make me so frightened, so scared, so sick, so excited, and so thrilled all together!  Some didn't like it. They went on the merry-go-round. That just goes around.  Nothing.  I like the roller coaster.  You get more out of it."
 Thanks for going on this ride with me. I think I'm gonna do a weekly snap chat cooking story and call it "Monday Mayhem" just to keep that tickle in my tummy going!  You should sign up to it if you haven't already…look if I can do it, anyone can!
I love you guys! You're the best!
YDP
ps. Fun little factoid, Steve Martin, who stars in the movie Parenthood,  and I went to the same high school, just at different times. And when I met him through a mutual friend, Martin Short,  I reminded him of that.  He simply said in his character Gil's way, "Cool".