Last week while in Paris I soaked up all things bakery.  My favorite obsession. So this week's Woman Crush Wednesday had to be someone with some awesome baking chops. And I have been wanting to share this chef with you for a long time. Zoe Nathan is the uber popular baker, pastry chef, creator and co-owner of Huckleberry Bakery and Cafe in Santa Monica, California.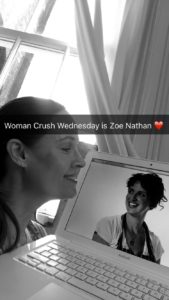 With her husband Josh Loeb they have built a foodie empire with restaurants such as their inaugural Rustic Canyon (where my son once worked his way up to line cook), Sweet Rose Creamery, Milo and Olive, Cassia and Esters Wine Bar. I met Zoe briefly one day when I picked my son up from work.  Zoe is so passionate and was very focused on her task at hand so I don't expect her to remember.  But I hope she remembers my son (aka Captain America) and his participation in the early days of Rustic Canyon!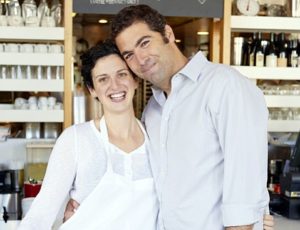 A hard working mom of three kids Zoe is a massive inspiration to me and many out there working in the food industry!  I had the pleasure of eating at Rustic Canyon with its casual fine dining vibe and seasonal menu.  Huckelberry is just across the street and has high ceilings and a loud volume of happy customers. It is choc-o-block with every kind of bread and pastry you could think of.  They also offer salads, sandwiches and amazing breakfast dishes. Everyone walks out of there with a massive smile and a full belly! And with Zoe's commitment to using all organic ingredients it is no wonder!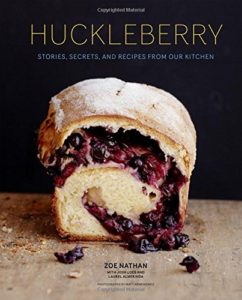 Since I made Calico Beans yesterday I was craving cornbread.  And Zoe's is supposed to be the best. Since each week I recreate one of the WCW chefs recipes live on Snapchat (my username is blissbakery), I always choose a recipe I've never made before. Yes I have made other cornbread recipes but not this one. And I can hardly wait, so let's get to it!
Ingredients: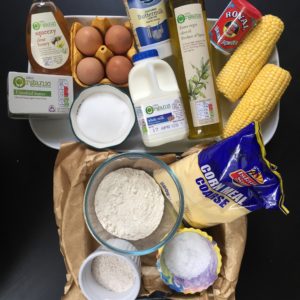 6 tablespoons (3 ounces/85 g) unsalted butter, somewhere between cold and room temperature
1/2 cup plus 1 tsp (120 g) granulated sugar
1 3/4 teaspoon kosher salt
4 large eggs
1 cup (160 g) cornmeal
3/4 cup plus 2 tablespoons (145 g) all-purpose flour
1/4 cup (40 g) whole-wheat flour (or substitute all-purpose flour)
1 tablespoon plus 1 teaspoon baking powder
1/2 cup (120 ml) whole milk
1 cup (240 ml) full-fat buttermilk
3/4 cup (180 ml) mild olive oil or sunflower oil
2 tablespoons honey
Instructions:
1. Preheat your oven to 350°F (180°C) and line an 8-by-8-inch (20-by-20 cm) metal pan with parchment paper.
2. In a stand mixer fitted with the paddle attachment, beat the butter, sugar, and salt on medium-high speed until light and fluffy, about 2 minutes. Incorporate the eggs, 1 at a time, beating well after each addition. Be sure to scrape the sides of the bowl well.
3. In another bowl mix the cornmeal, all-purpose flour, whole-wheat flour, and baking powder. With the mixer on low speed add in the flour mixture until incorporated. Then in a glass pyrex jug or bowl combine the milk, buttermilk, oil, and honey and add to the batter mixing just until combined. If you'd like you can add the kernels from 2 ears of fresh corn at this stage by folding into the batter with a rubber spatula until distributed evenly. This should yield a very loose, runny batter. (Small lumps of butter are no problem, but avoid any lumps of flour. If you see them, mix the batter just a little longer or work them out with your fingertips or the tines of a fork.)
4. Pour the batter into the pan and bake for 45 to 50 minutes, or until a tester comes out clean. You're going to want to start checking the cornbread after 30 minutes, and if the surface turns perfectly golden brown before the time is up, loosely cover the pan with aluminum foil. Let the cornbread cool ever so slightly in the pan on a wire rack prior to slicing. This buttermilk cornbread is best served the day it's made but keeps for up to 2 days if wrapped well.
What a gorgeous and moist cornbread!  Wow I love it!  I am not exaggerating when I say it is the best cornbread I've ever had!  Normally I'd slather my cornbread with butter and honey but I didn't need to with Zoe's version. This was perfect as is!  I noticed that some websites sharing this recipe suggest a savory alternative, where you can omit the honey and add grated cheese and chopped jalapeño peppers for a kick. Sounds delish too!
No matter which way you make it, I am sure it will turn out fabulous. How could it not if Zoe Nathan, baker extraordinaire created the recipe!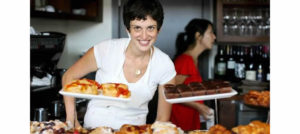 Corny LOVE,
YDP