I have the best memories of going to the pumpkin patch with my kids when they were little. Picking out the perfect sized pumpkin and then eagerly carving them were all part of the  Halloween festivities.  Food is always a big part of the tradition, but often it's not the most healthy. That's okay to have a treat every now and again. But what if there was a delicious healthy salad that would pump up the jam in your party?  This post will introduce you to the newest member of my pumpkin recipe arsenal!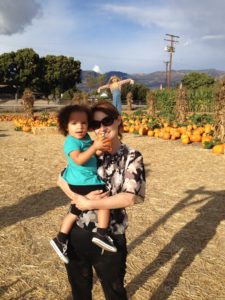 I don't have any digital photos of taking my kids to the pumpkin patch, but I do have this one of me with my granddaughter Harper. It was taken back in 2012 and she was so little compared to now. I certainly couldn't pick her up these days, unless maybe I ate some of this nutritious salad to build my strength..hmmm..
Ingredients: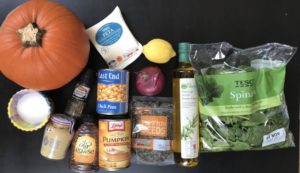 1 small but gorgeous pumpkin (or you can use a butternut squash), cut open, seeds and pulp removed. Cut into chunks to make it easier, then cut off outer skin and chop into smaller cubes. You will need around 700 g of 2 cm cubes.
1 bag of spinach  (200 g)
100g Feta, cut into cubes
1 tin can (400 g) of chickpeas (garbanzo beans) drained, rinsed and patted dry
1 Red Onion, sliced
A large handful of pumpkin seeds, toasted
6 Tbsp Olive oil
2 Tbsp Honey
1 tsp Dijon mustard
1 Tbsp fresh Lemon Juice
1 tsp Pumpkin Puree
Sprinkle each of ground cumin and smoked paprika
Drizzle of Balsamic Vinegar
Sprinkle of brown sugar
Salt and pepper
Instructions:
Heat oven to 190c/375F. In one baking tray, spread out the prepared chickpeas and drizzle with 2 Tbsp olive oil and sprinkle of salt and shake the tray around to coat the chickpeas.  In another baking tray place the pumpkin cubes and drizzle 2 Tbsp olive oil and 1 Tbsp honey.  Shake the tray around to coat the pumpkin cubes. The place both trays in the oven and bake for 30 minutes. Check halfway through and shake the trays a bit to make sure everything is cooking evenly. When the chickpeas are just out of the oven and still warm, if you desire, you can sprinkle them with some ground cumin and smoked paprika to give them a nice flavor.
Meanwhile, prepare the onions by sautéing in a frying pan in some olive oil. Make sure you have seasoned the onions with some salt.  Slowly allow the onions to sweat off and get soft. Don't have the heat too high as you don't want them to burn.  When they are nearly done (approx 10-15 mins), you can drizzle a little bit of balsamic vinegar and a sprinkle of brown sugar and cook for another few minutes to enhance the caramelization.
To make the dressing, in a bowl, add 2 Tbsp olive oil, 1 Tbsp of lemon juice, 1 Tbsp honey, 1 tsp Dijon mustard, 1 tsp pumpkin puree, salt and pepper to taste. Whisk around until combined.
Once everything is done, you can assemble the salad by placing the spinach on a large platter. Top with the pumpkin, chickpeas, red onions, pumpkin seeds and the feta. Then drizzle the dressing on top. Alternatively, if this is for a buffet, you can leave the platter of salad undressed. Then set a bowl with the dressing on the side so guests can drizzle on as they like.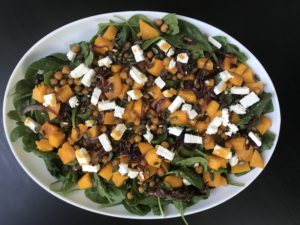 This salad is so delicious and filled with textures and flavors. I've mentioned before that Hubby doesn't like plain mixed leaf salads. He needs me to jazz them up, and today this one has been pumped up pumpkin style!  He's gonna love it. Totally healthy, filled with vitamins, fiber, and protein. And if you have any vegetarian party goers, this one will go down a treat!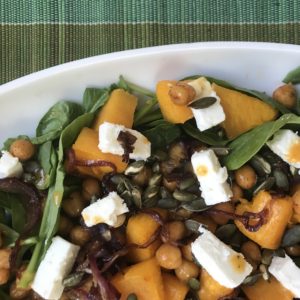 I hope you give it a go and let me know what you think!  Sure I'll even come over to help you eat it if you'd like!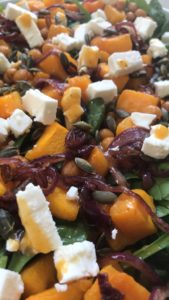 Pumpkin Patch LOVE,
YDP