It is no secret that Thanksgiving is my favorite holiday. And I am an admitted addict of anything containing pumpkin. But there is another "festive fall" ingredient that I'm a massive fan of and that is cranberries!  So I thought I would share this recipe for Cranberry Chicken that is always on heavy rotation in our house this time of year when fresh cranberries are available in the stores.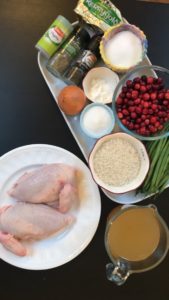 Ingredients
4 free range "bone in" chicken breasts with skin (for the two of us I make this same recipe only using 2 chicken breasts)
2 Tbsp butter
1 ½ tsp dried thyme
1 medium onion, finely chopped
¼  cup/55g  sugar
½ tsp dried sage
2 cups (500 ml) reduced sodium chicken broth
1 cup/213 g cranberries (fresh or frozen)
salt and pepper, to taste
1 tsp cornstarch/corn flour (mixed with 1 Tbsp water)
Preheat oven to 450 F/230C. In a small bowl, mix 1 Tbsp butter, 1 tsp thyme, ½ tsp salt and ¼ tsp pepper. Rub evenly under the chicken skin. Place on a rimmed baking sheet. Place in the oven, skin side up, and roast until skin is golden brown and meat is cooked through, about 25 minutes.
Meanwhile, melt the remaining tablespoon of butter in a large saucepan over medium heat. Cook the onion, stirring occasionally, until golden, about 8 minutes. Add the sage and remaining ½ tsp thyme. Cook for 1 minute. Add the broth. Simmer until reduced to 1 ½ cups (about 10-15 minutes). Strain the mixture and return only the liquid to the saucepan. Save the onion/herb left over to mix through some cooked basmati rice
Add the cranberries and sugar to the liquid in the saucepan, and boil until the berries burst (5-8 minutes). Whisk in the cornstarch mixture and return to the boil. Cook until slightly thickened (1-2 minutes). Remove from heat. Taste and season with salt and pepper as desired.
Serve the sauce over the chicken breasts, along with a nice basmati rice pilaf and a green veg such as green beans. Garnish with fresh herb such as parsley, sage or thyme sprigs.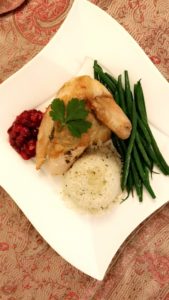 This is such a quick and easy dish to make. And it has so many of the Thanksgiving flavors besides the cranberries, like the sage and thyme. I find that I am craving these flavors the entire autumn season.  I don't want just one day to enjoy them!  Plus it isn't like I can roast a turkey with all the trimmings every night, especially when it is just Hubby and me here!  So this recipe does the trick!  My fav way to eat it is a combo bite, chicken with the cranberry sauce on top: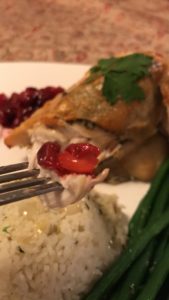 It is a pretty darn healthy meal too, all things considered.  Do you realize how good cranberries are for your body?  Packed with antioxidants and vitamins, I suggest you add them to as many recipes as you can while they are in season. I know I'll be crazy for cranberries so expect more recipes with this little red gem!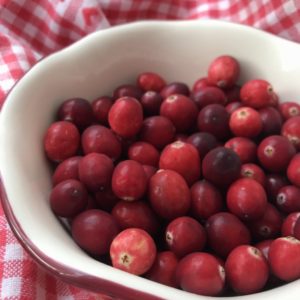 Cran you believe how much I LOVE you!
YDP