Have you ever heard of an Energy Vampire?  I heard that term years ago and it still strikes me at how visceral and descriptive it sounds.  Basically, they are people or things that literally suck the life out of you with their negativity.  Who signs up for that kind of torture? You know what?  You can opt out folks.  Delete!  Boom!  Done!  And your health will thank you for it.  Here is an interesting article that lays it out for you.  Downer Debbies and Nasty News Neds are bad for your brain folks!  There is enough stress inherent in life, so why choose to bathe in the the rest of it that is disposable anyway?  I mean, people spend loads of money and time on anit-stress measures such as yoga, massage, and detox treatments.  Then they allow toxicity to permeate their lives by reading Facebook posts by people they hate!
In the short time I have been on social media I've seen it with my own eyes.  A tiny accidental peek.  But I  look away.  Why should I read the vitriol spewed forth by some meanies out there who tear apart other people, restaurants, or even other sports teams?   So in light of that I will be sharing an upbeat and happy list of some of my favorite things.  It won't be about the latest beauty secrets, on trend clothes, or tchotchkes for your Christmas stocking stuffers.  Sorry, but I've already warned you I am not a shopper.  But I love to eat and I love to travel and have been blessed to do both in some pretty incredible places.
In America, only half the population even have a passport.  So this will be the first in an ongoing series of posts.  It is designed to help those of you without the travel bug, but still have a curious mind, to read about some special locales.  If you're a mommy of little babies and can't travel at the moment, but want a little info to help plan a future get away spot, here goes.  Or if you just need a little reminder of some places you should go back to and re-live,  this is the ticket, cuz sometimes there are deserving recipients..such as these!
I suppose I should start my 'best of' short list with America, since it is my birth home.  And though I was born in Chicago and indeed lived in New York for a few years, I spent most of my life in the Los Angeles area.  I have no desire to move back there at the moment.  However, who knows what the future holds.  But there are some things about it I miss.  This is a positive post, so I won't go into the negatives of L.A.  Sorry, but WestCoast/SoCal haters, you can look elsewhere.  But L.A. really does have some unique and cool things about it that you can't see/do anywhere else.  Not to mention the fact that you are within a couple of hours drive to the desert of Palm Springs, the mountains of Big Bear, and the ocean in Malibu.
When I think of L.A. I get sentimental.  It is where my kids were born, though neither of them live there anymore.  It is where my Hubby/best friend/soulmate and I got married, though we don't live there anymore either.  I still have family and dear friends living there though and I do miss them.  L.A. is quite eclectic, and it has some incredible sun, margaritas and food!   So I will share first hand some places I have been and I would recommend.  I am not sponsored or paid to say any of this.  But I do feel passionately about them.  While I could write a weeklong ode to LaLa Land,   I am just going to list my top three places to stay, to eat and to do.   I know some of you might have considered going to visit California, but only to San Francisco.  While I love it there too, and will definitely do a post about that, I really must urge you to take a trip to L.A.  Even if just for a couple of days.  You won't regret it!
Places to stay:
Pricey:  Bel-Air Hotel is one among many choices for luxury accommodations, but in my opinion it is the best.  It is beautiful, classy and quiet.  You feel a sensory stimulation when you walk onto the lushly landscaped property.  The hotel isn't a sterile building with an elevator, but a series of bungalows so you feel like you have your own little cozy oasis.  There are ponds and bridges and swans and it isn't any wonder many Hollywood types have had their weddings on the grounds. Totally romantic! The bar is in a class all on it's own and I spent many a night there listening to jazz piano, though it was long before I ever drank alcohol myself.  But it has such an old world feeling to it you are simply transported all together into another realm. You don't need liquid assistance to get you there.  But if you do, I've heard they have an amazing wine and cocktail list.  I have a special place in my heart for this hotel and not the least of it is the fact that my daughter used to have her piano recitals here.  I know right, pretty posh?!  Then again, her piano teacher also taught Paris and Nicky Hilton, Nicole Richie, and Kidada and Rashida Jones just to mention a few.  So those recitals were choc a block with celebs!  But that's L.A. for you!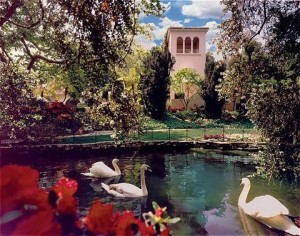 Mid: The Inn at Playa Del Rey has become my home away from home when I go back to L.A. Sure I have tons of places to stay, and I do love to spend the night at friends' houses too. It's those early morning chats over coffee while still in our PJs that are priceless .  But this little gem not far from the airport is a nice, clean, convenient place to regroup after a long journey.  It is part of a group of top notch B&Bs and Inns, of which I have stayed at them all.  There are freshly baked chocolate chip cookies upon arrival and the delicious breakfast and an afternoon wine and cheese reception (both included in the price) to make you feel so at home. The decor is very beach-y and you have a beautiful view across the protected Ballona Wetlands to Marina del Rey.  Great selfie ops of the gorgeous sailboats docked in the distance.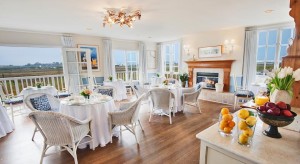 Affordable:  Air b &b is a great option here as it seems that finding an inexpensive hotel in L.A. might land you in a  sketchy neighborhood.  But since we had a great experience with Air b&b last year when my Hubby rented a house from them when we went to Austin, Texas, I can totally recommend it.  Though I haven't used it for accommodations in L.A. I know some people that have with great results.
Places to eat:
The Ivy: My all time favorite salad in the world (and I know a thing or two about salads) is the grilled vegetable salad at The Ivy. The salad comes with grilled chicken or shrimp if you need some protein.  And with the squaw bread on the side you are good to go!  So delish and I am never disappointed.  They have two locations. The one on Robertson Blvd in Beverly Hills is where to go if you want to see some celebrities. The one in Santa Monica is great since you can see the  Pacific Ocean if you sit outside on the patio.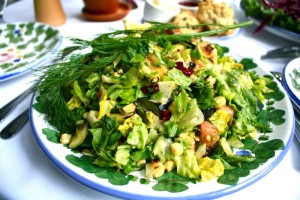 Anything Mexican:  Unless you are going to Mexico itself, L.A. has the best Mexican food in the world.  And it is very authentic and pretty affordable at most places. They are easy to find, as L. A. has one of the highest Mexican immigrant populations in America.  Multiple Mexican restaurants are sometimes located on the same street!  Border Grill is across from Mercado.  Both top notch establishments.  My favorite is a dive called Hacienda Del Rey.  It has a sentimental appeal.  It is cheap and cheerful and on Sunday nights they even have live mariachi music.  I love a nice basket of chips with salsa and guacamole and the supply there is endless.  I could have that for dinner with a blended (no salt) margarita and I'd be good to go.  But I usually order chicken fajitas and split it with my Hubby.   It's so cool to see the ladies make the fresh tortillas by hand while you wait.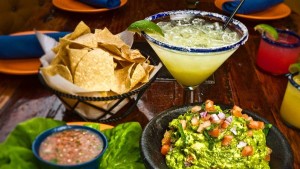 In-n-Out Burgers:  A California institution.  Though apparently, they now have one in Las Vegas so I heard.  But they were born just East of L.A. so when in Rome as they say!  How convenient that they also have a location next to the L.A. airport, so you can go to the drive thru just after you clear immigration!  I really don't eat much beef, and especially burgers and fries.  But there's nothing like a double double with grilled onions. And if you are gluten free you can even get it "protein style" without the bun just wrapped in extra lettuce.  And the fries (or chips as they are called over on this side of the world) are made from hand peeled potatoes. Worth every calorie!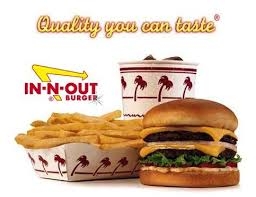 Things to do:
Disneyland: Yep, you gotta go.  It is the original.  I don't care if you've been to Euro Disney or Disney World.  It just isn't the same.  And no you don't have to have a kid to go.  You can be a kid again yourself going on the rides and experiencing the Main Street Parade.  It is expensive, yes, and the food isn't great there.  You are doing if for one thing only and that is for the memory of the amazing vision of Walt Disney.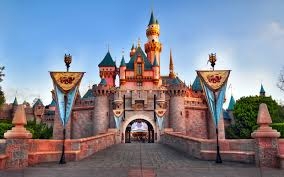 Hollywood Walk of Fame/Mann Grauman Chinese Theater:  The good news is that you will not spend any money here, unless you pay the guy dressed as Charlie Chaplin to have your photo taken with him.  This is a must see, and whenever I had visitors in town I took them to see the Stars along the sidewalks of Hollywood Boulevard and the celebrity handprints in cement at Mann's Chinese Theater.  The movie business is what it is today because of the ingenuity and creativity that came out of Hollywood's Golden Era.  And this is the mecca of it all.  You can even look up at the Hollywood Sign there on the hillside and think, wow, I'm finally seeing it in person!  I have a deep attachment to the Stars on the Walk of Fame as my daughter's Godmother has one (Janet Lennon with the Lennon Sisters) and so does my dear friend (Quincy Jones).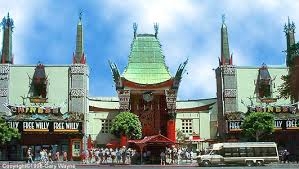 Santa Monica/Venice Beach:  The upshot is, you have to see the Pacific Ocean.  Sure people will say you should go to Rodeo Drive in Beverly Hills, and they are right, but I'm not the shopper.  So if you must, then do a drive by on your way from Hollywood to Santa Monica.  The best thing to do is to take a walk on the Santa Monica Pier, and soak up the sights.  Then rent a bike and cruise along the bike path down to Venice Beach to see the muscle bound body builders and rollerbladers. Great people watching!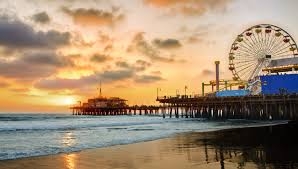 I hope this has given you a little taste of the fun you might have in my former home Los Angeles.  The only thing I would say is you will defo need a car.  Unlike where we live now in London, which has amazing public transport, you need your own set of wheels in L.A.  And if you love the sun, get a convertible.  That way you'll be able to ditch the fake tan, cuz it is always hot and sunny in L.A!
Lovin in the Sun in L.A.,
YDP
P.S. Okay, so the "long story short" totally does not apply here as I realize I've gone way long! Yikes!  But well worth sharing some of these gems and it makes me want to go back again soon cuz it has been a while!  I'd be delighted to give you a tour if you need a guide:)  And make sure to watch this classic Randy Newman video "I Love L.A." to get in the mood ( or else just to laugh at the 80's hair styles).