Today is the 58th episode of Woman Crush Wednesday.  If it is your first time joining, you are very welcome!  It is my fav day of the week.  While most look at it as hump day, I consider it happy day. Because I choose a fabulous female from the foodie world and shower her with love while I recreate one of her recipes live on Snapchat (my username is blissbakery).
I took a bit of a break from WCW the last few weeks as I was in America for an extended trip.  Because my cooking tutorials are a bit wacky (yes some bad sining and dancing thrown in) I decided to save my family's ears.  But it is great to be back in my own kitchen to go gaga for a gorgeous gourmet gal!  And today's chef is the legendary Delia Smith!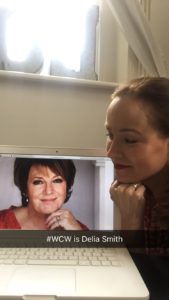 Delia is one of the most popular and beloved British chefs and has written over 25  books. Besides appearing on television with her famous cookery shows, she was awarded the OBE (Officer of the Order of the British Empire) and a CBE (Commander of the Order of the British Empire) by Queen Elizabeth II.
That's not all, she and her husband are owners of Norwich FC (that is a soccer team for any of my American friends wondering), and she was the baker of the cake on The Rolling Stones' album cover Let it Bleed!  Wow, she is a certifiable renaissance woman!  Yet her recipes are so approachable.  So for today's tutorial I am making her classic Bangers Braised in Cider!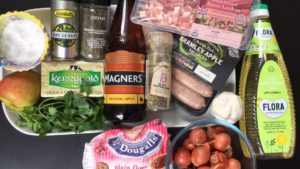 Ingredients:
454g (1 pound) Pork Sausages, free range in possible
1 medium Cox's apple, cored and sliced thickly into rings (no need to peel) And a knob of  butter
Freshly milled black pepper
A little oil for frying
200g (7 oz) Smoked Lardons
225g (7.9 oz) small shallots (I peeled them and cut larger ones in half)
1 heaped teaspoon plain flour
375ml (13 oz) strong dry cider
1 clove of garlic, crushed
1 bay leaf  plus 1 rounded tsp freshly chopped thyme
Instructions:
Preheat oven to 180 c/350F/gasmark4
First place the casserole over a medium heat, add a little oil and when it's hot, brown the sausages all round – it's important to get them well browned.
Then, using a draining spoon, remove them to a plate whilst you brown the lardons and shallots lightly.
When that's done, sprinkle in the flour to soak up the juices, then gradually stir in the cider. Now pop the sausages back in along with the garlic, bay leaf, fresh thyme and sprigs. Add some freshly milled black pepper (no salt needed).
Now put a lid on as soon as it begins to simmer, then transfer it to the oven for 30 minutes. After that remove the lid and let it continue to cook for a further 20–30 minutes.
Towards the end of the time, fry the apple rings in butter till golden and soft, and garnish the casserole with them. This is obviously going to need some very creamy, fluffy mashed potatoes, and depending on the time of year, I would serve some tender, squeaky, lightly cooked spring greens.
Okay, this is a total slam dunk recipe.  Bangers are not popular in the U.S where I was born.  Americans like little link sausages with their breakfast and their hot dogs on a bun.  But Bangers are a whole other ball of wax.  And I have to admit until now I haven't cooked them in the home.  Because I knew Hubby wouldn't go for it. But the flavors here are amazing.  Especially the addition of the apple!  This is a perfect cold weather dish for sure, but it isn't too heavy to have for warmer weather, of which we are finally getting some here in London. So fingers crossed he likes it as much as I do!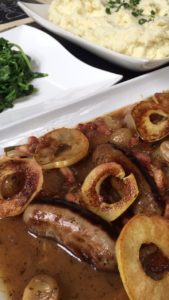 Delia recommends serving this with mashed potatoes but I am really into potatiflower puree at the moment. I've made it on here before (click link) and like the added taste and nutrients the cauliflower provides mixed with the mashed potatoes. Of course no dinner is complete without some greens so I did a quick stir fry of some spinach, watercress and rocket (aka arugula).  But you could also add broccoli or even asparagus.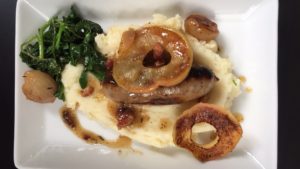 One thing I discovered about Dame Smith is that a phrase was named after her.  The "Delia Affect" is known all around the U.K as the consumer response to an item that Delia recommends or endorses. There is an immediate rush to purchase the products or ingredients she suggests. That is phenomenal and shows she is one of the original "influencers" and that was before social media was even born!  Now she has a cool website Delia Online complete with cooking videos!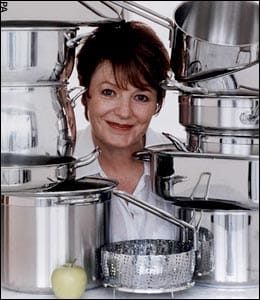 I am so inspired by this woman who had no formal culinary school training yet took her natural talent, passion and hard work to the top of the foodie chain.  A prolific writer not only of cookbooks and recipes, she has been featured in numerous magazines and newspapers.  She's just a superwoman who is beautiful inside and out.  After working in the gastronomic realm for five decades she is deserving of the utmost respect!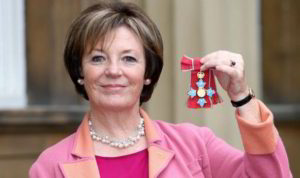 The LOVE effect,
YDP